Campus Honors Entomologist's 50 Years of Service
---
UCR to Fete Renowned Entomologist's 50 Years of Service
Mir Mulla, distinguished professor emeritus, solved some of the most difficult insect problems; two-day symposium to honor him is scheduled for May 30-31
(May 18, 2007)
NEWS MEDIA CONTACT
Name:

Iqbal Pittalwala


Tel:

(951) 827-6050


E-mail:

iqbal@ucr.edu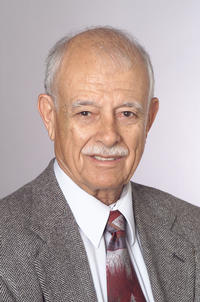 Enlarge
Mir S. Mulla is a distinguished professor emeritus of entomology at UCR. Photo credit: UCR Strategic Communications.
RIVERSIDE, Calif. — UC Riverside's Mir S. Mulla, a distinguished professor emeritus of entomology, has achieved a milestone that only a handful of faculty can boast about: 50 years of service to a university and the wider national and international community of scientists studying "vectors" — organisms, such as insects, that transmit pathogens.
During his 50-year affiliation with the Department of Entomology, Mulla used his expertise and knowledge of insects and related arthropods to find solutions for vector-associated problems in California, in the United States, and around the world.
To celebrate his career and numerous research contributions in entomology, the campus is hosting a "Symposium on Vector Biology, Ecology and Control" on May 30 (8 a.m.-5:30 p.m.) and May 31 (8:30 a.m.-5 p.m.) at the Historic Mission Inn, Galleria Room, downtown Riverside, Calif.
"Mir's illustrious career has had an enormous impact on the control of insects and helped in the assessment of entomological programs worldwide," said Ring Cardé, chair of the
Department of Entomology
at UCR. "He is known internationally for his innovative and groundbreaking work to discover practical and sustainable management strategies for insect vectors that transmit the causative agents of human suffering."
Mulla, 82, joined UCR in 1956 and retired in December 2006. He continues to remain active in his research in solving some of the most intractable insect problems.
His research has included work on the biology and control of flies such as the eye gnat
Hippelates collusor
, laboratory and field evaluation of new biological and chemical agents for controlling mosquitoes and nuisance midges, and environmentally friendly approaches for vector control.
In addition to his collaboration with vector control agencies in the southwestern United States, Mulla has provided long and distinguished service to international agencies such as the World Health Organization and to scientific societies that strive to improve the health of citizens in all nations of the world.
"It has been a privilege to work with the dedicated and talented faculty, staff, students, postdocs and visiting scientists in the Department of Entomology at UCR," Mulla said. "I am grateful for a productive and fulfilling career of half a century on campus, and remain determined to carry on research and implement expert training in educational programs on the management and control of vector-borne diseases."
Born in Afghanistan, Mulla came to the United States to obtain an education. He received a B.S. in entomology from Cornell University in 1952 and a doctorate in entomology from UC Berkeley in 1955.
The author of more than 500 publications, including scientific and technical articles, monographs and reviews, he has traveled to more than 25 countries in his career. He has supervised five M.S. students and 25 Ph.D. students. Numerous postdoctoral researchers and visiting scientists from both developed and developing countries also worked in Mulla's laboratory at UCR.
His many honors include election as a fellow of the American Association for the Advancement of Science as well as the Entomological Society of America. In 1986, he received the Distinguished Service Award from the Society for Vector Ecology. A decade later, he received the Meritorious Award from the Science Society of Thailand and the Ministry of Science, Technology and Environment. Last year, the Coachella Valley Mosquito and Vector Control District honored him for his work on the control of pests in the low desert with the dedication of the Mir S. Mulla Biological Control Facility.
A stellar, international cast of entomologists will attend the symposium in his honor. Over two days, scholars will give presentations on some of the most urgent issues in vector biology, ecology and control, including the role of global climate patterns on the distribution of vector-borne diseases; the use of disease vector genomics in vector control; developing new dengue risk prediction; malaria control in sub-Saharan Africa; and strategies to control vector and vector-borne diseases.
Keynote speeches will be made by
Robert Ridley
, director of the Special Program for Research and Training in Tropical Diseases, World Health Organization, Geneva, Switzerland;
Duane Gubler
, director of the Asia-Pacific Institute Tropical Medicine and Infectious Diseases Tropical Medicine, John A. Burns School of Medicine, University of Hawai`i at Manoa;
Barry Beaty
, University Distinguished Professor, Department of Microbiology, Immunology and Pathology, Colorado State University, Fort Collins; and
Christopher Curtis
, London School of Hygiene and Tropical Medicine, United Kingdom.
"We hope this symposium will produce a rich exchange of ideas and provide new research directions for vector biologists to follow," said Peter Atkinson, director of the
Center for Disease-Vector Research
(CDVR) and a professor of entomology at UCR, who helped organize the symposium. "We see it as an opportunity for scientists and public health officials to come together and continue the dialogue on new ways to control mosquitoes, and on how global migration and climate change could introduce — or reintroduce in some cases — diseases like malaria and dengue in regions that currently see no incidences of the diseases."
Established in 2005, the CDVR is located within the
Institute for Integrative Genome Biology
. The center's researchers collaborate across disciplines to find new approaches to control the spread of plant and animal diseases vectored by arthropods. Many of these diseases studied at the CDVR, such as malaria and dengue, are transmitted by mosquitoes and are resurgent, continuing to inflict considerable human mortality and morbidity in many impoverished countries.
The symposium is funded by the following sources at UCR: the Chancellor's Office; the College of Natural and Agricultural Sciences; the Office of the Executive Vice Chancellor and Provost; the Department of Entomology; the Institute for Integrative Genome Biology; and the Office of Research. Other sources of funding are the Coachella Valley Mosquito Control District, the Northwest Mosquito Vector Control District and private donations.
To RSVP for the
symposium
or to obtain more information, please email peter.atkinson@ucr.edu or carol.lerner@ucr.edu.
Background information:
The field of biological control originated in Riverside in 1887 with the introduction of the Vedalia beetle to successfully control cotton cushiony scale on citrus. In 1906 the University of California commenced entomological studies in southern California in Whittier and in 1915 relocated to the Citrus Experiment Station (CES) site near downtown Riverside under the leadership of UCLA's Henry Quayle, the first chairman of the Department of Entomology. In 1917 the department moved along with the rest of the Experiment Station to the site of what is now UC Riverside and into a new CES building (which today houses the A. Gary Anderson School of Management). An Entomology Building was constructed in 1932; the new Entomology Building was dedicated in 2002 along with a state-of-the-art Insectary and Quarantine Building. The Department of Entomology thus predates the establishment of UCR as a separate campus of the UC system in 1954. Excelling in nearly all fields of entomology, the department remains one of the largest and most successful entomology departments in the United States. It maintains strengths in six areas: agricultural entomology/integrated pest management; biological control; behavior and chemical ecology; medical/veterinary/urban entomology; molecular entomology; and systematics.
Your Adobe Flash Player is missing or out of date or you do not have Javascript enabled in your browser.

Install the latest Flash Player.
The University of California, Riverside (www.ucr.edu) is a doctoral research university, a living laboratory for groundbreaking exploration of issues critical to Inland Southern California, the state and communities around the world. Reflecting California's diverse culture, UCR's enrollment has exceeded 21,000 students. The campus opened a medical school in 2013 and has reached the heart of the Coachella Valley by way of the UCR Palm Desert Center. The campus has an annual statewide economic impact of more than $1 billion.
A broadcast studio with fiber cable to the AT&T Hollywood hub is available for live or taped interviews. UCR also has ISDN for radio interviews. To learn more, call (951) UCR-NEWS.