Driverless Car Tested on Campus for National Competition
---
UC Riverside's CE-CERT and France's Dotmobil Will Discover if a Vehicle Needs a Driver
The U.S. Department of Defense will run a test at 1 p.m. July 12 in Riverside to see if a driverless car will make it to the national Urban Challenge in the fall.
(July 10, 2007)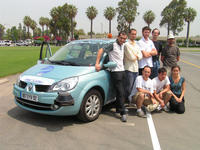 Enlarge
Members of the CE-CERT/Dotmobil team include (back row from left to right) Serge Ricardo, Jerome Ninot, Tomas Babin, team leader Vincent Lefevre, and Cyril Royere; (front row from left to right) Henry Chen, Anh Vu, and Andrea Paralta.
RIVERSIDE, Calif. (www.ucr.edu) — A parking lot in Riverside is a long way from the streets of Baghdad, but a driverless vehicle test at the University of California, Riverside this week may lead to saving American soldiers' lives in dangerous, urban situations.
The Defense Advanced Research Projects Agency (DARPA) , the research arm of the U.S. Department of Defense, will visit UCR as part of its Urban Challenge competition. UCR's College of Engineering Center for Environmental Research and Technology (CE-CERT) and Dotmobil, a French company, have entered a car in the contest, designed to encourage research on an unmanned vehicle that can be sent on missions that would be highly dangerous for humans.
"When you are dealing with explosive devices, a vehicle that eliminates human risk to perform a task is desirable," said Michael Todd, senior development engineer with CE-CERT. "When DARPA arrives Thursday, they will give us an electronic program to insert into our vehicle's computer. We don't know exactly what that program will require, nor do we know where DARPA will place obstacles on the course. The vehicle will have to navigate the course and react to the obstacles without human control. The question is, have we developed a vehicle that will do this? If so, we will make the final round of the competition this fall."
The test will take place Thursday, July 12 at 1 p.m. in the parking lot at 1084 Columbia Ave. in Riverside. The Urban Challenge features autonomous ground vehicles maneuvering in a mock city environment, executing simulated military supply missions while merging into moving traffic, navigating traffic circles, negotiating busy intersections, and avoiding obstacles.
CE-CERT and Dotmobil worked together three years ago on a similar premise for a DARPA competition for non-urban environments. The driverless off-road vehicles operated on a trek from Barstow, California, to Las Vegas, Nevada. This year, the challenge requires a vehicle to operate in an urban environment. Dotmobil and CE-CERT have modified a standard Renault for the challenge.
CE-CERT provided the engineering of the directional vision and autonomous braking systems so the car can have fully autonomous control. The contestants' vehicles must maneuver around the course, following the program's directions, staying within lines and avoiding other vehicles and stationary obstacles.
The DARPA challenge is conducted as a series of qualification steps leading to a competitive final event, scheduled to take place on November 3, 2007. DARPA is offering $2 million for the fastest qualifying vehicle, and $1 million and $500,000 for second and third place.
In 1992, the Bourns College of Engineering established the CE-CERT as a model for partnerships among industry, government, and academia. CE-CERT's goals were to become a recognized leader in environmental education, a collaborator with industry and government to improve the technical basis for regulations and policy, a creative source of new technology, and a contributor to a better understanding of the environment.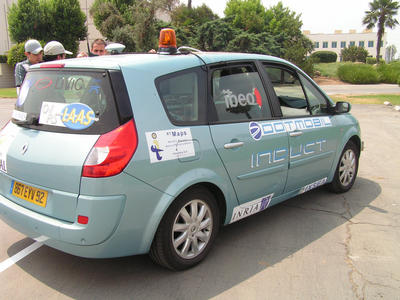 Enlarge
The modified Renault is one of the few non-domestic vehicles entered in the competition.
RELATED LINKS
ADDITIONAL CONTACTS
The University of California, Riverside (www.ucr.edu) is a doctoral research university, a living laboratory for groundbreaking exploration of issues critical to Inland Southern California, the state and communities around the world. Reflecting California's diverse culture, UCR's enrollment has exceeded 21,000 students. The campus opened a medical school in 2013 and has reached the heart of the Coachella Valley by way of the UCR Palm Desert Center. The campus has an annual statewide economic impact of more than $1 billion.
A broadcast studio with fiber cable to the AT&T Hollywood hub is available for live or taped interviews. UCR also has ISDN for radio interviews. To learn more, call (951) UCR-NEWS.