Study Examines Hospital Purchasing Challenges
---
Rising Health Care Costs are Forcing Hospitals to Give Doctors Fewer Choices
UCR professor part of a team looking at ways to streamline the process of ordering hospital supplies.
(July 24, 2007)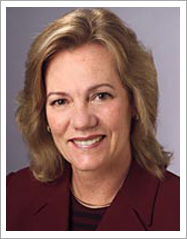 Kathleen Montgomery
RIVERSIDE, Calif. (www.ucr.edu) — How do physicians and hospitals decide which brand of artificial knee implant to use? That is a question addressed in a recent research paper by Kathleen Montgomery, a professor in UCR's A. Gary Anderson School of Management and Eugene S. Schneller, a professor from Arizona State University.
Hospitals' Strategies for Orchestrating Selection of Physician Preference Items, published in the latest issue of The Milbank Quarterly, analyzes the challenge health care institutions face in negotiating supply costs with manufacturers of orthopedic and cardiac implants who have close ties with physicians.
"Hospitals purchase the items, but legally it's the physicians who must decide which device is best for a particular patient," said Montgomery. "Manufacturers would like to influence that decision."
Changes in Medicare reimbursement policies and the increase in direct advertising of medical products to consumers complicate the decision process.
"Ultimately these parties have to be partners," Montgomery added. "How you reach that is part of our study. 'Orchestrate' is the key word."
Montgomery said the potential for savings is huge because prices for similar implants can vary by thousands of dollars — and that the study offers encouragement for hospitals in negotiating with all parties involved.
Hospital supply costs, including surgical implants like replacement knees and cardiac stents, have been rising. For instance, between 2003 and 2005, the average hospital's supply costs grew nearly 40 percent, from $36 million in 2003 to more than $50.5 million in 2005. Supply costs now represent as much as 31 percent of a hospital's total cost for care. Gaining control of the hospital's supply chain—the flow of products and associated services to meet the needs of the hospital and those who serve patients—presents special challenges, the report says.
"It's in the hospital's best interest to get the doctors to choose supplies that are most cost effective, without compromising patient safety," she said. "But it's not so easy to simply adopt the same cost-reducing strategy for medical devices that hospitals use for pharmaceuticals," Montgomery said. "If a patient doesn't respond well to one drug, another drug can often be quickly substituted. But if a patient doesn't respond well to a particular implant, switching to a different implant requires another surgery. The choice has to be right the first time."
The study revealed that hospitals try to standardize their purchasing to obtain lower prices, either by putting a price cap on how much they will pay for a particular category of devices or by limiting the manufacturers they will purchase from. Either way, hospitals need to make product comparisons that physicians will accept.
"The best way to do that is involve physicians in the product assessments and comparisons," said Montgomery. "Hospitals are experimenting with incentives they can offer physicians to participate in the product assessment process. Often these take the form of commitments to invest in better operating room equipment and staffing."
The researchers concluded that the promise of cost savings is motivating hospitals to pursue standardization, despite barriers that include long-standing alliances between physicians and suppliers.
"Our study indicates that these barriers are not insurmountable," Montgomery said. "We're seeing a very interesting dance between these groups that requires large doses of mutual trust."
RELATED LINKS
ADDITIONAL CONTACTS
The University of California, Riverside (www.ucr.edu) is a doctoral research university, a living laboratory for groundbreaking exploration of issues critical to Inland Southern California, the state and communities around the world. Reflecting California's diverse culture, UCR's enrollment has exceeded 21,000 students. The campus opened a medical school in 2013 and has reached the heart of the Coachella Valley by way of the UCR Palm Desert Center. The campus has an annual statewide economic impact of more than $1 billion.
A broadcast studio with fiber cable to the AT&T Hollywood hub is available for live or taped interviews. UCR also has ISDN for radio interviews. To learn more, call (951) UCR-NEWS.