Summer Research Programs Draw Top Undergraduates to Campus
---
Summer research programs attract bright, motivated undergraduate students to UCR
Grants from the National Science Foundation help train next generation of scientists
(August 10, 2007)
NEWS MEDIA CONTACT
Name:

Iqbal Pittalwala


Tel:

(951) 827-6050


E-mail:

iqbal@ucr.edu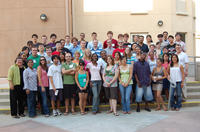 Enlarge
Undergraduates participating in "Research Experiences for Undergraduates" programs at UCR, seen with some faculty mentors. Photo credit: J. Chappell, Bourns College of Engineering, UCR.
RIVERSIDE, Calif. — While many students head for the beaches or amusement parks in the summer, for several undergraduates from across the country this is the time for doing research in new areas of scientific study. Fifty-six such students are spending 10 weeks this summer at UC Riverside to gain research experiences in a variety of fields to help advance their careers.
The students' summer opportunities have been made possible by four grants awarded to UCR researchers by the National Science Foundation. The grants, each of which has spawned a "Research Experiences for Undergraduates" (REU) program on campus, provide the students with a modest stipend and an allowance for travel and housing.
The programs together cover
plant cell biology
,
bioanalytical sciences
,
nanoscience
and
bioengineering
. Students selected into the programs work closely with UCR faculty researchers specializing in these and other related fields of study.
The REU programs provide their students with instruction in safe laboratory practices and give them an opportunity to discuss issues related to the ethical practice of science. Students participate in a graduate school workshop as well as a research symposium. They also give oral presentations on their research during the course of the REU program and a poster presentation at the end of it.
"The intensive research experience our programs provide the students is often a major contributor to their decision about what career to choose after graduation," said
Cynthia Larive
, a professor of chemistry who is leading the
REU program in bioanalytical sciences
, now in its second year. "Our students in the past have indicated that they are more likely to attend graduate school as a result of their experience in our programs."
To be eligible, students must be citizens or permanent residents of the United States with minimum overall grade point average of 3.0. Applicants are selected through an application process, with each application reviewed by a committee.
This year's REU participants are working on projects developed by their faculty mentors on topics including cell membrane electromechanics; microfluidic devices for bacterial sensing; video observations of biological systems; the fabrication of nanowires for biochemical sensors; probing protein structure with mass spectrometry; computational molecular biology; and the development of novel biomedical microdevices.
Other topics include biological research aimed at understanding basic developmental processes in plants that will ultimately permit more sustainable crop production; cutting-edge approaches including genetics and the use of novel drug-like chemicals that affect, among other things, plant responses to disease and environmental stresses.
"The students participate in all aspects of hypothesis-driven research, including experimental design, trouble-shooting, and data interpretation," said
Patricia Springer
, an associate professor of genetics who is leading the
REU program in plant cell biology
, now in its sixth year. "In this setting, the students experience the excitement of making new research discoveries and interact closely with not only faculty, but also graduate students and postdoctoral researchers."
Students participating in past REU programs at UCR have been successful in gaining admission to graduate institutions including UCR.
"Many have gone to graduate school at institutions such as UC Irvine, UCLA, Penn State, and the University of Massachusetts, and a number have entered PhD programs at UCR," Springer said. "Several have also contributed to research projects that resulted in publications, with the REU student as co-author."
Alexander Balandin
, a professor of electrical engineering, is heading the
REU program in nanoscience
, now in its second year.
Victor Rodgers
, a professor of bioengineering, is heading the campus's first
REU program in bioengineering
.
The following students are in REU programs this summer at UCR:
| Student | Hometown |
| --- | --- |
| Adam Cheng | San Francisco, Calif. |
| Albert Cruz | Sun City, Calif. |
| Alex Paya | Mableton, Ga. |
| Amy Ferria | Rowland Heights, Calif. |
| Anthony Bianchi | Ontario, Calif. |
| Archie Taylor | Yazoo City, Miss. |
| Arman Rezaee | Mesa, Ariz. |
| Bryan Ming Yeh | Upland, Calif. |
| Brian Lunt | Mesa, Ariz. |
| Chi Yin (Judy) Yao | Diamond Bar, Calif. |
| Christine Reder | Bay City, Mich. |
| Connie Hong | Pomona, Calif. |
| Daniel Lin | Tustin, Calif. |
| Daniel Swank | Corona, Calif. |
| Demetrius Cummings | Corona, Calif. |
| Dustin Veazey | Corona, Calif. |
| Eminet Gebremichael | Placentia, Calif. |
| Eric Nordland | Cottage Grove, Wis. |
| Heather Yang | Berkeley, Calif. |
| Jeffrey Suhalim | Colton, Calif. |
| Jessica Jauw | San Francisco, Calif. |
| John Pawlik | Lakeside, Mich. |
| Joon-Bok Lee | Torrance, Calif. |
| Joseph Clift | San Dimas, Calif. |
| Joseph Espinosa | LaVerne, Calif. |
| Joseph Valenzuela | Victorville, Calif. |
| Katarina Taylor | Reno, Nev. |
| Lauren Quezada | Hacienda Heights, Calif. |
| Layne Higgins | Corona, Calif. |
| Leallyn Murtagh | Wilmington, N.C. |
| Mae Huo | Berkeley, Calif. |
| Maressa Bell-Deane | Pittsfield, Mass. |
| Matthew Alpert | Corona, Calif. |
| Megan Chawner | New York City, N.Y. |
| Michael Collins | La Cañada, Calif. |
| Michelle Norako | Jamesville, N.Y. |
| Miroslav Penchev | La Quinta, Calif. |
| Naveen Menon | Riverside, Calif. |
| Nicholas Holtgrewe | St. Louis, Mo. |
| Nikolas Cordova-Dee | La Verne, Calif. |
| Owen Holder | Irvineton, N.Y. |
| Rachel Dyer | Mt. Pleasant, Iowa |
| Rhonda Egidy | Greeley, Kan. |
| Shelby Bickford | Riverside, Calif. |
| Shonnette Grant | Hyattsville, Md. |
| Sirish Nandyala | Yucca Valley, Calif. |
| Sonia So | Rancho Cordova, Calif. |
| Sonja Kress | Neustadt, Germany |
| Steven Horikoshi | Alameda, Calif. |
| Sze Hon Tsang | Montenory Park, Calif. |
| Thi Nguyen-Huynh | Granada Hills, Calif. |
| Tiffany Carmona | Riverside, Calif. |
| Tom Hirschauer | Westlake, Ohio |
| Ugoeze Nwokedi | Hawthorne, Calif. |
| Vicente Nunez | Cathedral City, Calif. |
| Zhen Qin | San Jose, Calif. |
The following is a breakdown of the REU grants to UCR: Larive has received $224,187 for three years (2006-2008); Springer has received $432,897 for five years (2005-2009); Balandin has received $300,000 for three years (2006-2008); and Rodgers has received $362,503 for three years (2007-2009). All four faculty researchers are principal investigators of their grants.
The University of California, Riverside (www.ucr.edu) is a doctoral research university, a living laboratory for groundbreaking exploration of issues critical to Inland Southern California, the state and communities around the world. Reflecting California's diverse culture, UCR's enrollment has exceeded 21,000 students. The campus opened a medical school in 2013 and has reached the heart of the Coachella Valley by way of the UCR Palm Desert Center. The campus has an annual statewide economic impact of more than $1 billion.
A broadcast studio with fiber cable to the AT&T Hollywood hub is available for live or taped interviews. UCR also has ISDN for radio interviews. To learn more, call (951) UCR-NEWS.