Take a Breath to Save Your Health
---
UCR Engineers to Develop New Tool to Measure How Environmental Exposures Affect Health
National Institutes of Health grant of $2.2 million to fund four-year research in nanotechnology
(September 4, 2007)
NEWS MEDIA CONTACT
Name:

Iqbal Pittalwala


Tel:

(951) 827-6050


E-mail:

iqbal@ucr.edu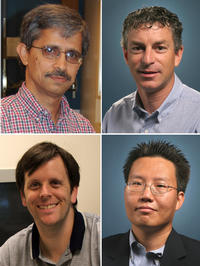 View Video" height="266" width="200" />
Enlarge
UCR engineers involved in the research project. Clockwise from top left: Ashok Mulchandani (pricipal investigator of the grant), Marc Deshusses, Nosang Myung and David Cocker. View Video
RIVERSIDE, Calif. — Engineers at UC Riverside's Bourns College of Engineering have received a four-year $2.2 million grant from the National Institutes of Health (NIH), to be shared with researchers at Arizona State University, to develop a key tool for exploring the environmental roots of common diseases.
Employing nanotechnology to create the tool, the research project will be part of a new nationwide effort by NIH to better understand the underlying causes of increasingly common diseases such as diabetes, hypertension, asthma, arthritis, and Alzheimer's disease, and the role that environmental exposures play in these diseases.
The project at UCR will involve the development of devices not available currently: inexpensive 4" by 4" badges, attachable to a person's clothes, for monitoring diesel and gasoline exhaust exposure.
"The sensor we are developing would for the first time allow monitoring of over 40 components of diesel and gasoline exhaust simultaneously in real-time,"
said Ashok Mulchandani
, the principal investigator of the grant and a professor of chemical and environmental engineering. "Some of these exhaust toxics have been shown to cause respiratory illness and cancer."
The light-weight badges will each house an array of electrochemical nanosensors for detecting and measuring exhaust. The measurements will be used eventually in studies focusing on what role diesel and/or gasoline exhaust play in causing disease. The badges also will be equipped with low-power microelectronics for power management, data collection and transfer, and signal processing.
"This NIH grant is a wonderful validation of the leadership role we play in sensor technology," said Reza Abbaschian, dean of the
Bourns College of Engineering
. "The research this grant enables also supports our mission of providing excellent research and innovation to improve human health."
An expert in biosensors, nanobiotechnology and biodetoxification,
Mulchandani
explained that the unique arrays of independent sensors in each badge will offer real-time analytical information on trace concentrations of air-borne toxics and pollutants, making it possible to selectively and accurately monitor personal exposure.
"The research project is a part of the college's ongoing efforts in developing sensors for health care, environmental monitoring and homeland security," he said.
Mulchandani will be joined in the research project by UCR's
Marc Deshusses
, a professor of chemical and environmental engineering who will head the effort in modeling, experimental design and data analysis;
Nosang Myung
, an associate professor of chemical and environmental engineering who will provide expertise for nanoscale fabrication of the new sensor device; and
David Cocker
, an associate professor of environmental engineering who will lead the research on testing and validating the sensors, including their performance in real-time exposure conditions with diesel and gasoline exhaust.
They will collaborate with Arizona State University's Joseph Wang, Bertan Bakkaloglu and Andreas Spanias, who will contribute expertise in chemical sensors, signal processing, and wireless communications.
UCR's Office of Technology Commercialization has pending patent applications that cover some aspects of the sensors that will be used in the experiment.
The grant is awarded by NIH's National Institute of Environmental Health Science, as part of the NIH "Genes, Environment and Health Initiative." Multiple NIH agencies have invested a total of approximately $48 million for this inaugural year of the initiative. Expected to be funded for a total of four years, the initiative aims to analyze genetic variation in groups of patients with specific illnesses; and both produce and validate new methods for monitoring environmental exposures that interact with genetic variation to result in human diseases.
UCR will receive $1.5 million of the funding, with Arizona State University receiving the rest. For the inaugural year, the UCR project will receive nearly $567,000, with Arizona State University receiving approximately a third of this amount. The project is expected to begin this fall.
The Bourns College of Engineering (BCOE), established in 1989, is the one of the newest engineering schools in California and is ranked among the best public engineering colleges of its size in the nation. The faculty and student populations have both tripled in the past seven years, with new facilities and state-of-the-art laboratories, equipment and technology infrastructure keeping pace with the growth. Interdisciplinary and collaborative efforts are a hallmark of the College in education, research and industrial partnerships, particularly in three affiliated research centers. BCOE offers an interdisciplinary major in Materials Science and Engineering, as well as B.S., M.S. and Ph.D. degrees through the five College departments: Bioengineering, Chemical & Environmental, Computer Science, Electrical and Mechanical.
RELATED LINKS
ADDITIONAL CONTACTS
The University of California, Riverside (www.ucr.edu) is a doctoral research university, a living laboratory for groundbreaking exploration of issues critical to Inland Southern California, the state and communities around the world. Reflecting California's diverse culture, UCR's enrollment has exceeded 21,000 students. The campus opened a medical school in 2013 and has reached the heart of the Coachella Valley by way of the UCR Palm Desert Center. The campus has an annual statewide economic impact of more than $1 billion.
A broadcast studio with fiber cable to the AT&T Hollywood hub is available for live or taped interviews. UCR also has ISDN for radio interviews. To learn more, call (951) UCR-NEWS.