Clifford Trafzer Named Costo Chair
---
Clifford Trafzer Named Costo Chair
The UC Riverside professor of American history has spent his life working with American Indian communities in Oklahoma, Arizona, Washington and California.


(August 10, 2007)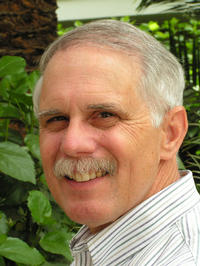 Enlarge
Clifford Trafzer
RIVERSIDE, Calif. (
www.ucr.edu
) — Clifford E. Trafzer, professor of American history at the University of California, Riverside, has been appointed the Rupert Costo Chair in American Indian Affairs.
Trafzer
said he was honored by the appointment.
"It is a privilege to conduct research with the Indian tribes of California and share their historical and cultural knowledge with other scholars and the general public," said Trafzer, who has taught at UCR for 16 years and served as director of the California Center for Native Nations in 2006-07. "The Costo Chair will allow those of us working in American Indian Studies to further the academic mission that Rupert and Jeanette Costo set out for us in the 1980s."
Rupert Costo (Cahuilla) and Jeannette Henry Costo (Cherokee) helped found UC Riverside in the mid-20th century. In 1986, they created the Costo Chair of American Indian Affairs, the first chair in the nation endowed by American Indians. The Costos also established UCR's
Costo Library of the American Indian and Costo Archives
, and inspired the creation of the university's
California Center for Native Nations
.
CHASS Dean Stephen Cullenberg described Trafzer as "a scholar of the highest accomplishment" who has worked effectively with the American Indian community in ways that benefit the community and UCR.
"He is deeply committed to educating undergraduates and especially training graduate students in American Indian Studies at UCR," Cullenberg said. "Together, these attributes make him eminently qualified to be holder of the prestigious Costo Chair."
Trafzer succeeds Joel Martin, who left UCR in 2006 to become dean of the College of Humanities and Fine Arts at the University of Massachusetts-Amherst.
Trafzer, a Yucaipa resident, is of Wyandot and German ancestry and has spent his life working with American Indian communities in Oklahoma, Arizona, Washington and California. He joined the UCR faculty in 1991 after serving as chair of the Department of American Indian Studies at San Diego State University for nine years. Previously, he had been a professor of American Indian history at Washington State University and Navajo Community College in Tsaile, Ariz.
He earned his B.S. and M.A. degrees from Northern Arizona University, Flagstaff, in history and his Ph.D. from Oklahoma State University in American history with a research field in the American West with an emphasis on American Indian history.
Trained as a professor, museum curator, and archivist, Trafzer joined the faculty of UCR as the first professor of American Indian Studies and helped develop the academic program in Native Studies through the Department of Ethnic Studies. He created the curriculum in American Indian Studies and led the effort to create a bachelor's degree in American Indian Studies at UCR.
With history professor Rebecca Kugel, he established major and minor Ph. D. fields in American Indian history at UCR, one of the few doctoral programs devoted to Native American History in North America.
Trafzer has served as director of American Indian Studies, chair of the Ethnic Studies Department, director of public history, director of the Costo Historical and Linguistics Native American Research Center, and graduate advisor in the History Department.
Trafzer was appointed to the California Native American Heritage Commission in 1988 by Gov. George Deukmajian and he has served as a commissioner under Governors Pete Wilson, Gray Davis and Arnold Schwarzenegger. He also: serves on the American Indian Advisory Committee creating the California Indian Heritage Center: serves on the National Urban Indian Health Commission that will advise the White House and Congress on health matters important to urban Indians; is a founding member of the Native American Land Conservancy Board, which preserves sacred lands important to Indian people; and is consulting with the National Library of Medicine of the National Institute of Health on an exhibit of American Indian Medicine.
Since 1990 Trafzer has worked with the Smithsonian's National Museum of the American Indian. He co-edited "Native Universes: Voices of Native America" with Cree scholar Gerald McMaster, the inaugural book produced to commemorate the opening of the museum in 2004. The book was recognized by the American Association of Museums in 2005.
He has published several books, including "The People of San Manuel," "Chemehuevi People of the Coachella Valley and "Death Stalks the Yakama: Epidemiological Transitions and Mortality on the Yakama Indian Reservation." He is completing four more, among them "Changing Medicine: The Intersection of American Indian and Western Medicine Among Southern California Indians" and "Wisdom Spirits: American Indian Prophets and Revitalization Movements."
RELATED LINKS
ADDITIONAL CONTACTS
The University of California, Riverside (www.ucr.edu) is a doctoral research university, a living laboratory for groundbreaking exploration of issues critical to Inland Southern California, the state and communities around the world. Reflecting California's diverse culture, UCR's enrollment has exceeded 21,000 students. The campus opened a medical school in 2013 and has reached the heart of the Coachella Valley by way of the UCR Palm Desert Center. The campus has an annual statewide economic impact of more than $1 billion.
A broadcast studio with fiber cable to the AT&T Hollywood hub is available for live or taped interviews. UCR also has ISDN for radio interviews. To learn more, call (951) UCR-NEWS.