Turfgrass Water Conservation Is Up for Discussion
---
UCR Hosts Meeting on Turfgrass Water Conservation
One-day symposium also to address environmental issues related to turfgrass
(August 22, 2007)
NEWS MEDIA CONTACT
Name:

Iqbal Pittalwala


Tel:

(951) 827-6050


E-mail:

iqbal@ucr.edu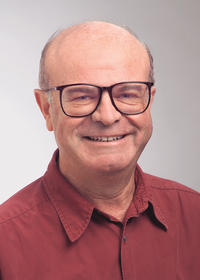 Enlarge
Victor Gibeault, after whom the conference on turfgrass water conservation is named, is a retired UCR faculty expert on turfgrass. Photo credit: UCR Strategic Communications.
RIVERSIDE, Calif. — While synthetic grass makes its appearance in some playing fields in the country, the appeal of real turf remains strong. Now scientists at UC Riverside are putting together a one-day symposium to focus on the research being done on turfgrass and the water conservation issues surrounding its use.
The Victor A. Gibeault Symposium on Turfgrass Water Conservation, named after a retired UCR faculty expert on turfgrass, will bring the science surrounding turfgrass up to date on Thursday, Sept. 6, 2007. To be attended by turfgrass experts from across the country, the daylong symposium will take place in room 2000, Physics Building,
UCR campus
.
"Turfgrass plays a major role in our way of life," said Stephen T. Cockerham, superintendent of
agricultural operations at UCR
, a specialist on turfgrass and a past president of both the Sports Turf Managers Association and the American Sod Producers Association. "While some people are trying to do away with their lawns, the majority of people find natural turf functional, aesthetically appealing, and a wonderful surface for their children to play on. It adds value to the quality of life."
Originating from meadow and range grasses that thrived under close grazing by livestock, turfgrass is a species or cultivar of grass that is maintained as a mowed turf. It finds use in home lawns, parks, cemeteries, sports fields, schoolyards and roadsides.
The symposium, which is aimed at researchers, sports turf managers, golf course superintendents, sod farm owners, and landscape architects and contractors, aims to bring the science of turfgrass management and turfgrass water conservation upfront and to a new level for both researchers and the public.
"Water is key to turf performance," said Cockerham, who is organizing the symposium. "Turfgrass scientists have been leaders in the research of developing water management strategies and have developed grass cultivars to maximize water use efficiency for optimum turf performance. We expect this symposium to bring turfgrass water conservation into sharp focus."
Topics to be discussed in the symposium include the science of turfgrass water use and the application of this science; environmental concerns and turfgrass irrigation; developing turfgrasses for drought, salinity and temperature stress; salinity in soils, water management technologies; and water conservation in the landscape. The entire
program
of the symposium is included below.
Registration for the symposium costs $30 per person, which includes lunch (the fee is waived for members of the media interested in covering the symposium). For more information, call (951) 827-5906.
A book on turfgrass water conservation is planned, based on the symposium. The book, which will serve as a reference for turfgrass science done during 1983-2007, will have one chapter as a practicum for policy makers. The previous book on the subject, edited by Gibeault and Cockerham, was published in 1985.
UCR is in the center of one of the largest turfgrass industries in the world. Programs on campus focus on current problems and issues such as resource efficiency in the areas of water, nutrition, pest management, and energy and labor input in sites such as lawns, parks and golf courses; environmental enhancement and protection; and turfgrass persistence and performance with increased traffic on heavily used sports fields. For more information, click
here
.
About Victor A. Gibeault:
Victor A. Gibeault received his bachelor's and master's degrees from the University of Rhode Island and his doctoral degree from Oregon State University. In 1969 he joined UCR as a Cooperative Extension environmental horticulturist in the Department of Botany and Plant Sciences. Recognized internationally, he has made major contributions to the turfgrass industry for more than thirty years.
Gibeault
is a member of The American Society of Agronomy, The American Sod Producer's Association, the Golf Course Superintendents Association, the International Turfgrass Society and both the Northern & Southern California Turfgrass Councils. In 2004 the board of directors of the Southern California Turfgrass Foundation presented him with the Turfgrass Hall of Fame award. Gibeault retired from UCR in May 2007.
Symposium program:
Moderator
Frank Wong, Extension Plant Pathologist, University of California, Riverside
8:30 a.m. Welcome
Bernd Leinauer, New Mexico State University, Symposium Co-Chair
9 a.m. Overview of the Science of Turfgrass Water Use
James Beard, Professor Emeritus, Texas A & M University
9:30 a.m. Environmental Concerns and Turfgrass Irrigation
Ronald Dodson, President, Audubon International
10 a.m. Break
10:15 a.m. Developing Turfgrasses for Drought, Salinity, and Temperature Stress
Robert Shearman, Professor, University of Nebraska, Lincoln
10:45 a.m. Water Use Physiology in Turfgrasses
Bingru Huang, Professor, Rutgers University
11:15 a.m. Modified Rootzones for Turfgrass Water Use
Paul Rieke, Professor Emeritus, Michigan State University & James Murphy, Extension Turfgrass Specialist, Rutgers University
11:45 a.m. Water Quality (Political Aspect, Types, Salinity Levels)
Laosheng Wu, Associate Professor of Soil Science, University of California, Riverside; Ali Harivandi, Area Turfgrass Advisor, University of California Cooperative Extension
12:15 p.m. Lunch
1:30 p.m. Salinity in Soils
Robert Carrow, Professor University of Georgia
2 p.m. Water Management Technologies
Bernd Leinauer, Extension Turfgrass Specialist, New Mexico State University; Robert Green, Turfgrass Research Specialist, University of California, Riverside
2:30 p.m. Water Conservation in the Landscape
Dale Devitt, Professor, University of Nevada, Las Vegas
3 p.m. Practicum: Applying the Science of Turfgrass Water Conservation
David Kopec, Extension Turfgrass Specialist, University of Arizona
3:30 p.m. Discussion
4 p.m. Adjourn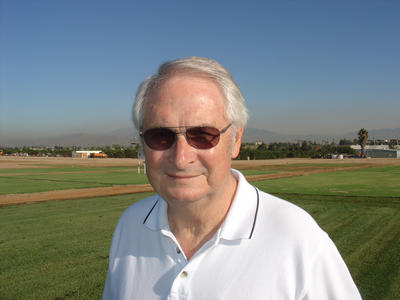 Enlarge
Stephen Cockerham, superintendent of agricultural operations at UCR, is organizing the Victor A. Gibeault Symposium on Turfgrass Water Conservation.
The University of California, Riverside (www.ucr.edu) is a doctoral research university, a living laboratory for groundbreaking exploration of issues critical to Inland Southern California, the state and communities around the world. Reflecting California's diverse culture, UCR's enrollment has exceeded 21,000 students. The campus opened a medical school in 2013 and has reached the heart of the Coachella Valley by way of the UCR Palm Desert Center. The campus has an annual statewide economic impact of more than $1 billion.
A broadcast studio with fiber cable to the AT&T Hollywood hub is available for live or taped interviews. UCR also has ISDN for radio interviews. To learn more, call (951) UCR-NEWS.