Biologist Wins MacArthur Fellowship
---
UC Riverside Biologist Receives Prestigious MacArthur Fellowship
Cheryl Hayashi's work reveals the architecture, evolution, and structural properties of spider silks and the possibilities of developing new synthetic materials
(September 24, 2007)
NEWS MEDIA CONTACT
Name:

Iqbal Pittalwala


Tel:

(951) 827-6050


E-mail:

iqbal@ucr.edu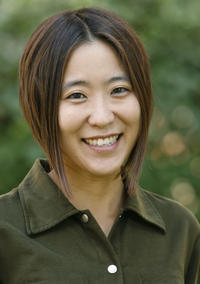 View Video" height="284" width="200" />
Enlarge
Cheryl Hayashi is an associate professor of biology at UCR. Photo credit: The MacArthur Foundation. View Video
RIVERSIDE, Calif. (www.ucr.edu)-- Cheryl Hayashi, a biologist at UC Riverside and a national expert of the genetic structure of spider silk, has won a $500,000 MacArthur Fellowship, one of the most prestigious awards in the country. She is one of only 24 MacArthur Fellows for 2007 named by the John D. and Catherine T. MacArthur Foundation.
Commonly known as a 'genius award,' the MacArthur Fellowship is a no strings attached grant to individuals who show exceptional creativity in their work, promise for important future advances, and potential for the fellowship to facilitate new work.
Paid in quarterly installments over five years, the grant is designed to provide recipients with seed money for intellectual, social, and artistic endeavors, as well as the flexibility to pursue their creative activities in the absence of specific obligations or reporting requirements.
"This is thrilling news," said UCR Acting Chancellor Robert D. Grey. "A MacArthur Fellowship is a tremendous honor and we are extremely proud of Professor Hayashi. Her trailblazing work on the genetics of spider silk is a wonderful example of the tremendous value of research on fundamental mechanisms of life. I join her colleagues at UC Riverside in offering our warmest congratulations."
Scientists have long been fascinated with spider silks -- used by spiders to move, trap and store food, and to reproduce -- because of their extraordinary mechanical properties. Different proteins are made and mixed in the silk glands of spiders to create the silk.
For more than a decade,
Hayashi
has been performing the molecular and mechanical characterization of these silks. Her laboratory at UCR does extensive mechanical testing of silk fibers from different spider species.
Some silks are one-tenth the diameter of a human hair, lighter than cotton, yet ounce for ounce up to five times tougher than steel. As a result, they are being considered in improving a wide variety of products such as lightweight super-strong body armor; specialty rope; biodegradable surgical sutures; components of medical devices; and high-tech athletic attire.
Highlights of research by the Hayashi group at UCR:


Hayashi's lab has shown that spider silks are created not just by the spinning process, but also by ancient protein structures handed down genetically over millions of years of evolutionary history.


Her research group uncovered the molecular structure of the gene for the protein that female spiders use to make their silken egg cases -- a discovery that will help biotechnologists develop applications for spider silk and shed light on spider evolution.


In seeking the genetic origins of spider orb-web silks, Hayashi's research group discovered evidence indicating that wagon-wheel shaped nets are extremely old, so old that dinosaurs may have seen them.


Her lab identified the genes, and determined the DNA sequences, for two key proteins in the "dragline silk" of the black widow spider -- an advance that may lead to a variety of new materials for industrial, medical and military uses.


"It's a wonderful surprise to win this fellowship -- not only for me but also for my collaborators and students," Hayashi said. "We feel fortunate to receive this honor and I am extremely grateful that the work done in my lab has been recognized in this way."
Hayashi received her bachelor's and doctoral degrees in biology from Yale University. She was a U.S. Presidential Scholar, National Merit Scholar, and recipient of both a Graduate Fellowship and Dissertation Improvement Grant from the National Science Foundation. She joined the faculty at UCR in spring 2001. Since then, she has been the principal investigator on multiple grants from the National Science Foundation and the Army Research Office.
Hayashi's many influences include her biology teacher in high school, as well as a professor at Yale who worked with spiders. As an undergraduate, Hayashi was charged with feeding spiders and also got to do field work in Panama. She is indebted, too, to Randy Lewis, her postdoctoral advisor at the University of Wyoming, for his time and expertise.
"And let's not forget the spiders themselves," Hayashi said. "They, too, have greatly inspired me. I'm always learning something new from them, which is what keeps my research going."
Her scientific articles have appeared in such journals as
Science
,
Proceedings of the National Academy of Sciences
, and the
Journal of Experimental Biology
.
In addition to her teaching and research activities, Hayashi is dedicated to mentoring undergraduates, graduate students, and postdocs in her laboratory. She also serves as an associate editor of the journal
Molecular Phylogenetics and Evolution
.
A frequent contributor to newspaper, magazine, television, and radio interviews to explain the value of spider silk, biomaterials, and biodiversity to the public, Hayashi volunteers much of her time to educational and public outreach.
More recently, she expanded her studies to include silks from other arthropods (such as caterpillars), non-silk proteins such as glues, and comparative analysis of spider silk biomechanics.
Hayashi plans to use the award money to travel abroad so she can work on spiders with researchers in other countries. "I had always dreamed of such an opportunity," she said. "So far, I've mostly worked on California spiders."
The inaugural class of MacArthur Fellows was named in 1981. Including
this year's fellows
, 756 people, ranging in age from 18 to 82 at the time of their selection, have been named MacArthur Fellows since the program's inception.
The selection process begins with formal nominations. Nominations are accepted only from invited nominators, a list that is constantly renewed throughout the year. They are chosen from many fields and challenged to identify people who demonstrate exceptional creativity and promise. The number of MacArthur Fellows selected each year is not fixed; typically, it varies between 20 and 25.
The John D. and Catherine T. MacArthur Foundation
is a private and independent institution dedicated to building a more just and sustainable world. With an endowment over $6.4 billion, the foundation makes grants totaling approximately $225 million each year.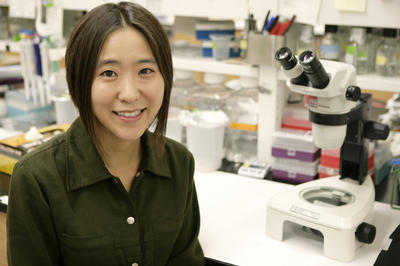 Enlarge
Cheryl Hayashi is an associate professor of biology at UCR. Photo credit: The MacArthur Foundation.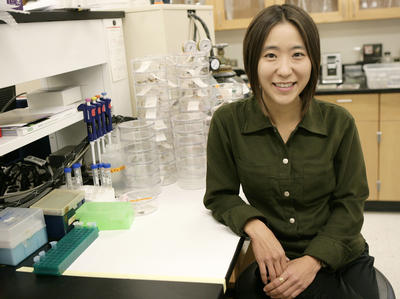 Enlarge
Cheryl Hayashi is an associate professor of biology at UCR. Photo credit: The MacArthur Foundation.
RELATED LINKS
ADDITIONAL CONTACTS
The University of California, Riverside (www.ucr.edu) is a doctoral research university, a living laboratory for groundbreaking exploration of issues critical to Inland Southern California, the state and communities around the world. Reflecting California's diverse culture, UCR's enrollment has exceeded 21,000 students. The campus opened a medical school in 2013 and has reached the heart of the Coachella Valley by way of the UCR Palm Desert Center. The campus has an annual statewide economic impact of more than $1 billion.
A broadcast studio with fiber cable to the AT&T Hollywood hub is available for live or taped interviews. UCR also has ISDN for radio interviews. To learn more, call (951) UCR-NEWS.