New Center to Address China's Ecological Challenges
---
UCR Partners with Chinese University to Address China's Environmental Problems
Collaborative research activities on preventing ecological degradation to benefit California also
(October 16, 2007)
NEWS MEDIA CONTACT
Name:

Iqbal Pittalwala


Tel:

(951) 827-6050


E-mail:

iqbal@ucr.edu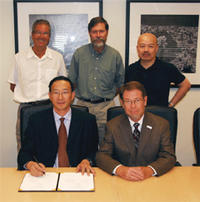 Signing the agreement at UCR to establish the CAU-UCR International Center for Ecology and Sustainability. Front row, left to right: Zhangliang Chen, president of China Agricultural University; and UCR Acting Chancellor Robert D. Grey. Back row, left to right: UCR's Charles F. Louis, Donald Cooksey, and Bai-lian (Larry) Li.

(Note to editors: This press release is available in Chinese.)
RIVERSIDE, Calif. — According to the World Bank, China has one of the worst pollution problems on the planet, and is second only to the United States in emissions of carbon dioxide, a greenhouse gas linked to global warming. China is also home to 20 of the world's 30 most air-polluted cities.
To address China's increasing environmental challenges, such as smog, acid rain and water pollution, scientists at UC Riverside and China Agricultural University (CAU) have teamed up to launch a new center: the CAU-UCR International Center for Ecology and Sustainability.
Located in Beijing, China, the center will attempt to solve environmental and agricultural problems, restore damaged ecosystems, and ensure food safety — concerns common not just to China and Southern California but the world at large.
"This center brings together some of the leading researchers at UCR with colleagues at CAU, the premier agricultural university in China, to solve what is being recognized as the major challenge of the 21st century," said
Charles Louis
, vice chancellor for research at UCR. "The proposed bidirectional exchanges of faculty and students will enhance both research and partnerships between California and China."
Besides doing collaborative research on key ecological and sustainable development issues, the center will promote public awareness of these issues and advise policy-makers at the local, regional, federal and global levels on important questions in ecosystem management.
"The issues of ecology and sustainability facing China today are massive and, in many cases, mirror those faced by California," said
Bai-lian (Larry) Li
, a professor of ecology in UCR's Department of Botany and Plant Sciences, who joins Wenliang Wu, the chief scientist of the National Agroecology Program and provost at CAU, in co-directing the center. "The center will utilize the combined strengths of UCR and CAU in ecology, agriculture and sustainability research to find viable and effective solutions to environmental problems."
The center's six initial research areas of focus are: (1) ecosystem complexity and regional sustainability; (2) management and treatment of agricultural nonpoint (indirect) pollution; (3) conservative farming and ecological restoration; (4) effective use of agricultural wastes and "circulative agriculture" (agricultural systems that recycle materials/resources); (5) environmental security and food safety; and (6) microbial ecology and molecular ecology.
"These initial research foci reflect many of the hot-button topics that the faculty and researchers in the College of Natural and Agricultural Sciences are working on right now," said
Donald Cooksey
, interim dean of the College of Natural and Agricultural Sciences. "Ecological issues today transcend national or even crop-level boundaries — we all have similar sustainability problems, whether we're growing rice or oranges."
Currently, the center includes six laboratories in China as well as two experimental stations, also in China, that are engaged in intensive agro-ecosystems and grassland ecosystems studies.
CAU initially plans to allocate about five of its graduate students to the new center. Thereafter it will offer research opportunities to visiting UCR faculty and students.
In addition, Chinese institutions other than CAU will participate in the center's research activities. The center also plans to include other international members in upcoming years.
"We will soon have other Asian colleagues, as well as European researchers at the center," Li said. "German, Italian and Dutch scientists have already expressed an interest in joining our efforts."
Each year, the center will host an annual international forum on the key issues related to ecology and sustainability, and arrange publication of the conference proceedings.
Plans are underway at UCR to establish an office for coordinating the center's collaborative efforts, including the exchange of research and education programs between UCR and CAU.
"We are extremely pleased to be a part of this effort to finding solutions to an enormous problem," Louis said. "We fully expect the research emerging from this center to benefit not only China and California but also the international community."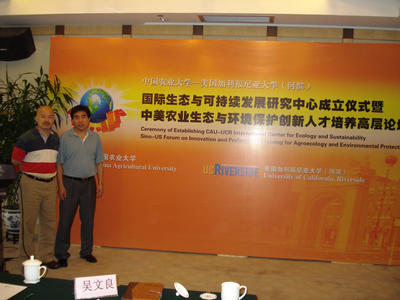 Bai-lian (Larry) Li (left), a professor of ecology at UCR, and Wenliang Wu (right), provost of China Agricultural University, are co-directors of the CAU-UCR International Center for Ecology and Sustainability.
The University of California, Riverside (www.ucr.edu) is a doctoral research university, a living laboratory for groundbreaking exploration of issues critical to Inland Southern California, the state and communities around the world. Reflecting California's diverse culture, UCR's enrollment has exceeded 21,000 students. The campus opened a medical school in 2013 and has reached the heart of the Coachella Valley by way of the UCR Palm Desert Center. The campus has an annual statewide economic impact of more than $1 billion.
A broadcast studio with fiber cable to the AT&T Hollywood hub is available for live or taped interviews. UCR also has ISDN for radio interviews. To learn more, call (951) UCR-NEWS.