Copernicus and MESA Team up on Student Information Day
---
Building Paper Bridges, Petting Cockroaches Highlight UCR Student/Parent Event
Information day held November 3 offers potential students and their families helpful college entrance information and fun activities.
(October 18, 2007)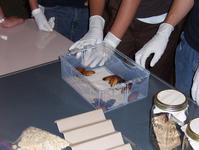 Enlarge
A cockroach petting zoo is one of the attractions offered during Strategies for Understanding College and Careers in Engineering and Science.
RIVERSIDE, Calif. (www.ucr.edu) — Getting up close and personal with cockroaches at a miniature petting zoo is one of the highlights of Strategies for Understanding College and Careers in Engineering and Science held Saturday, November 3, at the UC Riverside campus from 8 a.m. until 1 p.m. The information day, which provides prospective students and their parents with campus tours, financial aid information, college entrance requirements and science activities, is sponsored by two UCR programs: The Copernicus Project and Mathematics Engineering Science Achievement (MESA).
"During the event, we provide helpful information for college-bound students on acceptance and financial aid requirements while blending in some hands-on science and engineering activities," said Steve Gomez, co-director of Copernicus Project. "It's our goal to convince interested students to pursue a career in science education or engineering and hope that their first step towards achieving that career is enrolling at UCR."
Registration and a continental breakfast for the event begin at 8 a.m. at the University Lecture Hall 1000 patio. At 9:10 a.m., students and their parents begin the presentation rotation by either attending "Science Education Exploration Activities," "Choosing and Funding a College Education," "What is Engineering? A Hands-on Approach," or the campus tour. The program concludes with lunch at 12:30 p.m.
In addition to the cockroach petting zoo, science activities include a bone conduction experiment in which participants put a wooden reed in their mouth and hook it up to a radio or iPod and listen to the music through their bones. The session concludes with a 10-minute crash course on "How to Teach Science."
Engineering hands-on demonstrations include building bridges out of only paper and simple scotch tape. Bridges are then made to hold weight until they collapse. The activity is designed to give parents a look into the types of hands-on projects MESA students undertake, and is also an introduction into the engineering design process, a way of approaching a problem that engineers use to develop many of the innovative and ingenious products we enjoy today.
"Engineering is a field that is in dire need for qualified graduates and professionals," said Carlos Gonzalez, acting director of the MESA program at UC Riverside. " Preparation and awareness begins even at the earlier stages of education, like elementary and middle school. We need to start now to inform our young people that not only does engineering affect virtually every part of their lives, but that it is a viable area of study. They can succeed in engineering and have fun doing it."
The Copernicus Project and MESA programs combined efforts this year to ensure higher attendance and expect the event to draw between 200 and 300 parents and students.
The Copernicus program, through UCR's Graduate School of Education, helps identify and prepare science teachers, a rare resource in the public schools. The program was launched by a five-year, 11.5 million Teachers Quality Enhancement Grant from the U.S. Department of Education to fund initiatives and programs to identify and recruit future science teachers.
The MESA School's Program (MSP) has existed in California and throughout the nation for over 38 years and was established in 1999 at the University of California, Riverside. MESA assists students at middle and senior high schools (and some elementary schools) so they excel in math and science and become competitively eligible for the most rigorous colleges and universities. MESA School's Program partners with teachers, administrators, school district officials and industry representatives to provide this academic enrichment model.
The University of California, Riverside (www.ucr.edu) is a doctoral research university, a living laboratory for groundbreaking exploration of issues critical to Inland Southern California, the state and communities around the world. Reflecting California's diverse culture, UCR's enrollment has exceeded 21,000 students. The campus opened a medical school in 2013 and has reached the heart of the Coachella Valley by way of the UCR Palm Desert Center. The campus has an annual statewide economic impact of more than $1 billion.
A broadcast studio with fiber cable to the AT&T Hollywood hub is available for live or taped interviews. UCR also has ISDN for radio interviews. To learn more, call (951) UCR-NEWS.