New Partnership with China
---
Tsinghua University ceremony strengthens partnership
Bourns College of Engineering and Tsinghua University to collaborate on environmental research
(October 18, 2007)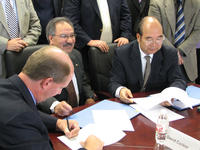 Enlarge
Dean Reza Abbaschian is at the center of the picture of the signing ceremony. CE-CERT director Matt Barth is signing the agreement. On the right is Hao Jiming, leader of the Institute of Environmental Science and Technology at Tsinghua University in China.
RIVERSIDE, Calif. -- The signing of an agreement between Bourns College of Engineering and Tsinghua University in Beijing Oct. 9 signaled a dramatic expansion of the College of Engineering — Center for Environmental Research and Technology's research presence in China.
Dean Reza Abbaschian led a delegation from UCR that included Joseph Norbeck, founding Director of the College of Engineering — Center for Environmental Research and Technology (CE-CERT), current Director Matt Barth, and Chemical and Environmental Engineering Professors Charles Wyman and David Cocker who perform their research at CE-CERT.
Signing on behalf of Tsinghua University was Dean of the University's Institute of Environmental Science and Technology Hao Jiming. Professors He Kebin and Wu Ye also participated in the ceremony, as did Dr. Weijian Han, research director for Ford Motor Company in China. An exchange of ideas followed the ceremony, where UC Riverside and Chinese professors and graduate students took part in seminars on topics such as transportation and air quality, energy sustainability, protection of the environment and development of new technologies with low environmental impact. The following day consisted of meetings with the Tsinghua faculty on specific research ideas and directions, looking for similarities to build upon at the two universities. The talks included planning for research exchanges for students and professors of both institutions.
"I felt like I was visiting CE-CERT in another country; our initiatives and research plans are very similar", said Professor David Cocker. He characterized the proceedings as well-focused and quite productive.
CE-CERT Director Matt Barth says the two universities have interacted informally for years. "We're both pushing the frontier in transportation, air quality and energy systems research," he says. "This research agreement plays very well into the 'Ten-Plus-Ten' program set forth by UC President Dynes last year." Under the Dynes initiative, the ten University of California campuses would work in conjunction with ten major universities in China, allowing students to study in math and science fields in either nation, each bringing that knowledge back to their home country. Barth also pointed out the importance of improving air quality issues prior to the 2008 Olympics in China.
Charles Wyman said there were real synergies between the two universities that will be strengthened. "The capabilities of Tsinghua align with our extensive work on cellulosic ethanol that could be beneficial to both our universities and our countries -- with the increase in their use of personal vehicles and industrial expansion, there's a much greater demand for clean energy."
"We've had a long-term productive relationship with this university, and have had several exchanges of students to do research and get their degrees," said Joseph Norbeck. "It was a wonderful event, and long overdue — the signing formalizes a research relationship with the leading engineering school in China." He gave Weijian Han, researcher director for Ford in China, much credit in bringing about the agreement.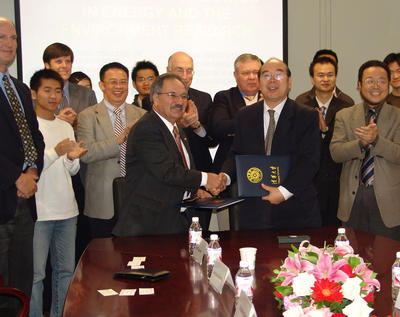 Enlarge
The entire group celebrates the agreement
RELATED LINKS
ADDITIONAL CONTACTS
The University of California, Riverside (www.ucr.edu) is a doctoral research university, a living laboratory for groundbreaking exploration of issues critical to Inland Southern California, the state and communities around the world. Reflecting California's diverse culture, UCR's enrollment has exceeded 21,000 students. The campus opened a medical school in 2013 and has reached the heart of the Coachella Valley by way of the UCR Palm Desert Center. The campus has an annual statewide economic impact of more than $1 billion.
A broadcast studio with fiber cable to the AT&T Hollywood hub is available for live or taped interviews. UCR also has ISDN for radio interviews. To learn more, call (951) UCR-NEWS.