UCR Libraries Offer Food for Thought
---
UCR Libraries Offer Food for Thought
New snack policy is a trend that students savor.
(November 2, 2007)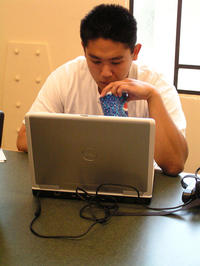 Enlarge
Kevin Huynh sips a soda in a study room at the Rivera Library.
RIVERSIDE, Calif. — Books? Check.
Lattes? Check.
Cookies? Check.
Tacos, pizza and soup? Check them at the door.
For students and faculty visiting the Tomás Rivera and Science libraries, the checklist of necessities for a successful study session just got longer, thanks to a new food policy.
Beginning this quarter, light snacks and drinks in capped or covered containers are permitted in the
University Libraries
. Messy and odoriferous foods are not.
University Librarian Ruth M. Jackson said that permitting snacks is part of a national trend in academic libraries.
"Students today have different study patterns," Jackson said. "Libraries are headed toward creating an environment like bookstores and Starbucks.
Students say they appreciate the new policy.
"When you eat you can focus more on your reading," said Natalee Maksood, who was studying recently with friends in the Rivera Library, bottles of water and soda on the table alongside their books.
"It's a more carefree environment," said freshman Linda Pham. "You can have something to drink and you won't get yelled at."
The food policy and installation of three vending machines in the Rivera Library — for coffee, bottled beverages and snacks — have been very popular with students, Jackson said, noting that the machines are nearly empty by the time the vendor makes a daily appearance to restock them. If selling snacks and beverages in the Rivera Library is deemed a success, similar machines will be installed in the Science Library, she said.
Students are on the honor system to toss their trash and report spills immediately so they can be cleaned properly, no questions asked.
"The libraries are open longer than any facility on campus," Jackson said. "Students need to have access to snacks without leaving the building."
The vending machines are an interim step toward opening a 24-hour study room and café. Remodeling part of the main floor of the Rivera Library to accommodate those facilities would cost more than $2 million, Jackson said, adding that she is looking for a donor to fund the project.
Jackson said the library staffs have spent the past two-and-a-half years upgrading technology and making the libraries more comfortable.
Cushy chairs grace the Science Library and soon will become part of the décor at the Rivera Library. New plants and displays create a welcoming ambience. All 49 study rooms in the Rivera Library have been painted, carpeted and refurnished. A reservation system for some study rooms was introduced last year, with more than 2,400 bookings.
This fall saw the expansion of wireless capabilities throughout the UCR Libraries, wired access for students to plug in their laptops, the expansion of printing services on each floor, the addition of scanners, the activation of computer ports on the more than 650 study carrels in the two libraries, and the installation of 36 software programs on every library computer to create an information commons environment. Another 14 specialized software programs for Web design and math and science applications will be installed on some banks of computers this month.
"You want an environment where students can study with their laptop, a stack of books, journals or multimedia," Jackson said.
Library usage is increasing because of the new services, she said. The turnstile count in the Rivera Library was up 13 percent from 2005-06 to 2006-07 to 742,932. Transactions on the online catalog and library information systems increased 44 percent during the same period of time.
The university is developing a new master plan for the libraries to determine how much and what kind of additional space will be needed to continue serving students as enrollment increases, looking out to the year 2017.
"We would like the UCR Libraries to be not only an intellectual center for the campus but also a learning commons where students can access the world's output of scholarly information in a variety of formats while they are in a comfortable and welcoming study environment," Jackson said. "We're working to retool the libraries for the 21st century learning environment to support student success."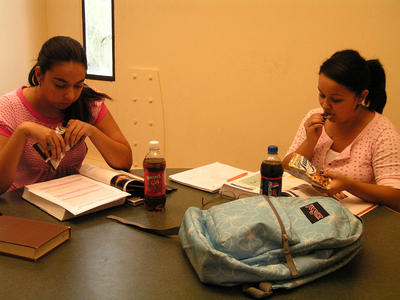 Enlarge
Amber Ahmed and Daisy Saavedra munch cookies while studying in the Rivera Libary. They said they welcome the UCR Libraries' new snack policy.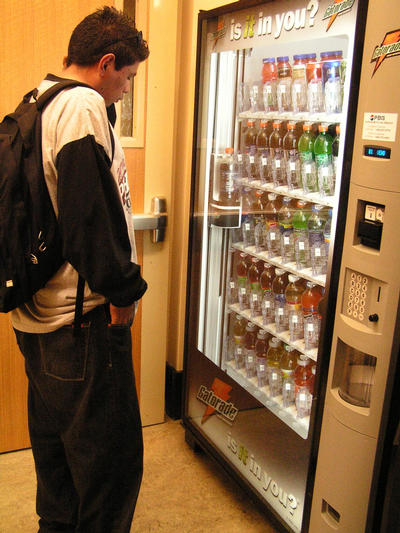 Enlarge
Jose Sanchez ponders a selection of bottled beverages in a vending machine in the Rivera Library.
RELATED LINKS
ADDITIONAL CONTACTS
The University of California, Riverside (www.ucr.edu) is a doctoral research university, a living laboratory for groundbreaking exploration of issues critical to Inland Southern California, the state and communities around the world. Reflecting California's diverse culture, UCR's enrollment has exceeded 21,000 students. The campus opened a medical school in 2013 and has reached the heart of the Coachella Valley by way of the UCR Palm Desert Center. The campus has an annual statewide economic impact of more than $1 billion.
A broadcast studio with fiber cable to the AT&T Hollywood hub is available for live or taped interviews. UCR also has ISDN for radio interviews. To learn more, call (951) UCR-NEWS.