Author Joyce Carol Oates to Speak
---
Author Joyce Carol Oates to Speak at UC Riverside
The acclaimed writer will headline Writers Week 2008 as the Chancellor's Distinguished Lecturer.
(February 5, 2008)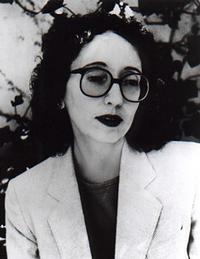 Joyce Carol Oates
RIVERSIDE, Calif. — Novelist
Susan Straight
began attending Writers Week at UCR when she returned to her native Riverside after graduate school more than 20 years ago.
Today, the award-winning author and professor of creative writing is director of the annual Writers Week at UC Riverside, scheduled this year for Feb. 5-8.
Charles Whitney
, professor of creative writing and chair of the Department of Creative Writing, is co-director.
"I was always thrilled at the chance to see nationally known writers like Peter Matthiessen and Joyce Carol Oates," Straight said. "Twenty years ago, I gathered up the courage to introduce myself to Ms. Oates after a reading, and she was so kind and accommodating. I had been reading her work since I was a teenager, and she has always been an icon to me as a writer, so actually speaking to her was wonderful. To have Joyce Carol Oates return to Writers Week, along with such powerful novelists as Chris Abani, Marisa Silver, Alex Espinoza and Tod Goldberg, is a gift."
Writers Week allows UCR students and the southern California community "a chance to see amazing writers free of charge, and to be in the presence of people who make art with their words," Straight said.
Joyce Carol Oates — author of numerous novels, short stories, poems, plays and the book-length essay "On Boxing" — will give the Chancellor's Distinguished Lecture at 8 p.m. Friday, Feb. 8, in University Lecture Hall. Admission is free and parking is complimentary. Reservations are requested and may be made by contacting Evelyn Starr at 951-827-3144 or
evelyn.starr@ucr.edu
.
Oates has won many awards for her writing, including the PEN/Malamud Award for Excellence in short fiction, the Rosenthal Award from the American Academy of Arts and Letters, a Guggenheim Fellowship, the O. Henry Prize for Continued Achievement in the Short Story, the National Book Award for her novel "Them" and membership in the American Academy of Arts and Letters.
Among her works are "You Must Remember This," "Broke Heart Blues," "Blonde," "A Garden of Earthly Delights," "We Were the Mulvaneys," "Black Water" and the children's book "Come Meet Muffin!"
Participation in Writers Week 2008 is free. The only fee is for campus parking. Most events will occur in Humanities and Social Sciences 1500.
A campus map is available online at
http://www.campusmap.ucr.edu/campusMap.php
.
The schedule of events is:
Tuesday, Feb. 5 — Pitt Poetry: American Poetry Now
1:30 p.m.: Paisley Rekdal, associate professor of English at the University of Utah and author of a book of essays, "The Night My Mother Met Bruce Lee," and three books of poetry, "A Crash of Rhinos," "Six Girls Without Pants" and "The Invention of the Kaleidoscope."
3 p.m.: Richard Shelton, Regents Professor of English emeritus at the University of Arizona, poet and author of nine books of poetry and the nonfiction books "Going Back to Bisbee" and "Crossing the Yard: Thirty Years as a Prison Volunteer."
4:30 p.m.: Ed Ochester, general editor of the prestigious Pitt Poetry Series, published by the University of Pittsburgh Press, and author of 14 books, including "Dancing on the Edges of Knives."
7 p.m.: Panel of poets moderated by poet
Christopher Buckley
, UCR professor of creative writing. The evening program will be held at the Riverside Public Library, 3581 Mission Inn Ave.
Wednesday, Feb. 6 — History, Biography and Memoir: Amazing True Stories
2:30 p.m.: Gordon Johnson, a Cahuilla/Cupeño from the Pala Indian Reservation in San Diego County and the author of two books of essays, "Fast Cars and Frybread: Reports from the Rez" and "Rez Dogs Eat Beans."
4 p.m.: Judith Freeman, novelist, essayist, critic, short story writer, and author of four novels and a Raymond Chandler biography, "The Long Embrace: Raymond Chandler and the Woman He Loved."
5:15 p.m.: Panel on nonfiction publishing.
7 p.m.:
Catherine Allgor
, UCR professor of history and author of "A Perfect Union: Dolley Madison and the Creation of the American Nation."
Thursday, Feb. 7 — Diaspora: Coming to California
2 p.m.:
Christopher Abani
, UCR professor of creative writing, poet, novelist and the author of numerous books of poetry, novellas and novels, among them "Graceland," "Virgin of Flames" and "Song for Night."
3:15 p.m.: Alex Espinoza, a UCR graduate whose first novel, "Still Water Saints," was published by Random House in 2007.
4:30 p.m.: Marisa Silver, author of a collection of short stories, "Babe in Paradise," and a novel, "No Direction Home."
6 p.m.: Panel of authors on "Coming to California."
7 p.m: Noir film screening of "LA Confidential," chosen by
Robin Russin
, assistant professor of theatre. The screening will be in ARTS 335.
Friday, Feb. 8 — California Noir: Mystery in the Palms and Jacaranda
2 p.m.: David Hernandez, author of the poetry collection "Always Danger" and the forthcoming novel "Suckerpunch."
3:15 p.m.: Tod Goldberg, journalist, novelist and author of "Living Dead Girl" and "Fake Liar Cheat."
4:30 p.m.: Los Angeles Noir readings by crime novelist Denise Hamilton, short-story writer and mystery writer Emory Holmes II, biographer and mystery writer Naomi Hirahara and novelist Diana Wagman.
5:30 p.m.: Panel of authors — "What Makes California Noir?"
8 p.m.: Author Joyce Carol Oates, Chancellor's Distinguished Lecturer, University Lecture Hall.
For more information contact:
Susan Straight
, professor of creative writing and director of Writers Week 2008, 951-827-2008 or
susan.straight@ucr.edu
.
Charles Whitney
, chair of the Department of Creative Writing and co-director of Writers Week 2008, 951-827-6076 or
charles.whitney@ucr.edu
.
Amanda Labagnara, Department of Creative Writing administrative assistant, 951-827-3615 or
amanda.labagnara@ucr.edu
.
The University of California, Riverside (www.ucr.edu) is a doctoral research university, a living laboratory for groundbreaking exploration of issues critical to Inland Southern California, the state and communities around the world. Reflecting California's diverse culture, UCR's enrollment has exceeded 21,000 students. The campus opened a medical school in 2013 and has reached the heart of the Coachella Valley by way of the UCR Palm Desert Center. The campus has an annual statewide economic impact of more than $1 billion.
A broadcast studio with fiber cable to the AT&T Hollywood hub is available for live or taped interviews. UCR also has ISDN for radio interviews. To learn more, call (951) UCR-NEWS.