Physicists Contribute to International State-of-the-art Detector
---
UC Riverside Physicists Contribute to International State-of-the-art Detector Installed in Switzerland
Detector will help discovery of new physics, improving understanding of the universe
(December 20, 2007)
NEWS MEDIA CONTACT
Name:

Iqbal Pittalwala


Tel:

(951) 827-6050


E-mail:

iqbal@ucr.edu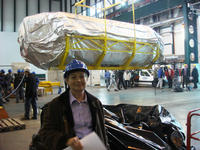 Enlarge
Gail Hanson, a distinguished professor of physics at UCR, seen before the CMS Silicon Strip Tracking Detector as it is prepared for lowering. Photo credit: Boaz Klima, Fermilab.

Note to editors: On Jan. 23, 2008, Fermilab issued a press release announcing the lowering of the last piece of the detector.
RIVERSIDE, Calif. — UC Riverside scientists led by
Gail Hanson
, a distinguished professor of physics, are part of a collaboration of approximately 2300 international physicists who announced yesterday that the world's largest silicon tracking detector at
CERN
in Geneva, Switzerland, had been successfully installed.
Called the CMS (
Compact Muon Solenoid
) Silicon Strip Tracking Detector, the six-ton instrument has a total surface area of 205 square meters, about the same as a singles tennis court.
The detector began a ten-mile, three-hour journey from the main CERN site to the CMS experimental facility just before midnight on Dec. 12. Early the next day, workers carefully lowered it 90 meters into the CMS cavern. Installation began on Dec. 15, and concluded early Dec. 16.
A tracker is a type of detector that measures the three-dimensional positions of charged particles, such as electrons or protons, as they travel through the detector, usually in a magnetic field, thus allowing measurement of their momentum.
The particles are produced in the collisions of protons in the center of the CMS detector, and may result from Higgs bosons — massive elementary particles that have been predicted to exist but not observed as yet — or other new physics that could help explain the structure of matter and answer other fundamental questions about the universe.
"UCR physicists developed a CMS Silicon Strip Tracker Module Testing and Repair Facility in the Physics Building on campus, refurbishing a non-functioning clean room," said Hanson, who joined UCR in 2001. "Several of our graduate students and postdoctoral researchers had the opportunity to get experience with the silicon modules and learn how they work and how to fix problems."
Two UCR graduate students, Geng-Yuan (Greg) Jeng and Robert Stringer, moved to CERN to work on assembly and checkout of the complete tracker. The checkout involves data acquisition and its associated software, calibration, alignment, and taking full tracker data with tracks that are used to measure the precision of the tracker.
A third UCR graduate student, Hongliang Liu, is working with physicists at CERN and the Department of Energy's Fermi National Accelerator Laboratory (
Fermilab
) near Chicago, Ill., on the detailed track finding and fitting software.
"All three graduate students have begun physics projects for their Ph.D. dissertations — these involve the top quark, the Higgs boson, and supersymmetry," Hanson said.
Three postdoctoral researchers at UCR, Patrick Gartung, Gabriella Pásztor, and Asish Satpathy, also have been part of the UCR CMS tracker team that Hanson leads.
Of the CMS collaboration's approximately 2300 physicists, about 500 are U.S. scientists, from more than 45 U.S. universities and Fermilab, supported by the Department of Energy and the National Science Foundation. The Department of Energy funded the team led by Hanson; funding for travel was provided by the National Science Foundation.
The U.S. is the largest single national group in the experiment, and U.S. scientists have built and delivered several key elements of the CMS detector to CERN.
Fermilab is the host laboratory for U.S. CMS. Fermilab participated in the construction along with UCR, Brown University, UC Santa Barbara, University of Illinois at Chicago, University of Kansas, Massachusetts Institute of Technology, and University of Rochester.
Additional information about the detector:
U.S. physicists built and tested 135 of the 205 square meters of the Silicon Strip Tracking Detector. The detector's sensors are patterned to provide a total of 10 million individual sensing strips, each read out by one of 80,000 custom-designed microelectronics chips. Forty thousand optical fibers then transport data into the CMS data acquisition system.
The silicon sensors are precision mounted onto 15,200 modules. These are in turn mounted onto a very-low-mass carbon fiber structure that maintains the position of the sensors to 100 microns, or less than the diameter of a human hair. According to a Fermilab physicist, the silicon strip detector operates like a high speed photographic camera, capable of taking 40 million images a second.
Component fabrication started in clean-room facilities at Fermilab and UC Santa Barbara in 2004. Final assembly of the silicon tracking detector began in December 2006 and reached completion in March 2007.
Full commissioning will start soon in the underground collision hall to prepare for data taking in the spring or summer of 2008.
Besides the United States, institutions involved in the CMS tracker project are located in Austria, Belgium, CERN, Finland, France, Germany, Italy, Switzerland, and the United Kingdom.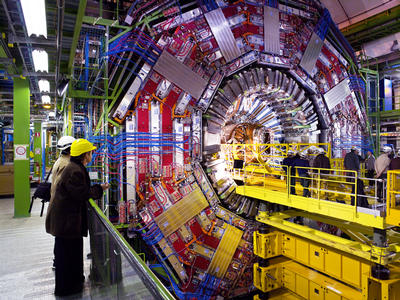 Enlarge
Gail Hanson, a distinguished professor of physics at UCR, watches the tracker insertion, Dec. 15. Hanson is wearing the yellow hard hat. Photo credit: CERN.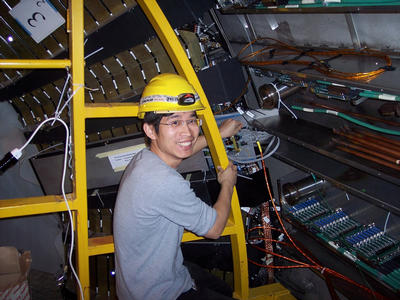 Enlarge
UCR graduate student Geng-Yuan (Greg) Jeng seen at CERN. Photo credit: Pieter Everaerts, MIT.
RELATED LINKS
ADDITIONAL CONTACTS
The University of California, Riverside (www.ucr.edu) is a doctoral research university, a living laboratory for groundbreaking exploration of issues critical to Inland Southern California, the state and communities around the world. Reflecting California's diverse culture, UCR's enrollment has exceeded 21,000 students. The campus opened a medical school in 2013 and has reached the heart of the Coachella Valley by way of the UCR Palm Desert Center. The campus has an annual statewide economic impact of more than $1 billion.
A broadcast studio with fiber cable to the AT&T Hollywood hub is available for live or taped interviews. UCR also has ISDN for radio interviews. To learn more, call (951) UCR-NEWS.