Andrew Jackson, Hero or Villain?
---
UC Riverside Historian Featured on PBS Documentary on Andrew Jackson
Professor Catherine Allgor comments on the influence of one of the nation's most polarizing presidents
(December 20, 2007)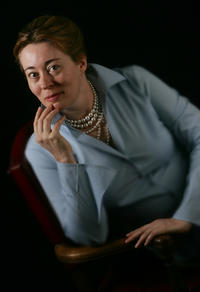 Enlarge
Catherine Allgor, professor of history
RIVERSIDE, Calif. (www.ucr.edu) — Just in time for the season of presidential politics, UC Riverside Professor of History Catherine Allgor is featured during a major PBS documentary on the life and legacy of the nation's seventh president, Andrew Jackson.
"Andrew Jackson: Good, Evil and the Presidency" will first air Wednesday, Jan. 2 on PBS at 9 p.m. (Check local listings for other air dates.) The program, narrated by Emmy Award-winning actor Martin Sheen, brings to life one of the most divisive presidents in our history. It features re-enactments, lithographs, letters and the insights of distinguished scholars, including Allgor, who is the author of "Parlor Politics: In Which the Ladies of Washington City Help Build a City and a Government" as well as a biography of Dolley Madison.
Professor Allgor flew to Nashville in March for her interview. "I've seen a preview and they did an excellent job explaining why he was so popular and so reviled at the same time," Allgor said. "And he is still a problem for modern Americans. On one hand, he ushered in an age of political democracy; on the other, he did nothing to stop slavery and presided over one of America's great tragedies--the Trail of Tears."
The first president with a nickname, "Old Hickory" was born in a log cabin and rose to serve eight years in the White House. Jackson had strong opinions and equally strong opposition. He was the first president to open the doors of the White House to blue-collar Americans, and he shook up the world of Washington, DC, with his "common-man" methods and ideals, but also oversaw one of the most controversial events in American history: the forced removal of Indian tribes, including the Cherokees, from their homes.
"Is he a president we should celebrate or a president we should apologize for?" asked Carl Byker, the film's producer, writer and co-director. "But of all the presidents whom Americans have had conflicting feelings about, the one who's been simultaneously adored and reviled with the most intensity is Andrew Jackson."
This presidential biography includes insights from other distinguished scholars, including lead advisor Dan Feller, professor of history and editor/director of The Papers of Andrew Jackson, University of Tennessee; Kathryn Braund, professor at Auburn University; Daniel Walker Howe, professor emeritus at UCLA Department of History; John Larson, professor of history at Purdue University; and Benny Smith, oral historian, Cherokee Nation, and many others.
The documentary will include a DVD-ROM created especially for educators and a comprehensive Web site that includes in-depth information about the history of Andrew Jackson. The Web site, available in early January on pbs.org, will chronicle Jackson's life, from his early years as an ambitious young officer in the war of 1812 to his hard-fought rise to become the seventh president of the United States. The site also will feature profiles of prominent individuals of the Jacksonian era, maps, image galleries and an interactive timeline.
Funding for the documentary came from the National Endowment for the Humanities, Ahmanson Foundation, Public Television Viewers, PBS and Corporation for Public Broadcasting.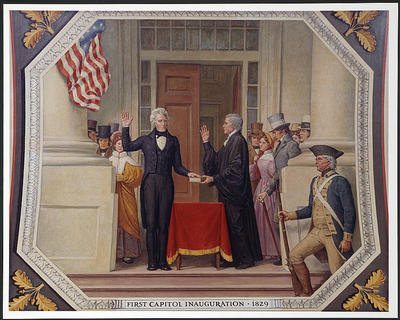 Enlarge
Andrew Jackson on inauguration day, (credit Library of Congress)
The University of California, Riverside (www.ucr.edu) is a doctoral research university, a living laboratory for groundbreaking exploration of issues critical to Inland Southern California, the state and communities around the world. Reflecting California's diverse culture, UCR's enrollment has exceeded 21,000 students. The campus opened a medical school in 2013 and has reached the heart of the Coachella Valley by way of the UCR Palm Desert Center. The campus has an annual statewide economic impact of more than $1 billion.
A broadcast studio with fiber cable to the AT&T Hollywood hub is available for live or taped interviews. UCR also has ISDN for radio interviews. To learn more, call (951) UCR-NEWS.