Tiny Lasers are Memory Device
---
The Library of Congress in Your Wrist Watch?
UC Riverside research on nanolasers promise an explosion of memory capacity
(December 20, 2007)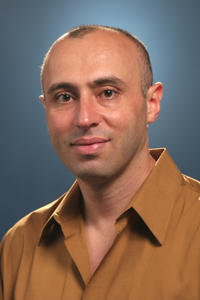 Enlarge
Sakhrat Khizroev, team leader
RIVERSIDE, Calif. -- Every advance in memory storage devices presents a new marvel of just how much memory can be squeezed into very small spaces. Considering the potential of nanolasers being developed in Sakhrat Khizroev's lab at the University of California, Riverside, things are about to get a lot smaller.
As reported in the latest issue of Technology Review, Khizroev is leading a team exploring lasers so tiny that they point to a future where a 10-terabit hard drive is only one-inch square.
That is 50 times the data density of today's magnetic storage technology, a technology that has nearly reached its limit for continued miniaturization. In response, researchers have been looking for a new leap forward by combining light and magnetism to focus bits of data on much smaller areas on the disk. The $60 billion a year hard disk drive industry is investigating several new technologies, one of which requires precise nanolasers to help "write" data.
Khizroev, an associate professor of engineering at UCR, and colleagues at the University of Houston led by Professor Dmitri Litvinov, have for the first time achieved a nanolaser which can concentrate light as small as 30 nanometers. For many substances, that is the molecular level. Just as importantly, their nanolaser can focus 250 nanowatts of power, enough to assure effective storage of the information.
The next goal of the researchers is to refine the nanolaser to produce light beams as small as five or 10 nanometers. To achieve this they plan to improve the manufacture of their nanolasers by refining the precision of the focused gallium ion beams used for their fabrication. Khizroev's lab adapted this technology, commonly used for diagnostics in semiconductor manufacture, to cut the components of their lasers.
He credited the feasibility of this advanced nanomanufacturing on Professor Robert Haddon's unique nanofabrication facilities at UCR's Center for Nanoscale Science and Engineering.
Khizroev said there are a number of challenges for getting the tiny disk drives to the market, including lubricating tiny parts and integrating the nanolaser with a recording head. Still, he insisted, the 10-terabit hard drive will be a near-term innovation, appearing in as little as two years.
The implications of the ability to focus light at these scales are even more fantastic in the longer term. The use of photochromic proteins with nanolasers should help lead to nanocomputers and the ability to store still more data in smaller places, Khizroev said. Those proteins paired with nanolasers should also impact energy harvesting and a wide range of medical applications, he added.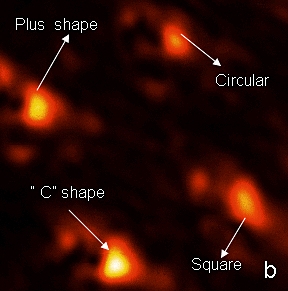 Researchers focused laser light on 30-nanometer spots using various apertures. The c-shaped aperture produced the most powerful result as seen in this scanning near-field optical microscope image by researcher Rabee Ikkawi.


RELATED LINKS
ADDITIONAL CONTACTS
The University of California, Riverside (www.ucr.edu) is a doctoral research university, a living laboratory for groundbreaking exploration of issues critical to Inland Southern California, the state and communities around the world. Reflecting California's diverse culture, UCR's enrollment has exceeded 21,000 students. The campus opened a medical school in 2013 and has reached the heart of the Coachella Valley by way of the UCR Palm Desert Center. The campus has an annual statewide economic impact of more than $1 billion.
A broadcast studio with fiber cable to the AT&T Hollywood hub is available for live or taped interviews. UCR also has ISDN for radio interviews. To learn more, call (951) UCR-NEWS.