Keeping California Competitive
---
UC Riverside Engineering Professors, Graduate Students Examine What Keeps California WIRED to Innovation
The California Space Authority Takes Lead on Measuring Economic Health
(January 29, 2008)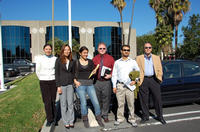 Enlarge
Some UC Riverside students and an engineering professor participating in the WIRED project, from left, Xin Xue, Xiulin Shen, Maryam Shafahi, Justin Cram, Abhishek Mitra, and Professor Kambiz Vafai.
RIVERSIDE, Calif. —— In the wake of a report that calls for government to take research and new intellectual property into account when measuring the strength of the U.S. economy, UC Riverside's Bourns College of Engineering professors and graduate students are two years into a project that does just that, on a smaller scale.
The Advisory Committee for Measuring Innovation in the 21st Century Economy issued a report Jan. 18 to the U.S. Department of Commerce that recommends a change in the way the government measures economic health. It recommends the inclusion of "intangibles" such as new ideas and intellectual property, as an important measure of the nation's economic productivity.
Since January, 2006 a team that includes UC Riverside, led by the California Space Authority (CSA), has been determining the best practices of how industries in California are encouraging innovation. As part of the U.S. Department of Labor's WIRED (Workforce Innovation in Regional Economic Development) Initiative, this project is teaming public universities (UC Riverside) with private universities (Stanford University) as they work together over three years to interview business leaders from the California Innovation Corridor, which stretches along coastal California from Alameda County south to San Diego County and includes Riverside and San Bernardino counties.
Doctoral candidates from the Bourns College of Engineering and MBA students from UCR's Anderson Graduate School of Management are collaborating on the WIRED project, managed by Christine Pence, Director of Workforce Innovation Programs at UCR's Bourns College of Engineering. "The engineering students are learning about the business side of technology and innovation, and the business students are learning how engineering happens," Pence said.
"The WIRED project addresses California's need to stay competitive within the U.S. economy," said Andrea Seastrand, executive director of the California Space Authority. "WIRED involves all the components of the workforce in California," including public and private universities as well as industry from both the public and private sectors. This project will provide content to fuel California's innovation, which is critical to our nation's economic strength and national security."
Bourns College of Engineering Dean Reza Abbaschian, the principal investigator on the project, said the project is designed to study the process of innovation because the U.S. must find ways to break out of the destructive quarterly cycles of current economic practice.
"Basing everything on short-term quarterly profits is killing the economy," he said. "We need to learn how we can bring our innovative spirit back." By studying innovation from an engineering perspective, Abbaschian said he hoped the findings could begin a paradigm shift in our thinking about profit and competition. "We've lost manufacturing, we cannot lose R&D and innovation," he said. "We have to relearn how to make effective business decisions that nurture innovative ideas, breakthrough technologies and new solutions rather than just the bottom line."
The University of California, Riverside (www.ucr.edu) is a doctoral research university, a living laboratory for groundbreaking exploration of issues critical to Inland Southern California, the state and communities around the world. Reflecting California's diverse culture, UCR's enrollment has exceeded 21,000 students. The campus opened a medical school in 2013 and has reached the heart of the Coachella Valley by way of the UCR Palm Desert Center. The campus has an annual statewide economic impact of more than $1 billion.
A broadcast studio with fiber cable to the AT&T Hollywood hub is available for live or taped interviews. UCR also has ISDN for radio interviews. To learn more, call (951) UCR-NEWS.