State's Voters Favor Early Primary
---
State's Voters Favor Early Primary
UC Riverside researchers also find resistance to downgrading Iowa and New Hampshire.
(February 7, 2008)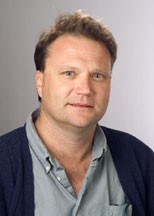 Shaun Bowler
RIVERSIDE, Calif. — A majority of California voters believe that moving the state's primaries to February was a good idea and, by a wide margin, say they paid attention to presidential campaigns in Iowa, New Hampshire and other states with earlier primaries and caucuses, according to researchers at the University of California, Riverside.
A survey of registered voters conducted by the university's
Survey Research Center
before the Feb. 5 elections found that California voters view the primary system as helpful, but split on whether the schedule should change so that Iowa and New Hampshire are no longer first.
"Voters do think the primary system is valuable and helpful," said
Shaun Bowler
, professor and chair of the UCR Department of Political Science. "I don't think people reacted to the state's new primary schedule as Californians, I think they reacted as voters. For example, there is a lot more resistance to changing the prominence of Iowa and New Hampshire than one would think. If people reacted to the primary as Californians only, you would expect a clear majority to favor downplaying those states — and a plurality do respond that way — but a sizeable number of voters see value in having Iowa and New Hampshire first."
California Democrats see the change to a February primary more positively and generally view the whole primary experience more favorably than do Republicans, Bowler said.
"I think this is a message about political reform more generally," he said. "Reformers typically propose something that is a silver bullet for the political system: 'move the primary up and suddenly California becomes a player' and so on. But what these partisan differences suggest is that voters are motivated by the candidates and the contest itself — there is more enthusiasm on the Democratic side and that reflects enthusiasm for the candidates.
"The lesson for reformers of all stripes here is to give people someone to vote for. Stop talking about fixing this system or that system."
Among the survey's findings:
• Slightly more than half of California voters think that moving the state's primaries to February is a good idea (52.2 percent) and that voters in other states will pay attention to which candidates win the state's primaries (52.9 percent). They are evenly split between those who favor a primary schedule that keeps Iowa and New Hampshire first (35.6 percent) or moves them to a later date (37.4 percent).
• Nearly two-thirds of voters (61.9 percent) say that Iowa and New Hampshire have no political advantage over other states because their caucus or primary occurs first.
• More than three-fourths (76.5 percent) of California voters said they paid attention to presidential campaigns in Iowa, New Hampshire and other states with earlier primaries and caucuses, and 60.5 percent said they learned important things about the issue positions or character of the candidates from the earlier primaries. Democrats were slightly more likely (64.7 percent) than Republicans (59 percent) to say they learned more about the candidates from earlier primaries or caucuses.
The Survey Research Center conducted the survey from Jan. 25 through Feb. 4. The survey is a random sample of 508 registered California voters with a margin of error of plus/minus 4.4 with a 95 percent confidence level. The sample includes 220 registered Democrats and 169 Republicans who said they planned to vote in the primary. Results are weighted to represent historical trends in the composition of likely voters as profiled by the Public Policy Institute of California: 72 percent Anglo, 14 percent Latino, 6 percent African American and 5 percent Asian Americans.
The survey was funded by researchers in the Department of Political Science, the UCR Survey Research Center with support from the College of Humanities, Arts and Social Sciences. The Survey Research Center is co-directed by
Martin Johnson
, associate professor of political science, and sociology professor
Robert Hanneman
.
For a copy of the report, contact Bettye Miller at 951-827-7847 or
bettye.miller@ucr.edu
.
RELATED LINKS
ADDITIONAL CONTACTS
The University of California, Riverside (www.ucr.edu) is a doctoral research university, a living laboratory for groundbreaking exploration of issues critical to Inland Southern California, the state and communities around the world. Reflecting California's diverse culture, UCR's enrollment has exceeded 21,000 students. The campus opened a medical school in 2013 and has reached the heart of the Coachella Valley by way of the UCR Palm Desert Center. The campus has an annual statewide economic impact of more than $1 billion.
A broadcast studio with fiber cable to the AT&T Hollywood hub is available for live or taped interviews. UCR also has ISDN for radio interviews. To learn more, call (951) UCR-NEWS.