Particle Physicists to Coach High School Students
---
UCR Physicists to Coach High School Students on Mysteries of Particle Physics
Videoconference on campus to join San Jacinto High School students with peers in Portugal
(February 12, 2008)
NEWS MEDIA CONTACT
Name:

Iqbal Pittalwala


Tel:

(951) 827-6050


E-mail:

iqbal@ucr.edu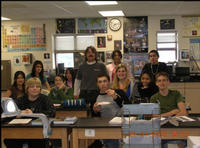 Enlarge
San Jacinto High School physics teacher Mark Bonnard seen with some of his students. The students will work on particle physics experiments at UCR, March 4-5. Photo credit: Mark Bonnard.
RIVERSIDE, Calif. — Three UC Riverside particle physicists will participate in a physics "masterclass" on campus March 4-5 in which, through lectures and exercises, they first will introduce particle physics, experiments and detectors to students from a local high school, and then facilitate a videoconference between the students and a group of high school students in Portugal.
Particle physics, also called high-energy physics, is the area of science in which researchers study elementary particles — the most fundamental bits that constitute the universe — and the interactions between them.
The
masterclass
, an annual program of the
European Particle Physics Outreach Group
, is an interactive exercise in which high school students analyze specific particle physics data, receive coaching from expert particle physicists and their teacher, and work with peers far from home.
At UCR, 20 students from San Jacinto High School will work from noon to 4 p.m., March 4, with
J. William Gary
,
Gail Hanson
and
Robert Clare
, all professors in the Department of Physics and Astronomy. Gary will coordinate the students' visit and run exercises involving measurements on real data from particle physics experiments. Hanson will give a lecture to the visiting students on detection techniques and data reconstruction while Claire will lecture the students on the basics of particle physics.
The three physicists also will facilitate a videoconference — one of only two trans-Atlantic masterclass videoconferences this year — at 9 a.m., March 5. A camera, speakers, projector and screen will enable the
San Jacinto High
students to interact live and directly with the students in Portugal, who will have worked on similar particle physics problems. The two student groups will discuss, compare and consolidate their experimental results during the videoconference.
At UCR, the lectures, exercises and videoconference will take place in Room 3035, also known as the Reading Room, in the
Physics Building
.
"We hope to excite the students about science, to give them a better understanding of how research works, and at the same time to teach them something fundamental about the natural world," said Gary, whose research involves the study of rare particle decays and searches for new forms of matter. "We hope to motivate the students to pursue their scientific studies when the enter college, either at UCR or elsewhere."
Besides giving high school students a greater understanding of and appreciation for experimental particle physics, the masterclass aims to educate them about the Large Hadron Collider, a powerful particle accelerator scheduled to begin operation this year at
CERN
, a particle physics laboratory in Switzerland. Gary, Hanson and Clare are members of the CMS (Compact Muon Solenoid) Collaboration, one of the two main experiments at the Large Hadron Collider.
"Students can best appreciate particle physics and learn to understand data analysis by experiencing it in a realistic way under the mentorship of particle physicists," said Kenneth Cecire, an educational specialist at Hampton University, Va., who facilitates and oversees the masterclass program in the United States. "The masterclass exercises use real particle physics data from CERN, which stimulates excitement and interest in the students."
The San Jacinto High students will work specifically on the decay of elementary particles called W and Z particles. Discovered at CERN in 1983, the particles mediate what is called the "weak interaction," a fundamental interaction of nature that is responsible for the decay of long-lived particles on sub-nuclear distance scales.
The W and Z particles decay into other particles in four different detectable ways, each of which leaves a unique signature in the detectors. In their experiments, the students will determine the probabilities for each of the four possibilities by looking at event displays.
In the 1990s at CERN, Gary, Hanson and Clare worked with a particle accelerator — the Large Electron-Positron (LEP) accelerator — that was built to study W and Z particles in detail. The main purpose of their experiments was to make precise measurements of the particles' properties.
Maria Chiara Simani, a program director at UCR's ALPHA (Academy of Learning Through Partnerships for Higher Achievement) Center will assist the San Jacinto High students with their experiments and analyses, and provide support also to Gary, Hanson and Clare. The
ALPHA Center
, a conduit for establishing collaborative partnerships between educational institutions, community organizations and businesses, is helping fund the two-day event. It will provide books and brochures related to particle physics, conduct a campus tour for the students and host a luncheon for them.
Particle-physics masterclasses began in the United Kingdom in 1997. Today the program has expanded within Europe, and beyond to South Africa, Brazil and the United States. Each year nearly 4000 high school students in 20 countries participate in the program.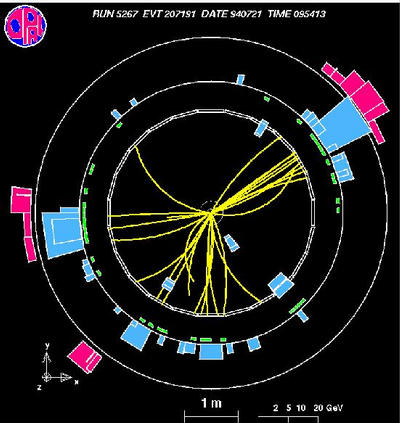 A typical event display of particle physics interactions.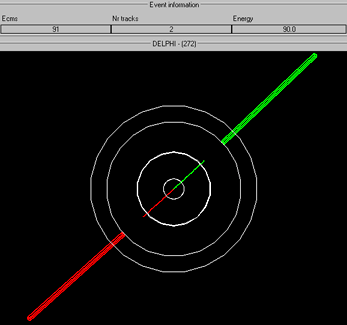 An example of a Z decay into two electrons, with tracks from the electrons (one green and one red) seen 180 degrees from each other.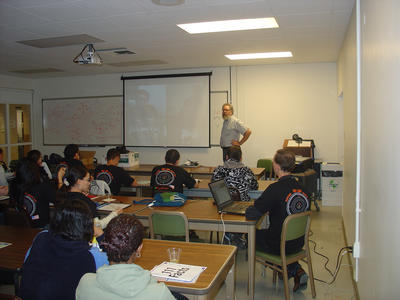 Enlarge
Robert Clare, a professor of physics, helps facilitate a videoconference, March 5, which connected San Jacinto High School students with their peers in Portugal. The student groups shared their experiences doing particle physics experiments. Besides Clare, UCR physicists Bill Gary (seen seated at right) and Gail Hanson coached the San Jacinto High School students, with assistance from Maria Chiara Simani of the ALPHA Center. Image credit: UCR Strategic Communications.
The University of California, Riverside (www.ucr.edu) is a doctoral research university, a living laboratory for groundbreaking exploration of issues critical to Inland Southern California, the state and communities around the world. Reflecting California's diverse culture, UCR's enrollment has exceeded 21,000 students. The campus opened a medical school in 2013 and has reached the heart of the Coachella Valley by way of the UCR Palm Desert Center. The campus has an annual statewide economic impact of more than $1 billion.
A broadcast studio with fiber cable to the AT&T Hollywood hub is available for live or taped interviews. UCR also has ISDN for radio interviews. To learn more, call (951) UCR-NEWS.