Feline Fine
---
Cat-astrophe Averted
UC Riverside Extension's Celebrity Cat Finds New Home
(March 5, 2008)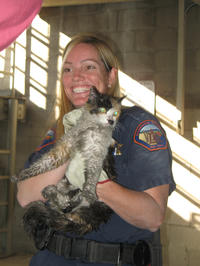 Enlarge
Michelle Rousseau of Riverside County Animal Services holds the cat after the rescue. (photo by Joan Kite)
RIVERSIDE, Calif. (www.ucr.edu) -- What does it take to get a small cat extricated from a 3-inch crevice after being stuck there for days?
Five hours, three animal services workers, eight firefighters, one UCR Extension dean, a team from UC Riverside's building maintenance crews, two cups of cooking grease and several makeshift tools.
And she still managed to escape.
The long-haired calico was spotted Friday, Feb. 29 in a parking structure located behind UCR Extension, which offers classes to the community. Sometime over the weekend, she got her tiny head wedged 12 to 15 feet back from the parking garage entrance, between two rocky surfaces.
Katrina Oskie, cultural activities coordinator at UCR Extension, heard pitiful meowing Monday morning and called Riverside County Animal Services.
With rescue tools in hand, the animal service workers struggled to retrieve the cat, but decided they needed backup from Riverside City Fire. The firefighters also had no luck despite their creative idea about coating the cat with cooking grease borrowed from the kitchen, so she would slide out more easily.
Finally, UCR Extension Dean Sharon Duffy requested aid from UCR's maintenance department. UCR electricians provided a sturdy metal bar that served as a makeshift hook. Moments later, animal services officer Michelle Rousseau hauled out the now wailing and oily cat, and secured her in a cage for a trip to the animal shelter.
Unfortunately, the cage fell, the door sprang open and the cat was free.
The next day, UC Riverside students found the bedraggled kitty, now a media star, and Animal Services came to pick her up.
The cat has now been treated, bathed and vaccinated by Riverside County Animal Services. After she is spayed, she will have a new home with UCR Extension's grant writer Suzanne Hartzell.
"I'm going to name her Katrina," Hartzell said. "Because she's a survivor."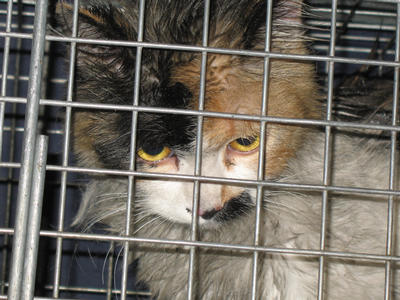 Enlarge
Portrait of the cat, a little bedraggled. (photo by Joan Kite)
RELATED LINKS
ADDITIONAL CONTACTS
The University of California, Riverside (www.ucr.edu) is a doctoral research university, a living laboratory for groundbreaking exploration of issues critical to Inland Southern California, the state and communities around the world. Reflecting California's diverse culture, UCR's enrollment has exceeded 21,000 students. The campus opened a medical school in 2013 and has reached the heart of the Coachella Valley by way of the UCR Palm Desert Center. The campus has an annual statewide economic impact of more than $1 billion.
A broadcast studio with fiber cable to the AT&T Hollywood hub is available for live or taped interviews. UCR also has ISDN for radio interviews. To learn more, call (951) UCR-NEWS.