Designing a Blueprint for Health
---
For one UC Riverside student, the road to medical school runs through the Bourns College of Engineering
Take two pills and I'll design a blueprint for your health in the morning …
(March 14, 2008)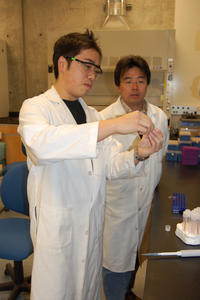 Enlarge
UCR student Adam Cheng (foreground) works in the lab of Assistant Professsor Jiayu Liao. (photo by Judy Chappell)
RIVERSIDE, Calif. (www.ucr.edu) -- At UC Riverside, it makes perfect sense for an engineer to learn how to be your next family doctor.
The country doctor's little black bag is long gone. Today's tests, tools, and treatments are all tech, all the time: Imaging machines and computers help give a diagnosis. Robots and lasers help with surgery. People get new knees, heart pacemakers, and other engineered solutions to their health-care needs. Scientists across the nation see a future with unlimited possibilities in bioengineering research and discoveries.
"The medical profession is changing a lot," Reza Abbaschian, dean of UC Riverside's Bourns College of Engineering, said. "Doctors are more and more involved in technology — and demands on doctors are much higher." While doctors rely on technology to cure the sick, he said, engineering also offers them the analytical skills they need to become good doctors.
Med school halls once teeming with biologists and biochemists now also are filling with engineers. At UC Riverside, Adam Cheng recently became the first student from Bourns College of Engineering to be accepted into the UCR/UCLA Thomas Haider Program in Biomedical Sciences. The 24 UCR students accepted into this highly competitive program finish the first two years of their medical education at UC Riverside before moving to UCLA for the final two years, and attain their M.D. degree there.
A path toward medicine
Cheng, 21, was born in San Francisco and grew up there. "When I first came to UCR," he said, "I only had engineering in mind." But his heart took him in another direction.
With a goal of expanding his personal boundaries, he joined a volunteer program at Riverside Community Hospital called Clinical Care Extender. He began by helping with patient care four hours a week. Now in his second year, he leads and trains other volunteers. But before the first year was up, he said, "I knew." He knew he wanted to be a doctor.
For two years, Cheng has done research in the laboratory of bioengineering Assistant Professor Jiayu Liao. With its upsized combo of biology and engineering, bioengineering offers many possible directions for those pursuing a medical degree. Cheng expects to graduate in June with a bachelor's science degree in chemical engineering, and in the fall, he plans to begin his biomedical sciences program.
An engineer's approach to medicine
What can an engineer bring to a patient's bedside? Engineers solve problems, Cheng said. They are creative, yet disciplined, and open to possibilities, yet analytical and methodical. He said the most valuable life skill he's gained in his engineering education is "the ability to solve problems efficiently."
And that's especially important for medical school, according to Neil Schiller, associate dean for the UCR/UCLA biomedical sciences program, in partnership with the UCLA's David Geffen School of Medicine. "We use problem solving as one of our major strategies for learning medicine." The program itself has changed and now accepts applicants from all the undergraduate majors, reflecting the fact that good doctors might start out in psychology or neuroscience or like Cheng, engineering.
Problem-based learning teaches the skills needed later for a real medical practice. Students in teams analyze and solve real-life problems, with guidance from faculty members. As doctors they will have to work well with others and will need to teach themselves constantly to keep up with rapid medical changes, Schiller said.
Medical schools are finding this approach better equips future doctors, he said. A problem-based learning curriculum is at the core of the proposed UCR School of Medicine, which will build on the strong foundation of the biomedical sciences program. "The more experience they have as a student, the better off they'll be as doctors," Schiller said.
Step by step, through self-motivation and teamwork, the medical students do the research, break the problem down and figure out successful strategies and solutions. "That's the same thing we do as engineers," Abbaschian, the engineering dean said, "and that's why they are perfect for medical school."
The University of California, Riverside (www.ucr.edu) is a doctoral research university, a living laboratory for groundbreaking exploration of issues critical to Inland Southern California, the state and communities around the world. Reflecting California's diverse culture, UCR's enrollment has exceeded 21,000 students. The campus opened a medical school in 2013 and has reached the heart of the Coachella Valley by way of the UCR Palm Desert Center. The campus has an annual statewide economic impact of more than $1 billion.
A broadcast studio with fiber cable to the AT&T Hollywood hub is available for live or taped interviews. UCR also has ISDN for radio interviews. To learn more, call (951) UCR-NEWS.