Timothy P.White Named UC Riverside Chancellor
---
Timothy P. White Named UC Riverside Chancellor
He will travel to Riverside for a campus welcome at 4 p.m. May 15
(May 15, 2008)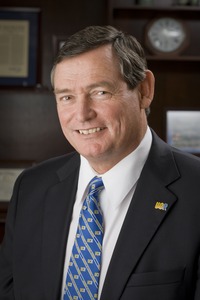 Enlarge
Timothy P White, chancellor of UC Riverside
University of California Office of the President
FOR IMMEDIATE RELEASE
Thursday, May 15, 2008
UC Office of the President contact:
Brad Hayward (510) 987-9195
brad.hayward@ucop.edu
Timothy P. White, president of the University of Idaho, today (May 15) was named chancellor of the University of California, Riverside, by the UC Board of Regents. The appointment, made on the recommendation of UC President Robert C. Dynes, will take effect on or before Sept. 1, 2008.
An immigrant from Argentina who attended all three systems of California public higher education and received his Ph.D. from UC Berkeley, White has three decades of experience in public research universities. He has held faculty appointments at the University of Michigan, UC Berkeley, and Oregon State University, where he served as provost and executive vice president, and as president on an interim basis, before joining the University of Idaho as president in August 2004.
White, 58, has led the renewal of the University of Idaho as president, placing a focus on strategic planning, diversity, improved communication, multidisciplinary research initiatives and the fostering of a student-centered culture. His academic background is in physiology, kinesiology and human biodynamics, and he is internationally recognized for his work in muscle plasticity, injury and aging.
"I am deeply honored, and humbled, by this appointment. I am eager to get started," White said. "UC Riverside is an institution of great accomplishment and even greater opportunity. Its people are focused on providing high-quality education to students and tackling the economic, social, environmental, educational and health needs of the broader community. This campus is rapidly ascending to the next level of distinction and public contribution through teaching, research and creative activity, and engagement through outreach. I am excited by the opportunity to help it make that ascent."
White succeeds former UC Riverside Chancellor France A. Córdova, who stepped down last summer to assume the presidency of Purdue University. Robert D. Grey, a University of California veteran who previously served as provost and executive vice chancellor at UC Davis, has been serving the Riverside campus as acting chancellor.
"Tim White is extremely well-suited to lead UC Riverside," Dynes said. "He has a unique grasp of the mission of land-grant universities and a passion for that mission. His multicultural roots and personal experience with higher education have given him a deep commitment to diversity and inclusiveness. And he has solid experience moving public universities forward by managing them effectively, building trust and cooperation, and forging successful ties and a sense of shared purpose with the external communities they serve. I am delighted to welcome him to UC."
In conducting the search for the new chancellor, Dynes was advised by a committee of Regents, faculty, staff, students, alumni and community representatives. The search process involved the evaluation of 106 prospects, from which 12 high-priority candidates were identified.
Born in Buenos Aires, White as a child moved with his family first to Canada and then to Northern California. He is a naturalized U.S. citizen. A first-generation college student, White began his higher education at Diablo Valley Community College in Northern California. He achieved his B.A. degree at California State University, Fresno; his M.S. degree at California State University, Hayward; and his Ph.D. at UC Berkeley.
Upon completion of his Ph.D., White served as a postdoctoral scholar and then faculty member at the University of Michigan, ultimately serving as chair of the Department of Kinesiology. From 1991 to 1996 he was at UC Berkeley, serving as professor and then chair of the Department of Human Biodynamics. He subsequently joined Oregon State University, where he served as dean of the College of Health and Human Sciences. In the early 2000s he served as provost and executive vice president there, and also as president on an interim basis.
The University of Idaho, in Moscow, Idaho, is the state's land-grant and flagship research institution and home to the state's only law school. It enrolls 13,000 undergraduate, graduate and professional students and participates in NCAA Division I athletics.
As president of the institution, White launched a strategic planning effort, streamlined the administrative structure, adopted a comprehensive action plan for diversity and human rights at the university, launched a series of interdisciplinary programs in targeted fields important to the state of Idaho, and improved the institution's fundraising success. He also placed an emphasis on building trust with internal and external constituencies and on creating a student-centered university with a strong sense of community.
White's family includes his wife, Karen, and four children.
As chancellor of UC Riverside, White will receive an annual salary of $325,000. Per university policy, he also will receive university-provided housing; an annual automobile allowance of $8,916; a relocation allowance of $25,000, or 7.7 percent of base salary; payment of packing and relocation costs for household effects, library and related equipment; and eligibility for a Mortgage Origination Program loan and payment of relocation costs if he continues in a tenured faculty position after stepping down as chancellor. As an exception to policy, he will receive reimbursement of up to two round-trip coach airline fares between Riverside and Moscow, Idaho, for both himself and his wife during the transition period.
White also will receive standard pension and health and welfare benefits and standard senior management benefits, including senior manager life insurance, executive business travel insurance, executive salary continuation for disability, accrual of sabbatical leave and an administrative fund. Credit for his prior UC service of approximately five years will be granted, per policy, and will count toward UC benefits such as vacation, pension and any other service-based benefits. It is estimated that with 10 years of service, this will produce a monthly retirement benefit of approximately $5,074 under the standard Retirement Plan formula.
One of the most diverse research university campuses in the nation, UC Riverside has an enrollment of 17,000 students and offers bachelor's degree programs in 78 majors, 50 master's degree programs, 38 Ph.D. programs and 17 state teaching credentials. UC Riverside's park-like campus, located on nearly 1,200 acres near the Box Spring Mountains in Southern California, is a living laboratory for groundbreaking exploration of issues critical to the region, the state and communities around the world. UC Riverside has an economic impact of nearly $1 billion statewide, with more than 70 percent of this economic activity benefiting the Inland Empire.
The University of California, Riverside (www.ucr.edu) is a doctoral research university, a living laboratory for groundbreaking exploration of issues critical to Inland Southern California, the state and communities around the world. Reflecting California's diverse culture, UCR's enrollment has exceeded 21,000 students. The campus opened a medical school in 2013 and has reached the heart of the Coachella Valley by way of the UCR Palm Desert Center. The campus has an annual statewide economic impact of more than $1 billion.
A broadcast studio with fiber cable to the AT&T Hollywood hub is available for live or taped interviews. UCR also has ISDN for radio interviews. To learn more, call (951) UCR-NEWS.