Jan Stets Named to NSF Sociology Post
---
UCR Professor Named to NSF Sociology Post
Jan Stets will serve a one-year appointment as rotating program officer.
(June 12, 2008)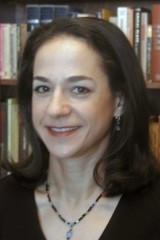 Jan Stets
RIVERSIDE, Calif. — Jan Stets, professor of sociology at UC Riverside, has been appointed to the position of rotating program officer in sociology for the National Science Foundation, effective Aug. 4.
Stets will be on leave from UCR while she serves in the temporary position for at least one year and may serve one additional year.
Congress created the National Science Foundation (NSF) as an independent federal agency in 1950. The NSF has an annual budget of about $6 billion and funds about 20 percent of all federally supported basic research conducted by universities in the United States. The foundation is the major source of federal funding in fields such as mathematics, computer science and the social sciences.
The NSF Sociology Program, with an annual fund of about $8 million, supports research by faculty and graduate students on all aspects of human social organization and processes of individual and institutional change. Included is research on organizations and organizational behavior, population dynamics, social movements, social groups, labor force participation, stratification and mobility, family, social networks, social psychology, gender roles, and the sociology of science and technology.
Several times a year, a permanent program officer and a rotating program officer convene and moderate panels of scholars who review each grant proposal to determine which ones merit funding.
"The NSF Sociology Program funds about 20 percent of grant proposals received," Stets said. "It's very competitive. To receive funding, proposals must contribute to the discipline of sociology and impact society in a significant way." Research is funded in areas as diverse as crime and delinquency, marriage, divorce, mental health, religion, welfare, poverty, social movements, immigration and globalization.
Stets will live in Washington, D.C., and return to UCR once a month to work in her social psychology lab and continue her own research with her students on the moral self.
"In the lab, we are examining how morality is accomplished in everyday situations, thereby reproducing the cultural codes of what is right or wrong or good or bad in society," Stets said. "In order to see how morality gets done within and across situations, we are closely studying the relationship between one's moral identity, moral behavior and moral emotions as we expose individuals to different situations where they have the opportunity to do a good or bad thing. It's exciting work we're undertaking and an undeveloped area in sociology."
While working at the NSF Stets will do outreach to faculty and students at universities across the country and will attend conferences and other events to describe what the foundation does and how to apply for grants.
"I'm looking forward to the intellectual environment at the NSF," she said. "You're surrounded by really bright people and you read and discuss ideas and work that is on the on the cutting edge not only in your own discipline but other disciplines as well. What a unique and great opportunity."
Stets said she hopes to encourage support for sociology grants across a broad spectrum of theoretical frameworks, methodological approaches and substantive areas.
RELATED LINKS
ADDITIONAL CONTACTS
The University of California, Riverside (www.ucr.edu) is a doctoral research university, a living laboratory for groundbreaking exploration of issues critical to Inland Southern California, the state and communities around the world. Reflecting California's diverse culture, UCR's enrollment has exceeded 21,000 students. The campus opened a medical school in 2013 and has reached the heart of the Coachella Valley by way of the UCR Palm Desert Center. The campus has an annual statewide economic impact of more than $1 billion.
A broadcast studio with fiber cable to the AT&T Hollywood hub is available for live or taped interviews. UCR also has ISDN for radio interviews. To learn more, call (951) UCR-NEWS.