Letter from Acting Chancellor David Warren
---
Letter from Acting Chancellor David Warren
(March 15, 2002)
To the UCR Community: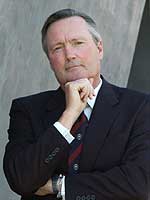 I am honored to serve as UCR's Acting Chancellor until the current search yields a permanent appointment. In addition, I am delighted that Satish K. Tripathi, Dean of the Bourns College of Engineering, will serve during this interim period as Acting Executive Vice Chancellor. During this period we will vigorously address UCR's most pressing concerns and will continue to work toward the vision that we have been pursuing over the past several years.
The most critical issue facing our campus centers on enrollment growth and the challenges that it creates in maintaining the quality of our teaching, our research, and the campus environment. We will continue to plan for enrollment growth by acting on several fronts. Last fall I appointed the First Year Task Force to identify ways that we can help our students cope with the challenges of the freshman year. The task force will soon be issuing the results of their work, and I am committed to doing whatever it takes to help our students thrive academically and personally at UCR. We will also continue to develop and implement actions recommended at the November student retreat.
UCR has historically been able to admit all UC-eligible students who apply, but at some point in the future we may not be able to continue this practice. We must begin discussion of the implications of the selective admission process, and I will start that broad and inclusive dialogue this spring.
We will continue to implement Vision 2010. The General Education Review Committee was formed last year as a joint Senate/Administrative activity. The Committee's charge is to define a set of guiding principles for UCR's general education and then to derive curricular specifics to embody the principles. The Committee has begun to bring the principles into campus discussion via the College Executive Committees and is currently discussing possible structures for the curriculum. I am fully committed to supporting this initiative and to working with the Academic Senate to implement the resulting changes. Beyond general education, the keystone concept of Vision 2010, research across the curriculum, will continue to be a guiding principle for our methods of teaching and learning. We are also considering organizational changes designed to enhance the undergraduate experience at all levels.
A recent UC initiative proposes that a program of freshman seminars be created at each campus. Although the details are yet to emerge, the overall objective is that each student should have the opportunity to participate in small classes taught by ladder faculty members. I look forward to working with the Academic Senate to develop UCR's implementation of this program, since I believe that it is fully consonant with our fundamental academic values and with the intent of Vision 2010, and that it can become a critical component of UCR's freshman experience.
At the graduate level, we have introduced changes and will continue to support new and existing activities that are intended to support graduate enrollment planning, increase graduate student support, and link graduate education closely with UCR's research mission.
Off campus, we have begun an exciting initiative in the Coachella Valley with the establishment of the Richard J. Heckmann Center. The next few months are a critical time to further this initiative by completing planning for and creation of the physical facilities and carefully selecting and developing academic programmatic initiatives. In doing so, we will seek to build on our current research-based strengths in the valley and to solidify a presence for UCR in that area, working with the California State University and Community College systems to ensure that the higher education needs of the Coachella Valley are met in ways that are consonant with the missions of the three segments of public higher education.
The remaining pressing issue is our immediate budget situation and the need to negotiate this period while also building for UCR's future strength. In January I wrote about UCR's resource management strategies in the current situation of fiscal stringency. At the same time that we work our way through the current situation, we must also take steps that will over time help us to build a much broader and much deeper resource base than we currently have, and one that depends far less on the state-funded enrollment-driven portion of the budget. Only by aggressively building our resource base will we be able to create the university that we envision in Vision 2010. I will commit a significant part of my time and energy over the next several months to building our external support framework.
Finally, as I begin this new role I wish to emphasize my commitment to communication and to a general openness in administrative decision-making. As a member of the UCR community for over 30 years, I hold communication as a fundamental value and view it as necessary to a thriving community of higher learning. As Acting Chancellor I hope to act in accord with that value, and I intend to listen as carefully and openly as I can as we talk about our common concerns. I will also strive to keep the campus informed about administrative actions and the reasoning that underlies them.
The growth of our campus presents us with wonderful opportunities as well as challenges to shape our future. Together we can achieve our vision and create the UCR of our highest aspirations.
David H. Warren
Acting Chancellor
The University of California, Riverside (www.ucr.edu) is a doctoral research university, a living laboratory for groundbreaking exploration of issues critical to Inland Southern California, the state and communities around the world. Reflecting California's diverse culture, UCR's enrollment has exceeded 21,000 students. The campus opened a medical school in 2013 and has reached the heart of the Coachella Valley by way of the UCR Palm Desert Center. The campus has an annual statewide economic impact of more than $1 billion.
A broadcast studio with fiber cable to the AT&T Hollywood hub is available for live or taped interviews. UCR also has ISDN for radio interviews. To learn more, call (951) UCR-NEWS.