Access to Arts Building Starts Thursday
---
Basement of Arts Building To Be Reconstructed
Staff and faculty continue to work from temporary quarters
(July 16, 2008)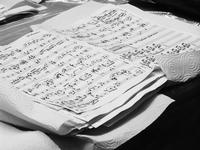 Enlarge
UCR employees scrambled to get wet music out of the music library and drying in a new location within the science library. Damage to musical instruments is still being determined. (photo by Kat Sanchez)
RIVERSIDE, Calif. (www.ucr.edu) — The basement of the Arts building is clean, but in need of reconstruction after a flood and electrical outage June 23 caused major damage to the basements of two buildings. Testing shows no health risks in the air or in the water that rushed through the building.
Arts staff and faculty are working from temporary quarters in the CHASS Interdisciplinary building. Classes and a summer arts camp have been relocated. Student affairs staff who evacuated the basement of Hinderaker Hall have moved to locations in the Commons.
"On Thursday, we expect to give people access to the first through fourth floors of Arts," said Scott Corrin, campus fire marshal. The air conditioning is not yet fully operational, so in many cases staff and faculty will continue to work from temporary quarters.
Don Caskey, associate vice chancellor for administration, said that the building's original architects will be brought in to consult on the reconstruction of the basement of Arts. The goal is to finish construction by the time the fall quarter begins.
"We need that space," said Steve Cullenberg, dean of the College of Humanities, Arts and Social Sciences.
Dozens of UCR employees, including tradespeople from physical plant, specialists from UCR's Environmental Health and Safety operation, arts staff and library staff worked from dawn until late at night to restore the buildings and the contents. They have rescued musical instruments, photography equipment, costumes and the music library from the Arts building basement after water reached depths from four inches to four feet in different areas. Outside consultants have been called in to evaluate damage to musical instruments, and UCR staff and faculty have been asked to provide damange assessments.
Steve La Shier, UCR's risk manager and a member of the team at UCR's Environmental Health and Safety, said most electricity has been restored.
"Everybody worked incredibly hard" to rescue valuable instruments, costumes and the music library, Susan Hancock, CHASS assistant dean. "People worked around the clock to get things out and salvage what can be salvaged."
"Mike Miller did not leave the campus except to change a shirt during the first 36 hours of the crisis," said Caskey. "He is just stellar at these times in rallying the team. This crisis campus architect and an associate vice chancellor for administrationshowed how many dedicated professionals from all walks of life at UC Riverside, pulled together quickly and effectively to get the campus up and running again."
The flooding occurred June 23 after a 10-inch water line burst in the steam tunnel that carries campus utility lines, resulting in the temporary loss of electricity in numerous campus buildings, including: Hinderaker Hall, Physical Education, Anderson Hall, Arts, Surge, University Lecture Hall, Humanities and Social Sciences, Humanities Interdisciplinary, Rivera Library, Watkins Hall and Keen Hall.
Power was restored by 6:50 a.m. June 24 to most campus buildings affected by the outage, and by June 25 air-conditioning was restored to Hinderaker, Physical Education, CHASS Interdisciplinary and Humanities and Social Sciences.
All of the carpet in the basements of the Arts building and Hinderaker has been removed, and workers from Able Restoration treated floors and pillars to prevent the growth of mold.
Outside experts have also evaluated the 14 baby grand pianos and other musical instruments, and there is some damage, but it will take time to determine how much. Costumes valued at $300,000 to $500,000 have been sent to a drycleaning business in Los Angeles that cleans costumes for Hollywood studios. Drycleaning costs about $15,000, but it appears that all of the costumes have been salvaged, said La Shier, UCR's risk manager. Cleanup costs could reach $1 million. "But we do not know everything at this point," he said. If the pianos have been ruined, replacement costs will escalate.
Sensors have now been installed in the steam tunnels to alert campus emergency workers to any unusual water levels. Estimates are that during the time of the flooding incident, 30,000 gallons of water were flowing out of the pipe each minute.
Corrin used the opportunity to encourage every department to update emergency planning documents. Caskey added, "As well as this group responded to this, there are always lessons learned."
The University of California, Riverside (www.ucr.edu) is a doctoral research university, a living laboratory for groundbreaking exploration of issues critical to Inland Southern California, the state and communities around the world. Reflecting California's diverse culture, UCR's enrollment has exceeded 21,000 students. The campus opened a medical school in 2013 and has reached the heart of the Coachella Valley by way of the UCR Palm Desert Center. The campus has an annual statewide economic impact of more than $1 billion.
A broadcast studio with fiber cable to the AT&T Hollywood hub is available for live or taped interviews. UCR also has ISDN for radio interviews. To learn more, call (951) UCR-NEWS.