Bioengineer Receives High Honor From Chemical Engineers
---
UCR Bioengineer Receives High Honor From Chemical Engineers
The American Institute of Chemical Engineers names Jerome Schultz one of "One Hundred Engineers of the Modern Era"
(June 26, 2008)
NEWS MEDIA CONTACT
Name:

Iqbal Pittalwala


Tel:

(951) 827-6050


E-mail:

iqbal@ucr.edu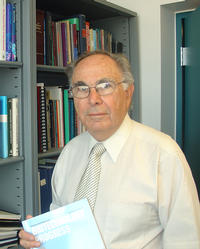 Enlarge
Jerome Schultz is a distinguished professor of bioengineering and the chair of the Department of Bioengineering in the Bourns College of Engineering. Photo credit: UCR Strategic Communications. (Additional images below.)
RIVERSIDE, Calif. — As a boy growing up in Brooklyn, NY, UC Riverside's
Jerome Schultz
would often sneak into his father's office at home to peer into a microscope to examine slides of tissues his father, a physician, had on hand.
Over the years, that early interest in science evolved into an illustrious career in bioengineering — the intersection of biology and engineering — that the American Institute of Chemical Engineers (
AIChE
), in celebrating its centennial this year, has recognized by naming Schultz one of the "One Hundred Engineers of the Modern Era."
Schultz, a distinguished professor and chair of the
Department of Bioengineering
, will receive the honor at the AIChE's annual meeting in Philadelphia, Pa., Nov. 16-21.
This year the AIChE is highlighting individuals who advanced in chemical engineering during the years after World War II (the Modern Era), as well as "authors of groundbreaking books, industrial executives, astronauts, and chemical engineers who achieved fame in other pursuits."
"Dr. Schultz has made superb contributions to chemical engineering and bioengineering in the last half century," said
Shu Chien
, a professor of bioengineering and medicine at UC San Diego. "He is a rare individual whose outstanding work has had major impacts on industry, academia, professional societies, and government. In addition to his pace-setting research on biosensors, membrane transport and biotechnology, Dr. Schultz has founded and built major bioengineering departments at the University of Pittsburgh and the University of California, Riverside."
A pioneer in bioengineering, Schultz also is the director of the Center for Bioengineering Research in the
Bourns College of Engineering
. The center, which is in the early stages of development, will intersect with industry and provide students with a wide range of research opportunities. It also will embrace an interdisciplinary approach to bioengineering and include faculty across the campus to foster biocellular engineering as a research emphasis.
"The future impact of bioengineering lies in learning how to engineer and adapt the fine-tuned intricacies of intracellular structure to direct the cell's behavior towards new and desired outcomes," Schultz said. "This is potentially a new and exciting area in bioengineering, and UCR is well positioned to excel in biocellular engineering."
Schultz started his academic career in the Department of Chemical Engineering at the University of Michigan (1964-1987), which he also chaired. He came to UCR in 2004 from the University of Pittsburgh (1987-2003), where he initiated and chaired the Department of Bioengineering, and organized the Center for Biotechnology and Bioengineering. Upon arriving at UCR, he spearheaded the development of the Department of Bioengineering, the fifth academic department in the Bourns College of Engineering, and structured its undergraduate and graduate programs.
"UCR has a rich history in engineering and biology, and a strong program in bioengineering is the inevitable next step for us," Schultz said. "The campus is gearing up for a new
medical school
. Given how large a role technology plays in medicine, I fully expect bioengineering to play an increasingly crucial role on campus."
Schultz's career accomplishments are extensive. His research has led to the development of techniques that could help millions of people, especially those living with diabetes. He is credited with developing a sensor that could eliminate the need for diabetics to use needles for blood glucose checks. He also is known internationally for his work on biosensors, biomaterials, pharmacokinetics and membrane processes.
Early in his career, he developed methodologies for the production of therapeutic agents on a large scale. Working for a pharmaceutical company, he was in charge of a development unit that transferred ideas and procedures from the research lab into the manufacture of antibiotics, steroids and enzymes in large quantities.
At the University of Michigan, he turned his attention to the more medical aspects of research, and soon began working on understanding how certain tissues, particularly those in the kidney, separate toxic materials from blood. His research led him to develop an ideal artificial membrane that sorts molecules by size, allowing researchers to understand how tissues sort molecules and also to design membranes for use in devices such as the artificial kidney.
Schultz became interested, too, in how biological cells select nutrients while preventing harmful chemicals from gaining access to the cells' interior. His research on carrier-mediated transport helped pave the way for industry to develop liquid membranes for purification processes.
He received his bachelor's and master's degrees in chemical engineering at Columbia University, and his doctorate in biochemistry from the University of Wisconsin.
The author or coauthor of more than 120 research papers, he has edited six books and holds several patents. He has been editor-in-chief of the journal
Biotechnology Progress
for 20 years, and serves on the editorial boards of several other scientific journals.
He is a founding member and past president of the American Institute for Medical and Biological Engineering, which serves and coordinates a broad constituency of medical and biological scientists and practitioners, bioengineering societies, bioengineering departments and biomedical industries.
A member of the National Academy of Engineering, a fellow of the Biomedical Engineering Society and a fellow of the American Association for the Advancement of Sciences, Schultz has been recognized also with named lectureships at the University of Michigan, Iowa State University and the University of Pittsburgh.
He is the recipient of numerous awards and honors, including the Marvin J. Johnson Biotechnology Award from the American Chemical Society; a Career Achievement Award from the Houston Society for Engineering in Medicine and Biology; and the Bioengineering Award from the AIChE.
The AIChE, the world's leading organization for chemical engineering professionals, has more than 40,000 members and fosters the continued development of the profession though national meetings, publications, and special workshops. Its members work in corporations, universities and government using their knowledge of chemical processes to develop safe and useful products for the benefit of society.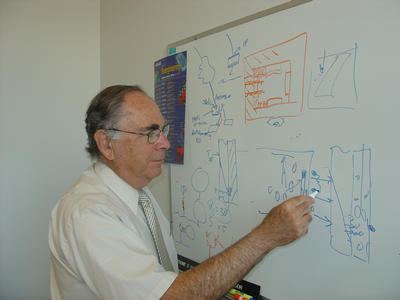 Enlarge
Jerome Schultz is a distinguished professor of bioengineering and the chair of the Department of Bioengineering in the Bourns College of Engineering. Photo credit: UCR Strategic Communications.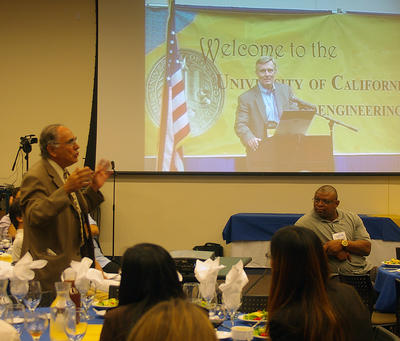 Enlarge
Jerome Schultz addresses the president of the Illinois Institute of Technology at a recent symposium. Photo credit: Bourns College of Engineering, UC Riverside.
RELATED LINKS
ADDITIONAL CONTACTS
The University of California, Riverside (www.ucr.edu) is a doctoral research university, a living laboratory for groundbreaking exploration of issues critical to Inland Southern California, the state and communities around the world. Reflecting California's diverse culture, UCR's enrollment has exceeded 21,000 students. The campus opened a medical school in 2013 and has reached the heart of the Coachella Valley by way of the UCR Palm Desert Center. The campus has an annual statewide economic impact of more than $1 billion.
A broadcast studio with fiber cable to the AT&T Hollywood hub is available for live or taped interviews. UCR also has ISDN for radio interviews. To learn more, call (951) UCR-NEWS.