Study Looks at High Drop Out Rates
---
Extra Curricular Activities May be the Glue That Keeps Students in School
UCR study finds that drop out rates are directly connected to how engaged students are with clubs, sports and after-school activities.


(June 26, 2008)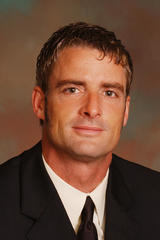 Robert K. Ream
RIVERSIDE, Calif. (www.ucr.edu) — Although high school graduation can be a joyous occasion, some students never get there. A UCR study shows that extra-curricular activities, the kinds of programs most likely to be cut when state budgets shrink, may well be the glue that keeps students in school.
"Census statistics indicate nearly half a million students drop out of school each year, and Mexican origin youth are especially susceptible to not completing school on time" said assistant professor Robert Ream of UCR's Graduate School of Education. "Our study shows that student engagement behaviors—including participating in extracurricular activities—contribute to the formation of friendship networks which arc toward educational attainment; the same behaviors detract from the likelihood that students will become susceptible to the social and behavioral influences of others who drop out of school."
The study shows that socioeconomic disadvantage detracts from student engagement among Mexican American adolescents.
"Low-income Mexican American adolescents may be less able to participate in homework or school sports, or music because many are obligated to hold after-school jobs or are required to care for siblings while their parents are working," Ream commented. "Enrollment fees may also discourage economically disadvantaged students from participating in extracurricular activities,"
Disengaged students are also more likely to have friends who have dropped out of school. Various studies show that having dropout friends increases one's chances of not completing high school.
Ream, who conducted the study with Professor Russell Rumberger of the Gervirtz Graduate School of Education at UC Santa Barbara, states that disengagement and withdrawal from school is the result of a long-term process that can begin as early as elementary school.
"Our study shows that what kids do impacts who they know and spend time with. These links between engagement behaviors and friendship networks play an important role in whether or not adolescents complete high school."
"Students need to have opportunities available in a broad range of school-related activities," Ream said. "Drama and the arts, or sports, even the academic decathalon are engagement behaviors that help kids develop school-oriented peer networks and facilitate their ability to seamlessly navigate home and school environments."
Ream said engagement activities structure opportunities for students to meet other school-oriented students in and around schools and should therefore not fall victim to tight educational budgets or more narrowly defined educational reform agendas.
The University of California, Riverside (www.ucr.edu) is a doctoral research university, a living laboratory for groundbreaking exploration of issues critical to Inland Southern California, the state and communities around the world. Reflecting California's diverse culture, UCR's enrollment has exceeded 21,000 students. The campus opened a medical school in 2013 and has reached the heart of the Coachella Valley by way of the UCR Palm Desert Center. The campus has an annual statewide economic impact of more than $1 billion.
A broadcast studio with fiber cable to the AT&T Hollywood hub is available for live or taped interviews. UCR also has ISDN for radio interviews. To learn more, call (951) UCR-NEWS.