E. coli and Salmonella Are No Match For Well-Prepared Scientists
---
E. coli and Salmonella Are No Match For Well-Prepared Scientists
UC Riverside Engineering Professor Sharon Walker and a group of young researchers are sleuthing for answers about the dangers of the water and food supply
(July 25, 2008)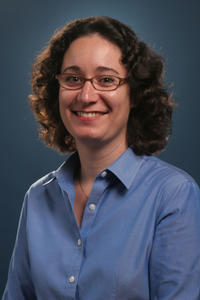 Enlarge
Sharon Walker, assistant professor in the Bourns College of Engineering
RIVERSIDE, Calif. (www.ucr.edu) — Jalapeño peppers hot with Salmonella. Burgers with all the fixings of E. coli. Water that makes people sick. Bad bacteria have spurred hundreds of illnesses, grabbed national news headlines, and set a new source of worry on American dinner tables.
At UC Riverside's Department of Chemical and Environmental Engineering, laboratory sleuths are looking daily for answers that will help protect our national food and water supplies.
They are trying to understand, for example, how bacteria behave in water, and how bacteria attach to surfaces, Assistant Professor Sharon L. Walker said. The work in her Bacterial Adhesion Research Laboratory is funded mainly through U.S. Department of Agriculture and other water quality research grants. And these researchers are still in college.
They are African-American; they are Hispanic; they are young women — faces traditionally under-represented in science and engineering labs. The goal is to help them continue through college to graduate school. Eventually, they will enhance and diversify the national work force of scientists and engineers, Walker said. "We're looking for potential."
The outreach grants funding these efforts introduce the students to major research that's of national significance. "We're leveraging UCR's research talent and our wealth of diversity," Walker said.
Programs in operation at UC Riverside include:
• "Building Bridges Across Riverside Through Water Quality Research" is funded through the U.S. Department of Agriculture. Riverside Community College students spend the summer in dormitories and receive a salary for their research work in a UCR laboratory. Walker said the $294,000, three-year program just began its third year with 2008-09 participants Melissa Reimer, whose interest in biology is accompanied by a strong passion for horses, and Karynn Kirby, who is focused on public health issues. They are working on USDA-funded research that Walker began last fall with Assistant Professor Jane Hill of the University of Vermont, studying how pathogens can swim in water. Walker and Heather Smith, RCC assistant professor of Life Sciences, are the students' mentors and role models. More coaching comes from members of the UCR chapter of Society of Hispanic and Professional Engineers and the National Society of Black Engineers, as well as UCR PhD students.
• MY BEST @ UCR is funded with a $561,000 year-round mentoring grant from the National Science Foundation. It is based on the model of the Building Bridges program. It just began with three UCR undergraduate students and two RCC students teamed with mentoring faculty.
• UC Leads, a University of California systemwide program, pairs graduate students mentor with undergraduates. For example, Berat Haznedaroglu, a Ph.D. student in the Bacterial Adhesion Research Laboratory, is one of the mentors. UC Leads is directed by the Graduate Division.
Walker has a reputation for successfully combining outreach and research grants, and she has plans for more. Her work is paying off.
All four Building Bridges participants to date have continued at four-year universities and plan careers in science and engineering. One 2007-08 participant, Juan Lucio of Hemet, was the first member of his immediate and extended family to attend college. Earlier this year he was one of 15 students selected nationwide to attend a U.S. Department of Agriculture conference in Washington, D.C., where he presented his research on bacterial adhesion to material surfaces.
"I am extremely focused on leading the way in a new direction for Hispanic people in science-related fields," he wrote afterward.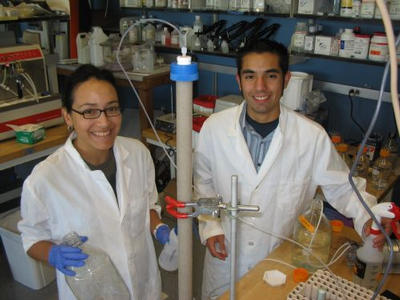 Juan Lucio and Jasmine Salas in the lab during the 2007 program.
The University of California, Riverside (www.ucr.edu) is a doctoral research university, a living laboratory for groundbreaking exploration of issues critical to Inland Southern California, the state and communities around the world. Reflecting California's diverse culture, UCR's enrollment has exceeded 21,000 students. The campus opened a medical school in 2013 and has reached the heart of the Coachella Valley by way of the UCR Palm Desert Center. The campus has an annual statewide economic impact of more than $1 billion.
A broadcast studio with fiber cable to the AT&T Hollywood hub is available for live or taped interviews. UCR also has ISDN for radio interviews. To learn more, call (951) UCR-NEWS.