AGSM Bolsters Faculty With New Hires
---
UC Riverside's Business School Poised for Growth with Faculty New Hires
A. Gary Anderson Graduate School of Management bolsters its faculty with the addition of well known scholars.

(September 24, 2008)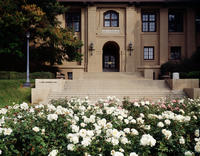 Enlarge
The A. Gary Anderson Graduate School of Management
RIVERSIDE, Calif. (www.ucr.edu) – Keeping with his plan for a world-class business school with real-world business practices, David Stewart, dean of UCR's A. Gary Anderson Graduate School of Management, has brought on board six new faculty members to enhance the already prestigious roster of faculty in the school.
"These additions to our faculty play an important role in positioning the school for additional growth in programs and enrollment," said Stewart. "We are quickly moving forward in response to student demand and the need for a first-tier business school. The quality of faculty we are adding will also extend our global reach in attracting new students. We know we can serve more students and will likely see combined enrollments of undergraduate and graduate programs close to 2000 in a few years."
Joining the faculty are:
Theodore J. Mock, Ph.D., joins the AGSM faculty as distinguished professor of audit and assurance. Prior to joining the faculty of AGSM he served as professor of accounting at the University of Southern California (USC) and professor of auditing research at Maastricht University in the Netherlands. From 1982 to 2006 he served as Arthur Andersen Alumni Professor at USC. In 1983 he helped found the USC Audit Judgment Symposium (now the International Symposium on Audit Research). Mock's research interests lie primarily in the areas of audit judgment, assurance services and evidential reasoning. Mock's training includes degrees in mathematics and finance from Ohio State University and a doctorate from the University of California, Berkeley. He serves on the advisory boards of the Maastricht University Accounting & Auditing Research Center and the USC SEC & Financial Reporting Institute. Mock is widely published and his work has appeared in such journals as the Accounting Review, the Journal of Accounting Research, Auditing: A Journal of Practice & Theory, Behavioral Research in Accounting, and Accounting, Organizations and Society, among others.
Michael L. Moore, Ph.D., a certified public accountant, joins the AGSM faculty as professor of accounting and chairman of the Department of Accounting and Information Systems. He earned Ph.D. and M.S. degrees from Pennsylvania State University and a B.A. from University of Washington. He served on the faculty of the University of Southern California for 16 years, seven years as a professor and nine years as the Kenneth Leventhal Professor of Acounting. He was also director of the masters of Business Taxation Program. He then served as chairman of the Department of Accounting at Colorado State University for two years before leaving academia in 1997 for public accounting practice where he was a partner with Hull, Ruhl & Moore for 10 years. He has published extensively in taxation and accounting and has research interests on international topics. Moore is co-author of U.S. Tax Aspects of Doing Business Abroad, now in its sixth edition. He is past president of the American Taxation Association.
"I think it is going to be very exciting working toward the vision of the dean and getting a master of accounting department started," Moore said. "I think it's good that I have been out of academia for a while and am familiar with current industry expectations."
Richard L. Smith, Ph.D., joins AGSM as the Philip L. Boyd Chair and Professor of Finance and Management Science and chairman of the Department of Finance and Management Science at UCR. He received a Ph.D. in business economics from UCLA in 1979, an M.A. in economics from UCLA in 1978, an M.B.A. in finance from Washington University in 1973, and a Bachelor of Business Administration in finance from Southern Methodist University in 1971. He most recently was the Ralph W. Leatherby Chair of Entrepreneurship and Private Equity at Chapman University. Smith is author of "Entrepreneurial Finance"(Wiley, 2004, 2ed.) and more than 35 journal articles and other research papers on an array of finance and economics topics. His recent research has focused on initial public offerings and venture capital. Additional research includes policy-oriented studies of retirement plan investment returns and asset allocation choices and the impact of the SEC's Fair Value Standard to illiquid assets held by mutual funds. From 1997 through 2000 and from 2004 to 2007, Smith served on the Investment Committee of the board of trustees of Claremont Graduate University. He has been engaged in financial economics consulting since 1981 and has consulted extensively on matters related to valuation, entrepreneurial finance, securities, and mergers and acquisitions. His clients have included a number of Fortune 500 companies, several federal and state agencies, and foreign agencies. Smith has lectured internationally on venture finance, fostering entrepreneurship, and the role of entrepreneurship in economic growth. At UCR, Smith expects to focus his teaching on finance courses that will help advance the AGSM's growing emphasis on entrepreneurial management and venture finance
"I believe UCR is very well positioned, at this time, to build a world-class school of management with an outstanding finance faculty," Smith said. "I look forward to working with Dean Stewart and the AGSM faculty to help achieve those objectives."
Yunzeng Wang, Ph.D., joins the AGSM faculty as a professor of finance and management science and dean's distinguished scholar in Supply Chain Management. He holds a Ph.D. degree in operations management from the Wharton School, University of Pennsylvania. Previously, Wang served as a faculty member at the Weatherhead School of Management, Case Western Reserve University, and at the School of Management, University of Texas at Dallas, where he took leadership roles in the development of successful graduate programs in supply chain management. His research interests focus on supply chain management. An internationally known scholar in the field, Wang is a frequent speaker at leading research universities and professional organizations. He publishes widely and serves on the editorial boards of several major academic journals. Wang was the 1998 recipient of the prestigious George Dantzig Prize from the Institute for Operations Research and Management Sciences (INFORMS) for the theoretical contributions of his research and its relevance to management practice.
"AGSM enjoys an excellent reputation academically," Wang said. "Under the strong leadership and great vision of Dean Stewart, the school is on a solid footing to become a leading player in providing a world-class business education for future top managers and executives."
Sattar Mansi, Ph.D. joins the AGSM faculty as a visiting associate professor of finance and management science. He has more than 20 years of research and private sector experience. His private sector experience includes working with Freddie Mac in the areas of risk management and securitization, and Unisys Corporation as a product OEM engineer. Mansi taught finance classes at the Ph.D., M.B.A. and undergraduate levels in the areas of corporate finance, corporate governance, fixed income securities and investments. Previously, he held academic appointments at Virginia Tech, University of Arizona, Georgetown University and Texas Tech University. He is an active member of the American Finance Association, European Finance Association, Financial Management Association and Western Finance Association. He has an M.B.A. and a Ph.D. in finance, and a B.S. in Electrical Engineering.
Long Gao, Ph.D., joins the AGSM faculty as an assistant professor in supply chain management and management science. He earned his Ph.D. in business administration and operations research from Pennsylvania State University, and M.E. and B.E. degrees in engineering physics from Tsinghau University in Beijing, China. His research interests include supply chain management, stochastic modeling of manufacturing and service systems, MDP, simulation. He has published in journals such as Management Science and Production and Operations Management.
The University of California, Riverside (www.ucr.edu) is a doctoral research university, a living laboratory for groundbreaking exploration of issues critical to Inland Southern California, the state and communities around the world. Reflecting California's diverse culture, UCR's enrollment has exceeded 21,000 students. The campus opened a medical school in 2013 and has reached the heart of the Coachella Valley by way of the UCR Palm Desert Center. The campus has an annual statewide economic impact of more than $1 billion.
A broadcast studio with fiber cable to the AT&T Hollywood hub is available for live or taped interviews. UCR also has ISDN for radio interviews. To learn more, call (951) UCR-NEWS.