Southeast Asian Film Festival Celebrates the Supernatural
---
The Supernatural in Southeast Asian Studies
UCR sponsors a ghostly film festival and spirited scholarly colloquium.
(October 13, 2008)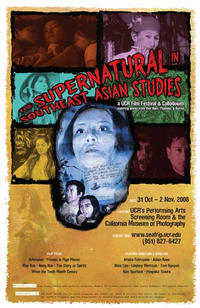 Enlarge
RIVERSIDE, Calif. – In the spirit of Halloween, Dia de los Muertos and All Souls Day, UC Riverside will host a transnational film festival Oct. 31-Nov. 2 featuring works from Thailand, Vietnam and Burma that explore the supernatural through ghosts, hauntings and spirit channeling.
The festival, "The Supernatural in Southeast Asian Studies," will explore themes of trauma, history, memory and the spectral in Southeast Asian cinema. Expressed through a variety of genres like the documentary, short feature and feature film, these ghost films differ from Japanese and Korean horror films that are au courant, as they draw up specific histories of war, colonialism and displacement as well as the spiritual traditions that mark these diverse regions.
Film screenings will be followed by public conversations with Asian and Asian American film directors and scholars in the fields of women's studies, film and media studies, Southeast Asian studies and religious studies.
"This exciting gathering not only reaches across national, linguistic and cultural boundaries, but also encourages collaborative artistic and scholarly explorations of Southeast Asia in particular and the Pacific Rim as a whole," said Tamara Ho, assistant professor of women's studies at UCR.
Events will take place in the Arts Building on campus, Room 335, and at the UCR/California Museum of Photography, 3824 Main St., Riverside. The film festival and conversations with directors are free and open to the public. All films are subtitled in English.
The festival is organized by UCR scholars Ho; Lan Duong, assistant professor of media and cultural studies; and Justin McDaniel, associate professor of religious studies. It is sponsored by University of California Pacific Rim Research Program, and UCR's Center for Ideas & Society, Center for Women in Coalition, Southeast Asia: Text, Ritual and Performance (SEATRiP) Program, and the Departments of Women's Studies and Media & Cultural Studies.
Schedule of events:

Friday, Oct. 31
Location: UCR/California Museum of Photography (Ocularium, second floor)
1:00-1:10 p.m.: Welcome: Tammy Ho
1:10-2:10 p.m.: Keynote: Felicidad "Bliss" Lim, associate professor of film and media studies at UC Irvine.
2:15-2:30 p.m.: Discussion
2:30-3:15 p.m.: Film – "The Story of Spirits," directed by Tien Nguyen. The return of a mother's ghost, channeled through her husband's new wife, leads her daughter to question her lifelong belief that her mother had abandoned her children.
3:15-3:30 p.m.: Film – "Afternoon," directed by Kim Spurlock. Drawn by the grief of her husband and the desire to experience the vestiges of physical sensation, the spirit of the family matriarch comes calling.
3:30-4:15 p.m.: Discussion with directors Spurlock and Nguyen
7-8:30 p.m.: Film – "Nang Nak," directed by Nonzee Nimibutr. This film is a haunting, heart-breaking romance based on a well-known Thai legend of love beyond the grave. Nimibutr is generally credited as the leader among a new wave of Thai filmmakers. This film won four awards at the Pan Asia Film Festival, including Best Picture and Best Director.
8:30-9:15 p.m.: Discussion
Both events will take place in the UCR Arts Building, third floor screening room.
Saturday, Nov. 1
Location: UCR/California Museum of Photography (Ocularium, second floor)
9:30-10 a.m.: Coffee and pastries
10-10:15 a.m.: Introduction to "Mae Nak" by graduate student Arnika Fuhrmann
10:15-10:45 a.m.: Film – "Mae Nak," directed by Pimpaka Towira. Towira's evocative film offers a new structure for visualizing and narrating this classic ghost story. In 1998, the film won a Special Jury Prize from the Image Forum Festival in Japan.
10:45-11:30 a.m.: Discussion with director Towira
1-2:30 p.m.: Film – "When the Tenth Month Comes," directed by Dang Nhat Minh. The plot revolves around a widow who safeguards her husband's family from the truth about his death during Vietnam's war with Cambodia. Recently picked as one of Asia's best films of all time by CNN, the film explores the processes of mourning that the female protagonist undergoes and poignantly shows how the undead co-exist fluidly with those barely living, the widows of the war.
2:30-3:15 p.m.: Discussion
3:15-4 p.m.: Break
4-5:45 p.m.: Film – "Friends in High Places," directed by Lindsey Merrison. The film explores modern Burmese nat worship and nat gadaws (spirit mediums). Nats are the spirits of humans killed by kings and those in power. The Burmese believe that nats can influence the material world and must be appeased by spirit mediums. The film highlights the ubiquitous power of the Burmese military government and how the supernatural is inextricably tied to the daily lives and survival strategies of ordinary Burmese.
5:45-6:30 p.m.: Discussion with director Merrison
Sunday, Nov. 2
Location: UCR/California Museum of Photography (Ocularium, second floor)
Working roundtable with scholars and directors. Invitation only.
For more information contact
Lan Duong
or
Tamara Ho
, or go to
http://www.seatrip.ucr.edu
.
RELATED LINKS
ADDITIONAL CONTACTS
The University of California, Riverside (www.ucr.edu) is a doctoral research university, a living laboratory for groundbreaking exploration of issues critical to Inland Southern California, the state and communities around the world. Reflecting California's diverse culture, UCR's enrollment has exceeded 21,000 students. The campus opened a medical school in 2013 and has reached the heart of the Coachella Valley by way of the UCR Palm Desert Center. The campus has an annual statewide economic impact of more than $1 billion.
A broadcast studio with fiber cable to the AT&T Hollywood hub is available for live or taped interviews. UCR also has ISDN for radio interviews. To learn more, call (951) UCR-NEWS.