Asian Americans Crucial in California Vote
---
Asian Americans Crucial in California Vote
One-third of Asian American voters in the state are still undecided about the presidential race.
(October 15, 2008)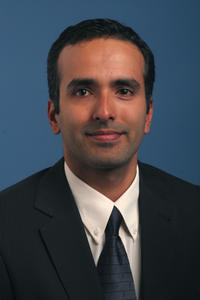 Enlarge
Karthick Ramakrishnan
RIVERSIDE, Calif. - Just a few weeks before the election, more than one-third of Asian American voters in California are still undecided about their presidential pick. Forty-two percent support Senator Barack Obama and 24 percent support Senator John McCain, according to a new report released today.
California has the largest Asian American population in the country, with 5 million residents that account for one-third of the national Asian American population and nearly 14 percent of the population in California.
The report, presented at a community roundtable at USC by Karthick Ramakrishnan, associate professor of political science at UCR, Janelle Wong, associate professor of political science at USC, reveals that a majority of Asian American likely voters oppose Proposition 8, which would define "marriage as between a man and a woman, thus barring marriage between gay and lesbian couples." Fifty-seven percent of likely Asian American voters did not favor the change; 32 percent favored it.
"Given that Asian Americans once faced barriers to marriage based on racial restrictions, these findings do not surprise me," said Wong. "It's important for the campaigns to recognize that more than one out of 10 likely Asian American voters remain undecided about this issue, so they may benefit by focusing their energies on this group of persuadable voters."
The 2008 National Asian American Survey (NAAS) — by researchers from Rutgers, UC Berkeley, UC Riverside and USC — is the most comprehensive survey of Asian American political views ever conducted, providing important demographic information about one of the fastest growing segments of the electorate.
Notably, the researchers also point out that Asian Americans in California are far more likely than Asian Americans elsewhere in the United States to get political information from ethnic language media. Over 40 percent of Asian American citizens in California get political information from Asian-language television and a similar proportion get their political information from Asian-language newspapers.
"While a majority of Asian American citizens and likely voters get their political news in English, a very large proportion still follow news in Asian languages," Ramakrishnan said. "The sheer size of Asian-language media markets means that advertisements and campaign coverage in Asian language media are important aspects of the Asian American vote."
He continued: "It is not surprising to find, then, to also find that over one in four Asian American likely voters say they would benefit from having access to election materials in an Asian language."
In particular, the report highlights key regional differences in California. Asian Americans in California lean towards Obama overall, but support for McCain is highest among Asian Americans in Orange County, San Diego and the Inland Empire. The Inland Empire has lower Asian American voter participation rates (51 percent of adult citizens are likely voters) when compared to the rest of California (67 percent), according to the report.
The report also examines how preferences for presidential candidate vary by national origin. Support for McCain is highest among Vietnamese likely voters, with 53 percent in California planning to vote for the Republican candidate, according to the survey.
In contrast, a majority of Asian Indians (63 percent) and Japanese Americans (53 percent) plan to vote for Obama. Korean likely voters favor Obama (34 percent) only slightly over McCain (31 percent), with more than one-third still undecided.
Interviews for the survey were conducted in English, Cantonese, Mandarin, Hindi, Japanese, Korean, Tagalog and Vietnamese.
The full NAAS study, including information on the survey methodology, is available online at: http://www.naasurvey.com/http://www.naasurvey.com/. The website includes information on the nation Asian American population, as well as Asian Americans in California, New York, and New Jersey.
RELATED LINKS
ADDITIONAL CONTACTS
The University of California, Riverside (www.ucr.edu) is a doctoral research university, a living laboratory for groundbreaking exploration of issues critical to Inland Southern California, the state and communities around the world. Reflecting California's diverse culture, UCR's enrollment has exceeded 21,000 students. The campus opened a medical school in 2013 and has reached the heart of the Coachella Valley by way of the UCR Palm Desert Center. The campus has an annual statewide economic impact of more than $1 billion.
A broadcast studio with fiber cable to the AT&T Hollywood hub is available for live or taped interviews. UCR also has ISDN for radio interviews. To learn more, call (951) UCR-NEWS.