World-class Ecologist Joins UC Riverside
---
World-class Ecologist Appointed Director of University of California Institute for Mexico and the United States
Exequiel Ezcurra also joins UCR's Department of Botany and Plant Sciences; his vast experience encompasses research, education, administration and public education
(November 7, 2008)
NEWS MEDIA CONTACT
Name:

Iqbal Pittalwala


Tel:

(951) 827-6050


E-mail:

iqbal@ucr.edu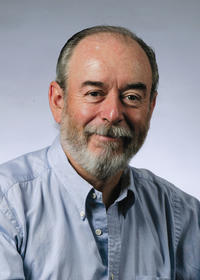 Enlarge
Exequiel Ezcurra has joined the University of California Institute for Mexico and the United States (UC MEXUS) as its fourth director, effective Nov. 3. Photo credit: UC MEXUS.
RIVERSIDE, Calif. – Exequiel Ezcurra, former director of the Biodiversity Research Center of the Californias and Provost of the San Diego Natural History Museum, has joined the University of California Institute for Mexico and the United States (UC MEXUS) as its fourth director, effective Nov. 3. Ezcurra will concurrently hold a position as professor of plant ecology in UC Riverside's
Department of Botany and Plant Sciences
.
"Dr. Ezcurra is a distinguished, world-renowned ecologist who has made significant contributions to biodiversity conservation as well as science policy administration," said
Jodie Holt
, chair of the Department of Botany and Plant Sciences. "He is also known as an accomplished and inspiring teacher and mentor. His work on desert ecology and conservation in Latin America, combined with his new role as director of UC MEXUS, will bring a new dimension to UCR's growing programs in ecology."
Ezcurra's 30-year career as a plant ecologist has embraced a vast range of interests: nature conservation, the ecology and biogeography of coastal deserts and wetlands, land-ocean interactions, the application of mathematical modeling in ecology and conservation, and the management of natural resources in areas under traditional use.
He said he looks forward to helping
UC MEXUS
further advance as a leading binational institution for the promotion of scientific and academic dialogue in North America.
"I see UC MEXUS as a leading forum where ideas and issues relating to the relationship between Mexico and the United States can be analyzed and discussed," he said. "Through UC MEXUS, innovative proposals for binational cooperation can evolve and grow."
His appointment is being greeted with enthusiasm both in the academic community and among associates of UC MEXUS.
"UC MEXUS needs a world class scientist such as Exequiel Ezcurra, well known in Mexico and the U.S., who can bring together outstanding faculty from UC and Mexico to develop innovative binational projects," said
Arturo Gómez-Pompa
, the founding director of UC MEXUS, a professor emeritus of botany at UCR and former University Professor of the University of California.
According to
Michael Allen
, chair of UCR's
Department of Plant Pathology and Microbiology
and a member of the UC MEXUS Advisory Committee, Ezcurra's research into the many components of climate change makes him a particularly valuable addition to the UCR academic community.
"He is especially well-known for his studies of the interaction of climate with plants both in desert environments and in the context of land-sea interactions," Allen said. "Ezcurra's work on global climate change is particularly important for Southern California and Northwestern Mexico, which are among the most sensitive and least understood areas in the world to changes in climate."
Allen added that Ezcurra stands out for his important contributions to the policy implications of the interconnections between the environment, ecology and people. He noted that Ezcurra is extremely well known for his public outreach and for his work within the Mexican government.
In Mexico, Ezcurra's work has contributed to the creation of several biological reserves and significant conservation initiatives. His early research produced information that helped create the UNESCO Biosphere Reserves of the Upper Gulf of California and Colorado River Delta, and the Pinacate and the Gran Desierto de Altar, effectively establishing a binational corridor of protected natural areas in the coastal Sonoran Desert – the largest stretch of contingent protected area in North America – and helping to safeguard a large expanse of one of the largest and hottest deserts in North America, home to a variety of unique plants and animals, and cultural homeland for the Tohono O'odham Nation.
Ezcurra helped develop Mexico's first environmental impact assessments, opened the way for the restoration of Guadalupe Island in the Mexican Pacific, and promoted the re-introduction of the California condor to the Baja California ranges. As chair of the Convention on International Trade in Endangered Species of Wild Fauna and Flora (
CITES
), he worked with governments to forge international agreements aimed at ensuring that international trade in wild animals and plants did not threaten their survival.
Author of more than 200 publications on topics ranging from desert plant adaptation to ocean currents and climate change, his books, Gulf of California and Isla Espíritu Santo: Evolución, rescate y conservación, helped inspire donors to buy the Espiritu Santo Island and dedicate it to conservation. His extensive work on the islands of the Sea of Cortés led to their designation as a UNESCO
World Heritage Site
, ensuring their preservation as pristine environments.
He edited the United Nation's 2006 report,
Global Deserts Outlook
, on the state of the world's deserts, in celebration of the International Year of Deserts. He also co-produced, wrote and narrated
Ocean Oasis
, a nature film that won the 2001 Jackson Hole Nature Film Award and the 2002 BBC
Wildscreen Award
.
His early studies of mangrove ecology in the Tabasco and Yucatan lowlands produced groundbreaking Mexican research in the regions' coastal ecology, leading eventually to the creation of important coastal reserves. In addition, his work was central to the dedication of the islands of the Sea of Cortes and their surrounding waters as an international World Heritage Site. That cross-border collaboration earned him the 2007
Peacemaker Award
from the National Conflict Resolution Center.
He has received numerous other awards for his professional contributions to the field of ecology, most notably the Conservation Biology Award from the
Society for Conservation Biology
in 1994, and
Pew Fellowship
for Marine Conservation in 2006.
Born in Argentina, Ezcurra moved to Mexico early in life. He completed his higher education at the University College of North Wales, Bangor, where he received a master's and a doctorate in plant ecology. In 1987, he became a full professor and head of the Community Ecology Lab at the University of Mexico. In 1992, while maintaining his position at the University of Mexico, he was appointed director general of natural resources in the Mexican federal government.
Before joining UC MEXUS, Ezcurra directed the
San Diego Natural History Museum
's science and research program, the
Biodiversity Research Center of the Californias
, since 1998, with a four-year hiatus to accept an appointment by the former president of Mexico, Vicente Fox, to serve as president of the
National Institute of Ecology
.
Ezcurra's career has included frequent collaboration with UC MEXUS programs and initiatives, and he has worked extensively with the Mexican government's academic funding agency
CONACYT
, which supports many joint research programs with UC MEXUS.
UC MEXUS was established in 1980 to identify, focus and augment the resources of the ten campuses of the University of California as they relate to research, education, creative activity and public service concerning Mexico and people of Mexican origin.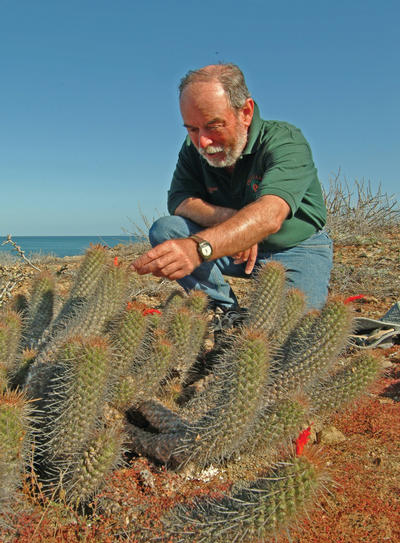 Enlarge
Exequiel Ezcurra is a distinguished, world-renowned ecologist who has made significant contributions to biodiversity conservation. He is seen here doing fieldwork in Magdalena Bay, Mexico.
RELATED LINKS
ADDITIONAL CONTACTS
The University of California, Riverside (www.ucr.edu) is a doctoral research university, a living laboratory for groundbreaking exploration of issues critical to Inland Southern California, the state and communities around the world. Reflecting California's diverse culture, UCR's enrollment has exceeded 21,000 students. The campus opened a medical school in 2013 and has reached the heart of the Coachella Valley by way of the UCR Palm Desert Center. The campus has an annual statewide economic impact of more than $1 billion.
A broadcast studio with fiber cable to the AT&T Hollywood hub is available for live or taped interviews. UCR also has ISDN for radio interviews. To learn more, call (951) UCR-NEWS.