"Waterproof' Rice Varieties Pass Field Tests in Bangladesh and India
---
From Genes to Farmers' Fields: "Waterproof" Rice Set to Make Waves in South Asia
UCR's Julia Bailey-Serres is member of international research team that developed new flood-tolerant rice varieties
(November 20, 2008)
NEWS MEDIA CONTACT
Name:

Iqbal Pittalwala


Tel:

(951) 827-6050


E-mail:

iqbal@ucr.edu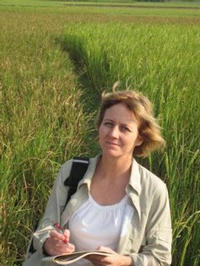 Julia Bailey-Serres, a professor of genetics at UC Riverside, in a farmer's field at Nuagaon, near Cuttack, India. The background shows (left) non-Sub1 rice and (right) flood-tolerant, Sub1 rice. As seen in the photo, only the Sub1 rice variety is thriving. Photo credit: P. Ronald. (Additional image below.)
RIVERSIDE, Calif. – "Waterproof" versions of popular varieties of rice, which can withstand two weeks of complete submergence, have passed tests in farmers' fields, with several of these varieties now close to official release by national and state seed certification agencies in Bangladesh and India.
In those countries, farmers suffer major crop losses because of flooding of up to 4 million tons of rice per year—enough rice to feed 30 million people.
Developed by an international team of researchers, the flood-tolerant versions of the popular rice varieties—grown over huge areas across Asia—are effectively identical to their susceptible counterparts, but recover after severe flooding to produce abundant yields of high-quality grain.
UC Riverside's
Julia Bailey-Serres
, a professor of genetics, is leading the work to determine exactly how Sub1A, a gene in a low-yielding traditional Indian rice variety, confers flood tolerance in the new varieties of rice.
"Sub1A effectively makes the plant dormant during submergence, allowing it to conserve energy until the floodwaters recede," said Bailey-Serres of the
Department of Botany and Plant Sciences
and the
Center for Plant Cell Biology
.
According to
David Mackill
, senior rice breeder at the International Rice Research Institute (IRRI), the Philippines, the project has been a great success both in its results and the international collaboration that made the project possible.
"The potential for impact is huge," said Mackill, who collaborated on the project. "In Bangladesh, for example, 20 percent of the rice land is flood prone and the country typically suffers several major floods each year. Submergence-tolerant varieties could make major inroads into Bangladesh's annual rice shortfall and substantially reduce its import needs."
UCR research
Bailey-Serres and Takeshi Fukao, a postdoctoral researcher in her lab, have explored just how plants with and without Sub1A respond to submergence.
Typically, rice plants will extend the length of their leaves and stem in an attempt to escape submergence. The Sub1A gene, which is responsible for most of the submergence tolerance, is an evolutionarily new gene in rice found in only a small proportion of the rice varieties originating from eastern India and Sri Lanka. The activation of this gene under submergence counteracts the escape strategy.
"We were excited to find that the hormone that signals submergence intolerant plants to elongate underwater is the same signal that tells the tolerant plants to stop growing," Fukao said. These findings were published Oct. 20 in the
Proceedings of the National Academy of Sciences
, USA.
New varieties of rice
Using modern techniques that allow breeders to do much of their work in the lab rather than the field, Mackill and his team at IRRI were able to precisely transfer Sub1A into high-yielding varieties without affecting the characteristics—such as high yield, good grain quality, and pest and disease resistance—that made the varieties popular in the first place.
Thirteen years ago, Mackill, then at UC Davis, and Kenong Xu, his graduate student, pinpointed Sub1A in a low-yielding traditional Indian rice variety. Xu subsequently worked as a postdoctoral fellow in the lab of rice geneticist
Pamela Ronald
, a UC Davis professor. Ronald and Xu isolated Sub1A and demonstrated that it confers tolerance to normally intolerant rice plants. Ronald's team showed that the gene is switched on when the plants are submerged.
The international team of researchers anticipates that the flood-tolerant rice plants will be available to smallholder farmers in flood-prone areas within the next two years. IRRI is leading this initiative through a grant from the Bill & Melinda Gates Foundation and Japan's Ministry of Foreign Affairs.
Because the plants are the product of precision breeding, rather than genetic modification, they are not subject to the same regulatory testing that can delay release of genetically modified crops for several years.
"The impact of these new varieties is evident for farm families as well as at a national production level," Ronald said, following an early November tour with her research colleagues of the flood-tolerant rice field trials in Bangladesh. "To be part of this project as it has moved from my lab in California to rice fields in Asia has been inspiring, and the project underscores the power of science to improve people's lives."
Collaborative effort
Besides UCR, UC Davis and IRRI, several national organizations, including the Bangladesh Rice Research Institute, India's Central Rice Research Institute and Narendra Dev University of Agriculture and Technology, were involved in the research.
The research that led to the isolation of the Sub1 gene was funded by U.S. Department of Agriculture grants to Ronald, Mackill and Bailey-Serres. The breeding work was funded by the German Federal Ministry for Economic Cooperation and Development and the U.S. Department of Agriculture.
The research achievements of Bailey-Serres and Ronald will be recognized with the U.S. Department of Agriculture National Research Initiatives Discovery Award in December.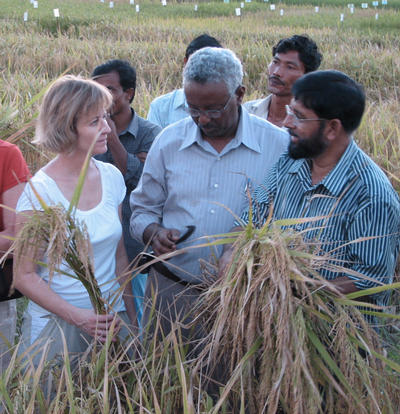 Enlarge
Foreground, left to right: Julia Bailey-Serres (UC Riverside), Abdel Ismail (IRRI, the Philippines) and M. A. Mazid, (Bangladesh Rice Research Institute, Regional Station) in Rangpur, Bangladesh. The three researchers are seen harvesting a variety of Sub1 rice to be used by farmers next year.
RELATED LINKS
ADDITIONAL CONTACTS
The University of California, Riverside (www.ucr.edu) is a doctoral research university, a living laboratory for groundbreaking exploration of issues critical to Inland Southern California, the state and communities around the world. Reflecting California's diverse culture, UCR's enrollment has exceeded 21,000 students. The campus opened a medical school in 2013 and has reached the heart of the Coachella Valley by way of the UCR Palm Desert Center. The campus has an annual statewide economic impact of more than $1 billion.
A broadcast studio with fiber cable to the AT&T Hollywood hub is available for live or taped interviews. UCR also has ISDN for radio interviews. To learn more, call (951) UCR-NEWS.