UCR Students Give Back as Part of Honors Program
---
UCR Students Give Back as Part of Honors Program
Nearly 8,000 volunteer hours have been donated over the fall academic quarter
(December 16, 2008)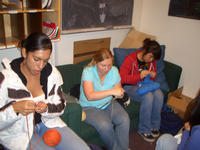 Enlarge
UCR Honors students knit and crochet to create scarves and beanies for people who need warmth. From left to right, Brenda Maguino, Kathleen Norsworthy and Heidi Kim.
RIVERSIDE, Calif. (www.ucr.edu) -– UC Riverside honors students have volunteered nearly 8,000 hours of community service this quarter through six service projects sponsored by the University Honors Program.
The six projects consisted of a children's book drive; an Adopt-A-Pumpkin fundraiser; a walk for the Children's Hospital of Orange County; a knitting project for the homeless; support for sick children at Loma Linda University Children's Hospital and food donations through César Chávez Community Center, as well as a toy drive. About 800 undergraduate students had a chance to participate. One of them is Kathleen Norsworthy, a 21-year-old who thought scarves and beanies and blankets might be just the thing for the winter weather.
"My mom taught me to crochet, and once I got to college, the honors program has a big push for community service. I just thought hey, what if I could take this thing that I like to do, that I spend a lot of time on, and give back with it?"
A friend and fellow UCR senior, knitting whiz Elizabeth Lehto, joined in on the project. They decided to knit scarves and hats and then give them away to people who needed warmth.
"We worked six hours every week, sitting in the honors office, just working," said Norsworthy. "A lot of people would come in to the office and we would teach them how. We got a lot more response than I thought we were going to. By the end of the quarter we had about 40 people working on it."
By the end of the quarter they also had 50 scarves and 38 hats ready to be given away through a homeless outreach program at Norsworthy's church in Pomona, and also through a program at the Special Olympics. Next quarter's project: blankets for children at the Loma Linda University Children's Hospital.
"We are proud to have students who want to invest their time and give back to the community," said professor Christopher Chase-Dunn, director of the University Honors Program on campus. All the honors projects are listed below:
Book Drive for Literacy
Honors students donated 100 children's books for a literacy project sponsored by the Student Run Health Clinic in downtown Riverside.
Adopt-A-Pumpkin Fundraiser
Our annual Adopt-a-Pumpkin raised over $930 to benefit the UCR Child Development Center. Students also solicited donations of 125 pumpkins for the children's pumpkin patch. Proceeds from the fundraiser helped the Center purchase emergency supplies as well as sponsor a Halloween Carnival for children at the Center.
CHOC Walk
Honors students participated in the annual Children's Hospital of Orange County (CHOC) Walk at Disneyland. The seven participating students raised $870 for CHOC.
Knitting and Crocheting
Honors students knitted and crocheted over 80 scarves, hats, and blankets. These will be donated to homeless shelters in the surrounding area, as well as to the Special Olympics.
Josh and Friends
Honors participated in the "Josh and Friends" project at Loma Linda University Children's Hospital, delivering stuffed dogs and books to help sick children understand their stay in the hospital and relieve their anxiety. http://www.joshandfriends.com/
Food Donations
In November, Honors students collected and donated over 800 food items for the city of Riverside's "Giving Back," an event that provides baskets of food for over 500 families for Thanksgiving. The staff at the César Chávez Community Center were overwhelmed by these contributions.
Toy Donations
Honors students donated over 300 toys, which were distributed to the Central City Lutheran Mission in San Bernardino, Big Brother/Big Sister of the Inland Empire, Amelia's Light Transitional Living for homeless women and children in Riverside, and the St. Andrew Newman Center near the UCR campus.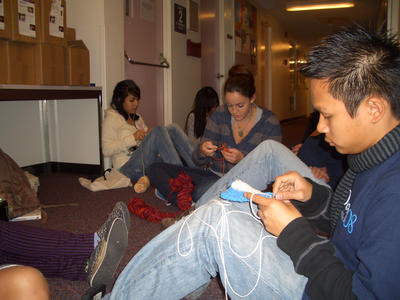 Enlarge
Honors students spent about six hours a week making projects while sitting on the floor of the honors office. The projects have been donated to the homeless, and more will go to the Special Olympics. From left to right, Sarah Ruelas, Alyssa Bell and in the foreground, Will Medina.

RELATED LINKS
ADDITIONAL CONTACTS
The University of California, Riverside (www.ucr.edu) is a doctoral research university, a living laboratory for groundbreaking exploration of issues critical to Inland Southern California, the state and communities around the world. Reflecting California's diverse culture, UCR's enrollment has exceeded 21,000 students. The campus opened a medical school in 2013 and has reached the heart of the Coachella Valley by way of the UCR Palm Desert Center. The campus has an annual statewide economic impact of more than $1 billion.
A broadcast studio with fiber cable to the AT&T Hollywood hub is available for live or taped interviews. UCR also has ISDN for radio interviews. To learn more, call (951) UCR-NEWS.