Secrets of the "Staff of Life"
---
UCR Laboratory Unlocking Secrets of the "Staff of Life"
(September 7, 2000)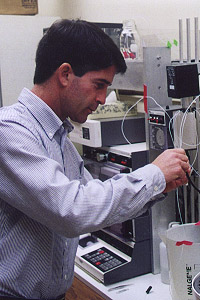 Dr. Timothy Close in the lab.
Wheat is the world's most widely grown crop, and a dietary staple for a significant part of the world's population. And it's no wonder, given that wheat is a key ingredient in bread, cereal, pasta, donuts, cookies and even beer.
Timothy Close, associate professor of genetics at the University of California, Riverside, is part of a four-year, 11-campus research project to assemble a more complete genetic map and unlock the mysteries of seed development in wheat. Funded by a $7.3 million grant from the National Science Foundation (NSF) that will last through August 2003, the scientific team will produce information crucial to improving wheat, i.e., breeding varieties that match new growing practices, resist disease or grow in a wider variety of climates.
The wheat genomics project is just one example of UCR's considerable work and expertise in agricultural genomics, a subject in the headlines recently because of the novelty of transgenic crops, which have DNA from at least two different organisms.
But Close, a researcher at UCR since 1990, said the biggest benefits of mapping the genome of plants will come in the kind of traditional plant breeding that has gone on for generations on agricultural experiment stations and at universities like UCR. "There will be a much greater ability to find the variation that is already there and use it in conventional plant breeding," Close said.
In this particular project, Close is assembling collections of genes that are activated in specific parts of the wheat plant, such as leaves, roots, or the seed-bearing structure, or under specific growth conditions, such as drought, low or high temperature, or salt stress. Once he has assembled a "library" of genetic material for a particular situation, he hand-carries the small plastic vial containing the library to the United States Department of Agriculture site in Albany, Calif. He gives it to Dr. Olin Anderson, a scientist with the University of California Division of Agriculture and Natural Resources (UC DANR), the lead agency on this project. From there, the wheat gene sequences are being read and posted nearly daily on various databases accessible to the world.
Recently, Close completed six new libraries with the help of a team of young scientists who have traveled to UCR from North Dakota State University, Texas Tech University and UC Davis. "One library is for durum wheat, which is the source of pasta. The others are related to salinity and heat stress of bread wheat," Close said. "A few months from now we will begin to know the genetic map locations of these genes through the efforts of other participants in this project," he said.
Other universities participating in the wheat genome project are the University of Minnesota, Kansas State University, University of Nebraska, Lincoln, University of Missouri, Colorado State University, Cornell University and Washington State University.
Well-funded wheat and barley genome projects also exist in Australia, Finland, and Germany, with more on the way in Canada and the United Kingdom, Close said. "I think this rather sudden support of agricultural genomics, which now includes wheat and barley, rice, maize, soybean, tomato and cotton, is a historically important turning point," Close said. "It appears that the majority of interesting new research projects will originate in the future from crop and favorite food plants."
Close said wheat and barley scientists are happy to cooperate on these very broad, long-range projects. "We have a strong awareness of our reliance on each other and the relevance of this basic research to society," he said. "In simple terms, we serve the community by helping to keep bread, pasta, pies and beer on the table."
The University of California, Riverside (www.ucr.edu) is a doctoral research university, a living laboratory for groundbreaking exploration of issues critical to Inland Southern California, the state and communities around the world. Reflecting California's diverse culture, UCR's enrollment has exceeded 21,000 students. The campus opened a medical school in 2013 and has reached the heart of the Coachella Valley by way of the UCR Palm Desert Center. The campus has an annual statewide economic impact of more than $1 billion.
A broadcast studio with fiber cable to the AT&T Hollywood hub is available for live or taped interviews. UCR also has ISDN for radio interviews. To learn more, call (951) UCR-NEWS.