Barack Obama's Inauguration Makes King Rhetoric a Reality
---
Barack Obama's Inauguration Makes King Rhetoric a Reality
UC Riverside has students, faculty and alumni in Washington D.C. for the ceremony, as well as students responding to a call for community service.
(January 16, 2009)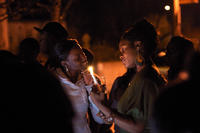 Enlarge
Students hold a candlelight vigil near the flagpole on Jan. 15 in honor of Martin Luther King Jr. (photo by Carlos Puma)
RIVERSIDE, Calif. (www.ucr.edu) — UC Riverside students, staff and faculty are noting the impact of the inauguration of the nation's first African American president, set Jan. 20th, just a day after the national holiday in honor of Martin Luther King Jr.
"Martin Luther King was true to his word," said Jason Elliott, a senior at UC Riverside majoring in mechanical engineering who organized a recent candlelight vigil on campus in honor of the slain civil rights leader.
The famous quote about a day when children would be judged not by the color of their skin, but by the content of their character, was a hopeful rhetorical flourish when King said it on the steps of the Lincoln Memorial in 1963.
"It was hopeful and it kept people's heads afloat," said Elliott, who was not born until 23 years later. "But now people are finally seeing results for their hard work. Now we can see that it was not only a hope in the eyes of Dr. Martin Luther King, but somewhat of a prophecy."
Several faculty members are traveling to Washington D.C. for the inauguration of Barack Obama. And UCR has 19 students doing internships in Washington D.C. One of them, 22-year-old Maria Zieba, even scored tickets through a Congressional office.
"My parents are immigrants. To be part of something that is so special is just unbelievable," said Zieba, who is a senior political science major and the first in her family to attend college. "It's one of those things that will be in textbooks. I can say I was part of that. I have the tickets and I have the invitation. It's amazing to be able to enjoy that."
Another intern, Jamaal Lewis, said he is excited just to be in the same city for the historic occasion. "I feel like I'm representing my family," he said. "If they could be here, they would be." He said it was his older brother who encouraged him to take on an internship in Washington DC, and that will be the first person he calls after the inauguration.
"I'm going to enjoy it for what it is, and I'm going to tell my family what I see."
He attended the practice for the Obama inauguration and was surprised to find that even the practice made him emotional. "I feel very blessed. I have a golden opportunity to be there for history," said Lewis, who graduated from Crenshaw High School in Los Angeles. "I am so thankful for having this opportunity."
He is a senior majoring in business administration at UCR. His internship is with Wachovia Securities.
UC Riverside faculty members have been quoted in the media about the historic nature of the inauguration. Jonathan L. Walton, a professor of religious studies, told The New York Times that the election of an African American president makes discussing race even more important.
"The language of Martin Luther King, Malcolm X, Fannie Lou Hamer, Rosa Parks was in a segregated world," he said in a story published recently. "We're now almost two generations removed from segregation. Does that language speak to the mortgage crisis, poor public schools, the prison-industrial complex? And in all those areas, many of the faces our people encounter on a daily basis look like us. When we're talking about race now, we have to talk about it in a very complicated way."
Carolyn Murray, a professor of psychology who has studied the expectations for African-American children in the classroom for more than 30 years, called the election of Barack Obama "just astronomical" in its impact. "Racism is still alive and well, but we have a black man and a black family occupying the White House," she said. "There are so many opportunities now. It does open up hope. If this can happen there are other blessings that can."
She said voters were fed up with the last eight years. "They are putting their hopes in a brilliant person, a person of integrity. They wanted someone who can think on his feet."
The UCR Honors program students are responding to a call for community service in honor of Martin Luther King Jr. on Monday, Jan. 19th. They will hold a street cleanup event.
The University of California, Riverside (www.ucr.edu) is a doctoral research university, a living laboratory for groundbreaking exploration of issues critical to Inland Southern California, the state and communities around the world. Reflecting California's diverse culture, UCR's enrollment has exceeded 21,000 students. The campus opened a medical school in 2013 and has reached the heart of the Coachella Valley by way of the UCR Palm Desert Center. The campus has an annual statewide economic impact of more than $1 billion.
A broadcast studio with fiber cable to the AT&T Hollywood hub is available for live or taped interviews. UCR also has ISDN for radio interviews. To learn more, call (951) UCR-NEWS.