President Barack Obama Takes Office
---
President Barack Obama Takes Office
UC Riverside had students, faculty and alumni in Washington D.C. for the ceremony, as well as a gathering on campus to watch the live broadcast.
(January 20, 2009)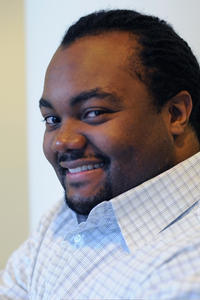 Enlarge
Jamaal Lewis, a UCR senior interning in Washington D.C., was part of the crowd on the Washington Mall. He said Obama's inauguration confirms for him that hard work does pay off. (photo by Carlos Puma)
RIVERSIDE, Calif. (www.ucr.edu) — Several hundred UC Riverside students, joined by some staff and faculty, gathered in the student Commons to watch the historic inauguration of Barack Obama as President of the United States.
"We know that our patchwork heritage is a strength, not a weakness," said Obama, who is himself the child of a white mother and an African father. That line rang true for the audience at UCR, one of the most diverse university campuses in the nation.
"I liked all his references to the past and how he rallied everyone even with our troubled situation," said George Knight, a third year student majoring in mechanical engineering. "He talked about our promise for the future." Knight, was one of many students who picked up posters of Obama at the campus event, sponsored by African Student Programs and the Vice Chancellor for Student Affairs. He said he would display the poster in his room or give it to his mom. "She's a very political person and she is the one who keeps me informed about politics."
Standing with him was Sarah Dilworth, a history major in her third year of college. "I loved it," she said of the inaugural speech. "He talked about the American revolution and the war in Iraq." She said sometimes she feels worried about the direction of the country, but the inauguration of Obama filled her with new expectations for her future. "He said we should not give up."
Dilworth was handed an editorial cartoon by another student that showed Obama with a basketball too big to go through the hoop, implying that he was taking on too much at one time. Dilworth and Knight said they disagreed with that assessment.
"Most great goals do have big hopes that come before," she said. "That's what gets them through."
Several faculty members traveled to Washington D.C. for the inauguration, and UCR has 19 students interning in the nation's capitol as part of an academic internship program called UCDC. One of them, Maria Zieba, was inside the seating area at the ceremony.
"My parents are immigrants. To be part of something that is so special is just unbelievable," said Zieba, who is a senior political science major and the first in her family to attend college. "It's one of those things that will be in textbooks. I can say I was part of that. I have the tickets and I have the invitation. It's amazing to be able to enjoy that."
Another intern, Jamaal Lewis, 24, said he was excited to be on the Washington Mall with the huge crowds. "A glass ceiling has been shattered," said the senior business administration major. He said Obama's inauguration proves that hard work pays off.
"I've always felt that being a dreamer is essential to being a great entrepreneur, but hard work and dedication is what will help you become what you want to be," he said. "That's something that I learned from my grandmother. That's a big thing. Now I know I can do whatever I put my mind to."
John Cioffi, assistant professor of political science, watched the inauguration on TV and said he found Obama's inaugural address more prosaic and less poetic than anticipated.
"I think this was deliberate," he said. "The speech conveyed the central message that we have a lot of work to do together to overcome the many challenges we face. The speech represents the twin victories of pragmatism and communitarianism. Pragmatism - and competent governance - now trumps the rigid ideology of the Bush years. Communitarianism stresses our common bonds, shared sacrifice, and mutual obligations as citizens fashioning and pursuing the public interest. We can expect these themes to be dominant in the Obama administration. The real question is how they will inform policy going forward."
Cioffi also said Obama was much sharper in his repudiation of the Bush Administration's policies than expected, pointedly raising the specter of torture, illegal surveillance and militarism, and explicitly rejecting them as fundamentally un-American.
The address was broadcast live on Turkish news networks and many watched what the new president had to say, said Ebru Erdem, professor of political science.
"People are very aware of how momentous this occasion is, and they hope –cautiously - that change has really come to Washington, D.C.," she said. "The policies of the former president towards the Middle East and particularly neighboring Iraq have been very unpopular, resulting in a rise in anti-Americanism in Turkey. That the new president has openly addressed Muslims, promised to extend a hand if fists are unclenched, found some resonance.
"That said, there is a lot of doubt in Turkish minds about the extent of things that the new president can achieve and his sincerity about proposed policies towards the Middle East," Erdem said.
UC Riverside faculty members have been quoted in the media about the historic nature of the inauguration. Jonathan L. Walton, a professor of religious studies, told The New York Times that the election of an African American president makes discussing race even more important.
"The language of Martin Luther King, Malcolm X, Fannie Lou Hamer, Rosa Parks was in a segregated world," he said in a story published recently. "We're now almost two generations removed from segregation. Does that language speak to the mortgage crisis, poor public schools, the prison-industrial complex? And in all those areas, many of the faces our people encounter on a daily basis look like us. When we're talking about race now, we have to talk about it in a very complicated way."
Carolyn Murray, a professor of psychology who has studied the expectations for African-American children in the classroom for more than 30 years, called the election and inauguration of Barack Obama "just astronomical" in its impact. "Racism is still alive and well, but we have a black man and a black family occupying the White house," she said. "There are so many opportunities now. It does open up hope. If this can happen there are other blessings that can."
She said voters were fed up with the last eight years. "They are putting their hopes in a brilliant person, a person of integrity. They wanted someone who can think on his feet."
The University of California, Riverside (www.ucr.edu) is a doctoral research university, a living laboratory for groundbreaking exploration of issues critical to Inland Southern California, the state and communities around the world. Reflecting California's diverse culture, UCR's enrollment has exceeded 21,000 students. The campus opened a medical school in 2013 and has reached the heart of the Coachella Valley by way of the UCR Palm Desert Center. The campus has an annual statewide economic impact of more than $1 billion.
A broadcast studio with fiber cable to the AT&T Hollywood hub is available for live or taped interviews. UCR also has ISDN for radio interviews. To learn more, call (951) UCR-NEWS.