Four Students to Attend CGIU
---
Clinton Global Initiative University Selects Four UCR Students
Students will tackle issues of education, health care and violence against women in the developing world.
(February 3, 2009)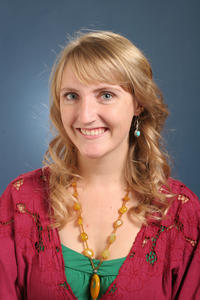 Enlarge
Samantha Wilson
RIVERSIDE, Calif. — Four University of California, Riverside students will participate in the second meeting of the Clinton Global Initiative University in Austin, Texas, Feb. 13-15.
They are Samantha Wilson, a senior majoring in global studies, from Moreno Valley; Hanna Bar-or, a sophomore majoring in global studies, Upland; Jessica Yamane, a junior majoring in political science and women's studies, Arcadia; and Danielle Wickman, a junior majoring in biology, Murrieta.
The program is a project of the Clinton Global Initiative and is designed to challenge college students and universities to tackle global problems with practical, innovative solutions. Former President Clinton established the CGI in 2005 and is scheduled to speak at the February conference.
The UCR students will attend the three-day meeting at the University of Texas, Austin, where participants will be asked to commit to a project that will make a difference or change lives. Samantha Wilson obtained a CGI grant last year for her proposal. Hanna Bar-Or, Danielle Wickman and Jessica Yamane will present proposals for new projects.
"Our students' proposals are inspiring," said UCR Chancellor Timothy P. White. "They are living the promise of using their education to improve the lives of people at home and in communities around the world. I am very proud of them, and of the faculty and staff who have guided their work."
The students' participation at CGIU is supported by the University Honors Program through funds made available from the Honors Program Ford Foundation Grant and the Honors Honda Grant funding. Upon their return to campus, all of the students will take part in a panel discussion about their experiences at CGIU and progress made on their service projects, said Christopher Chase-Dunn, professor of sociology and director of the University Honors Program. Each student also will complete an upper division project and present the findings at the annual campus Undergraduate Research Symposium.
"Our students have an exciting opportunity to respond to President Obama's call for a new era of global democracy by directly connecting with people in the Global South," Chase-Dunn said.
Wilson, 21, will attend her second CGIU conference and plans to continue the
Child Leader Project
, which is expanding to include more people, more organizations and more programs. The nonprofit began last year with Wilson's commitment to establish a student-run leadership organization and scholarship program in a school run by a microfinance institution in South India. The program now has 20 Indian students in the state of Tamil Nadu and a $10,000 grant from the Donald A. Strauss Foundation.
A new Southern California component of the program at Patriot High School in Jurupa Unified School District connects students in the Inland Empire and India as pen-pals. CLP also sponsored its first international Web conference between 25 Riverside community members and leadership students in India on Jan. 5.
"This organization is unique because it strives to creatively connect and empower two communities on opposite sides of the world on topics of access to higher education and social change," Wilson said. "Not only are those directly participating affected, but all of those around and watching are also moved by the process. People see what we are all doing together and they open their doors to our students – universities offer subsidized education, teachers and principals support fund-raisers to send U.S. high schoolers abroad as 'ambassadors,' and NGOs in India pool their resources to network other youth in statewide conferences through our programs. It's been really powerful."
Hanna Bar-or, 19, plans to volunteer at the Davis Lar orphanage in Fortaleza, Brazil, and raise money to help build a second orphanage. With the help of a UCR student organization, International Service and Global Impact, Bar-or hopes to raise $5,000 toward building a second orphanage.
"I have always had in interest in helping children who have a drive to accomplish great things," Bar-or said. "It is unfortunate to see many children turn to drugs, gangs and prostitution because they see no other way out. This project is important to me because I want to help children reach their potential that would have otherwise been dismissed due to their economic situation."
Danielle Wickman, 20, will join a team of UCR professors and students on a two-week trip to Bamako, Mali, over spring break. There, she plans to launch a health-education program for women that will emphasize sanitation techniques, nutrition education for mothers and their babies, how to produce and use clean drinking water, and how to have a safe and healthy pregnancy.
"I chose to focus on empowerment of women through health-education programs because of the enormous disparity in the health field in Mali – especially when looking at women and children's health," she said. "The alarmingly high rate of child mortality and poverty is a sign that more needs to be done to educate and empower women in this region so that that they can sustain healthy and successful families."
Jessica Yamane, 20, plans to start a program to help women in Latin America who are victims of physical, emotional and psychological abuse. She will volunteer with the Riverside Rape Crisis Center to learn how to advocate for women who are victims of rape or sexual abuse, and this summer will intern through the UCDC program with an organization that works to alleviate violence against women in Latin America.
She also plans to organize an Internet-based conference that will allow women from Riverside and Latin America to meet and network. "I hope that women will walk away empowered from the conference in the sense that we … can share narratives with similar themes and find strength and inspiration in the acknowledgement that, continents apart, women share relatable experiences, hopes and dreams," she said.
The University of California, Riverside (www.ucr.edu) is a doctoral research university, a living laboratory for groundbreaking exploration of issues critical to Inland Southern California, the state and communities around the world. Reflecting California's diverse culture, UCR's enrollment has exceeded 21,000 students. The campus opened a medical school in 2013 and has reached the heart of the Coachella Valley by way of the UCR Palm Desert Center. The campus has an annual statewide economic impact of more than $1 billion.
A broadcast studio with fiber cable to the AT&T Hollywood hub is available for live or taped interviews. UCR also has ISDN for radio interviews. To learn more, call (951) UCR-NEWS.