Experts on Charles Darwin and His Influence
---
UC Riverside Scientists Available for Comment on Charles Darwin and His Influence
Experts can give interviews on a variety of topics, including Darwin's life, how new species arise, intelligent design and the relationship between science and religion
(October 28, 2009)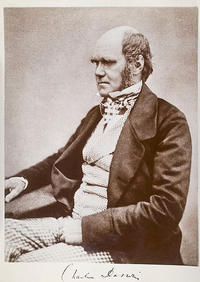 Charles Darwin.
RIVERSIDE, Calif. – Tuesday, Nov. 24, 2009, is the 150th anniversary of the publication of Charles Darwin's "On the Origin of Species."
Scientists at the University of California, Riverside are available to speak with reporters on Darwin and how his theory of natural selection has influenced the field of evolutionary biology. Also available is an expert on 19th century American and British literature, who can discuss the similarities between the present-day evangelical Christian worldview of evolution with views held 150 years ago.
They are:
Douglas Altshuler
, an assistant professor of biology, (951) 827-3937, douglas.altshuler@ucr.edu.
      Altshuler studies how animals fly – research that involves aspects of aerodynamics, physiology, and neuroscience. He performs laboratory experiments and makes evolutionary comparisons to understand both the mechanisms of flight control and the historical forces that have shaped it.
Daphne Fairbairn
, a professor of biology, (951) 827-4791, daphne.fairbairn@ucr.edu, co-editor of "Sex, Size & Gender Roles: Evolutionary Studies of Sexual Size Dimorphism" (Oxford University Press, 2007).
      Fairbairn focuses on the evolution and adaptive significance of sexual dimorphism in animals. Current projects include studies of water striders, orb weaving spiders, crickets, and beetles.
Nigel Hughes
, a professor of geology, (951) 827-3098, nigel.hughes@ucr.edu.
      In his research, Hughes uses information on fossil morphology to address a variety of evolutionary and geological questions. A specimen-based paleobiologist, he is interested in Paleozoic invertebrates, and does field work in Tibet, Bhutan and India. One of his recent research projects focused on the paleogeography of the Himalayan region.
David Reznick
, a professor of biology, (951) 827-5820, gupy@ucr.edu, author of "The Origin Then and Now: An interpretive guide to the Origin of Species" (University of Princeton Press, November 2009).
      Reznick's general interest is in studying the process of evolution by natural selection from an experimental perspective and testing evolutionary theory in natural populations.
Joel Sachs
, an assistant professor of biology, (951) 827-6357, joel.sachs@ucr.edu.
      Sachs researches the evolution and ecology of microbes as well as the evolution of beneficial bacteria and the origins of harmful strains. Currently, his lab is investigating the forces that shape bacterial cooperation with hosts, with a particular emphasis on soil bacteria.
Marlene Zuk
, a professor of biology, (951) 827-3952, marlene.zuk@ucr.edu, author of "Riddled with Life: Friendly Worms, Ladybug Sex, and the Parasites that Make Us Who We Are" (Harcourt, 2007), author of "Sexual Selections: What We Can and Can't Learn about Sex From Animals" (University of California Press, 2002).
      Zuk studies parasites and behavior in a variety of animals. Her research centers on sexual selection and the effects of parasites on mate choice and the evolution of secondary sex characters.
In addition, the above-mentioned experts can offer comments on the following subtopics related to Charles Darwin and the impact of his work:
Darwin's life
–
Altshuler, Fairbairn, Hughes, Reznick, Sachs, Zuk
How new species arise
–
Fairbairn, Reznick, Zuk
How humans are subject to natural selection's pressures
–
Altshuler, Reznick, Sachs, Zuk
The evolution of disease and disease-causing organisms
–
Sachs, Zuk
How evolution has grown as a discipline after Darwin
–
Reznick
What we now know about natural selection and the rate of evolution
–
Sachs, Reznick
Intelligent design
–
Altshuler, Hughes, Reznick
The relationship between science and religion
–
Altshuler, Hughes, Sachs, Reznick
The University of California, Riverside (www.ucr.edu) is a doctoral research university, a living laboratory for groundbreaking exploration of issues critical to Inland Southern California, the state and communities around the world. Reflecting California's diverse culture, UCR's enrollment has exceeded 21,000 students. The campus opened a medical school in 2013 and has reached the heart of the Coachella Valley by way of the UCR Palm Desert Center. The campus has an annual statewide economic impact of more than $1 billion.
A broadcast studio with fiber cable to the AT&T Hollywood hub is available for live or taped interviews. UCR also has ISDN for radio interviews. To learn more, call (951) UCR-NEWS.