Science Fair Could Hold Key to Future
---
Riverside Schools Science Fair at UCR Feb. 17-19 is a Launching Pad for Careers
Former participant, who researched the praying mantis, is now studying entomology at UCR.
(February 13, 2009)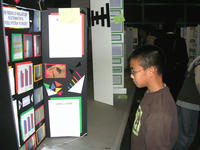 Enlarge
Forest Yang inspects a booth at last year's Riverside Unified School District Science and Engineering Fair.
RIVERSIDE, Calif. (www.ucr.edu) – Out of the 174 submissions on display at the 20th Annual Riverside Unified School District Science and Engineering Fair, any one project could hold solutions for a better tomorrow. The public can view these projects, including a study of kinetic energy using a roller coaster made with marbles and one on how music affects heart rates, on Thursday, Feb. 19, from 2:30 p.m. to 4:30 p.m. at the Pentland Hills Bear Cave on the UC Riverside campus.
The awards ceremony is slated to take place at 6:00 p.m. on Thursday, Feb. 19 at the University Theatre, also on the UC Riverside campus. Those who wish to attend are encouraged to arrive early, as seating is limited.
"The science fair is a unique learning opportunity," said John Michael Jones, a 2008 North High School graduate and current freshman entomology student at UC Riverside. "It helps students focus on a project and do their very best."
Jones added that participation in the science fair sparked his interest in pursuing a career in science. He began participating in science fairs as a second-grade student in the Jurupa Unified School District and first entered the RUSD fair while in the 10th grade at North. His last experiment, on pheromone production in male praying mantises, won him a fourth-place medal at the California State Science Fair. Jones' project was part of an ongoing praying mantis reproduction study that he worked on for seven years, beginning when he was in sixth grade.
"Participating in the science fair makes it possible for students at all grade levels to transform their natural curiosity about the unknown into solutions to the world's greatest problems and challenges," said Rick Miller, Riverside Unified School District superintendent and former math and science teacher. "More than ever before, the United States needs inquisitive, trained scientists and this year's science fair will inspire the next generation of inventors and problem-solvers. We appreciate our long-standing partnership with UCR to bring this educational experience to our students for the past 20 years."
"Hosting the science fair is a terrific opportunity for us to help young people explore the wonderful world of science," said Thomas Baldwin, dean of the College of Natural and Agricultural Sciences. "Our faculty and graduate students really enjoy judging the entries and interacting with the young scientists. And our departments are happy to provide the awards and trophies."
Julianna Cruz, who teaches fourth grade at Victoria Elementary School, has several students participating in the RUSD Science Fair this year and believes it is a powerful way for students to learn.
"It deepens their understanding of the scientific method and it excites them about science," Cruz said.
The partnership with the university helps students to start thinking about college at a young age, she added.
"They see themselves there in the future."
Cruz's students said Science Fair is a lot of work, but is fun, too.
One of Cruz's students, nine-year-old Ari Palacio, built a marble roller coaster for a study on kinetic energy. It's still in his room. He pointed out that he not only learned about potential and kinetic energy through his experiment, but also honed his vocabulary skills.
Nine-year-old Jacob Yokley, meanwhile, had an ulterior motive for undertaking his experiment on whether music affects a student's ability to study. Yokley set out to disprove his 17-year-old brother's assertion that music blaring from his iPod helps him to do his homework. Jacob enlisted help from a group of his brother's friends and found that they were unable to complete a quiz while listening to loud music. Jacob isn't sure if his experiment will make his brother change his ways, though.
"Applying the scientific method to practical problems is the heart of engineering practice," said Reza Abbaschian, dean of the Bourns College of Engineering. "Every year the science fair shows us the innate talent of these Riverside students, and we are delighted to host them on our campus."
"UCR is excited to be a part of the 20th annual RUSD Science and Engineering Fair – a hands-on competition designed to capture the interest of young people and inspire them to pursue careers in science, technology, engineering and mathematics," said Angela Phillips Diaz, special assistant to the chancellor, who has been working to enhance UCR programs that inspire students to stay in school and pursue careers in science, technology, engineering or math fields. "The future holds numerous opportunities and challenges for our region, our state, and our nation; these RUSD students are the future innovators who will find solutions to tomorrow's needs."
"We have appreciated the University of California, Riverside's partnership with Riverside Unified School District in our annual science and engineering fair," said Dale Moore, instructional specialist and RUSD science fair coordinator. "Their contribution of facilities, funds, science fair judges, and staff time to coordinate the event allows us to have an exceptional science and engineering fair for our students."
The University of California, Riverside (www.ucr.edu) is a doctoral research university, a living laboratory for groundbreaking exploration of issues critical to Inland Southern California, the state and communities around the world. Reflecting California's diverse culture, UCR's enrollment has exceeded 21,000 students. The campus opened a medical school in 2013 and has reached the heart of the Coachella Valley by way of the UCR Palm Desert Center. The campus has an annual statewide economic impact of more than $1 billion.
A broadcast studio with fiber cable to the AT&T Hollywood hub is available for live or taped interviews. UCR also has ISDN for radio interviews. To learn more, call (951) UCR-NEWS.