Nanotechnology Puts Bourns Team in the News
---
Bourns College of Engineering Research Team Lands in the National Spotlight
Cover Story in "The Bridge" Shows Pioneering Work in Nanotechnology at UC Riverside.
(February 19, 2009)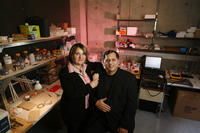 Enlarge
Mihri and Cengiz Ozkan in the lab. (Photo by Steve Walag)
RIVERSIDE, Calif. (www.ucr.edu) -- At first glance Cengiz and Mihrimah Ozkan don't seem to be pioneers living and working on the frontier. They're commuters who juggle busy work schedules with their two sons' soccer and basketball games.
But Cengiz Ozkan, UCR associate professor of mechanical engineering, and his wife, Mihrimah Ozkan, associate professor of electrical engineering, are indeed pathfinders, in the field of nanotechnology. Their trailblazing work — and UCR —recently gained national attention that recognized their role in leading the nation's research.
While nanotechnology is about things that are very small, such as pieces of DNA, the Ozkans' big engineering vision is helping invent the nation's future in medicine, manufacturing, electronics, and more.
The Ozkans' work gained a national spotlight in a cover story they wrote for the National Academy of Engineering's prestigious journal, The Bridge. The journal promotes the nation's technological advances, linking engineering discoveries with society.
"It truly represents the flagship of progress," Cengiz Ozkan said, adding that the journal is distributed among key leaders who include members of Congress and national funding agencies.
The Ozkans, the first UCR engineering faculty to be featured in the eminent journal, wrote about their work with DNA. Cengiz Ozkan said they're studying how nature's own self-assembly can be applied to technologies and manufacturing, for example, adapted in new ways to make "bio-inspired" polymers.
Through the publication, the National Academy of Engineering recognized the Ozkans' (and UCR's) leadership on a national level. Their article discussed their work for the last seven years, Ozkan said, and then laid a framework for the future work that needs to be done nationally so this alternative technology can become a practical reality.
"I feel if we do very well, we can define the next big change in the technological revolution," Ozkan said.
Along with the sports practices, music lessons and other family needs, just changing the world in one way is not everything on the Ozkans' "to do" list.
Through collaborative work with researchers at other universities and grants such as those from the prestigious National Science Foundation, they also are:
• Developing a new way for doctors to detect and treat cancers. The Ozkans' laboratories at the Bourns College of Engineering are collaborating to develop nanodevices — 100,000 times thinner than a human hair — that will listen for tell-tale signals from cancer cells and then deliver chemotherapy directly to the afflicted cells without harming surrounding healthy tissue. "The mission is clear: to enable these therapeutics to be on the shelf by 2015," Ozkan said.
• Pursuing next generation devices based on nanotubes, nanowires and biological linkers. This would radically change all computing, storage and display applications. "We are at the frontier of engineering," Ozkan said.
The University of California, Riverside (www.ucr.edu) is a doctoral research university, a living laboratory for groundbreaking exploration of issues critical to Inland Southern California, the state and communities around the world. Reflecting California's diverse culture, UCR's enrollment has exceeded 21,000 students. The campus opened a medical school in 2013 and has reached the heart of the Coachella Valley by way of the UCR Palm Desert Center. The campus has an annual statewide economic impact of more than $1 billion.
A broadcast studio with fiber cable to the AT&T Hollywood hub is available for live or taped interviews. UCR also has ISDN for radio interviews. To learn more, call (951) UCR-NEWS.