From Foster Care to Adulthood
---
Transition from Foster Care to Adulthood Studied
UCR researcher Tuppett Yates wins grant to determine developmental processes that help former foster children become successful adults.
(March 2, 2009)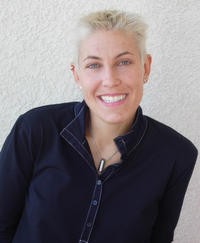 Enlarge
Tuppett Yates
RIVERSIDE, Calif. – Researchers and social workers have known for some time that teens aging out of foster care require services such as health care, job training and mentors to become successful adults.
The developmental processes that enable some former foster children to transition successfully into adulthood are less understood, however. A three-year study that will begin in April at the University of California, Riverside will be among the first developmental investigations in the United States aimed at determining how teens aging out of foster care make the transition to independence.
Funded by a $95,781 grant from the John Randolph Haynes and Dora Haynes Foundation, the study will follow 185 teens emancipating from foster care in Riverside, San Bernardino, Los Angeles and Orange counties, said Tuppett Yates, assistant professor of psychology and the research project's principal investigator.
The study will help providers know where and when to target services for emancipated youth, said Yates, who will make specific policy recommendations to child welfare officials in Los Angeles and surrounding counties.
Previous research has documented the needs of youth leaving foster care, Yates said.
"There's been a lot of work saying these kids need services. They have disproportionate health needs," she said. "There are services available. The problem is, these kids typically don't use them because they don't know how to use them and/or because they don't have the experience of what it means to be cared for."
California accounts for nearly 15 percent of the 500,000-plus youth in foster care in the United States – more than 72,000 children and teens. In 2007, more than half of California's foster children lived in Los Angeles, Orange, Riverside and San Bernardino counties.
Foster youth navigate a system of care that is ill-equipped to manage so many young people, particularly as youth transition toward independent living and adult status, Yates said. Among foster youth who never obtain a permanent adoptive or kin placement, the risks are especially high, she said.
"Cut from the moorings of state care, these youth are easily brought down by the currents of adulthood," she said. "Preparing these youth for independent living and facilitating their effective transition into adulthood are primary foci of child welfare policy and practice initiatives in the state of California. However, these initiatives remain crippled by the dearth of knowledge about the processes that underlie vulnerability and strength, risk and protection, and psychopathology and success among former foster youth."
Yates said she hopes to identify how emancipating foster children make meaning of their experience, their beliefs and expectations of others, and relationships with others. The study also has implications for other groups of youths – minorities, immigrants, those with disabilities – and how they transition into adulthood, she said.
"We have independent living programs now, where every kid gets the opportunity to connect with a coach," she said. "Many of these kids never connect. Some connect and drop out. Some connect and stay with it; these are the kids who come out with a sense of hope."
The study will investigate previously unexamined psychological factors that may act as additional barriers to service use, including: youths' expectations about caregivers, what it means to seek help, and what it means to be cared for; youths' sense of self-worth; and youths' confidence in their ability to have an influence on their future and their well-being.
Yates has worked clinically with adolescents for many years and studies adolescent risk behavior. "I am always interested in how kids manage to negotiate a world that is not designed to support their health and well-being," she said. "This goes for all kids, but some are affected more significantly than others."
In fall 2008 Yates launched UCR Guardian Scholars, a nationwide program that provides scholarships, life coaching, mentors, housing and personalized attention to emancipated youth who are pursuing higher education. Seven former foster youth participate in the program that ultimately will provide services for about 40 students each year.
Among the 3,800 freshmen who entered UCR last fall were 55 students who identified themselves as having a history of foster care, Yates said. Not all are eligible for UCR Guardian Scholars, which specifically targets youth who are emancipating from the system and have little social, emotional or material support.
RELATED LINKS
ADDITIONAL CONTACTS
The University of California, Riverside (www.ucr.edu) is a doctoral research university, a living laboratory for groundbreaking exploration of issues critical to Inland Southern California, the state and communities around the world. Reflecting California's diverse culture, UCR's enrollment has exceeded 21,000 students. The campus opened a medical school in 2013 and has reached the heart of the Coachella Valley by way of the UCR Palm Desert Center. The campus has an annual statewide economic impact of more than $1 billion.
A broadcast studio with fiber cable to the AT&T Hollywood hub is available for live or taped interviews. UCR also has ISDN for radio interviews. To learn more, call (951) UCR-NEWS.