UCR Biomedical Sciences Dean Honored by NAACP Riverside Branch
---
UCR Biomedical Sciences Dean Honored by NAACP Riverside Branch
Craig V. Byus Recognized for Role in Redesigning Medical Education Program
(March 6, 2009)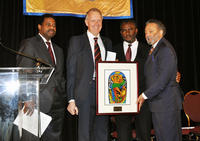 Enlarge
Craig Byus, dean of the UCR biomedical sciences division, second from left, received a Freedom Fund Award from the NAACP-Riverside branch. Presenting the honor were, from left, A.J. Rogers, president of the J.W. Vines Medical Society, E.M. Abdulmumin of the NAACP-Riverside Branch, and Ernest Levister, clinical professor of medicine at UC Irvine. (photo by Kathy Barton)
RIVERSIDE, Calif. – Craig V. Byus, Dean and Program Director of the Division of Biomedical Sciences at the University of California, Riverside, has received a Freedom Fund Award from the NAACP-Riverside Branch.
Byus, one of 12 honorees at the organization's 59th Annual Awards and Scholarship Dinner, was recognized for his leadership role in restructuring UCR's medical education program to emphasize preparing physicians to serve the health care needs of underserved, Inland Southern California and rural populations.
Presenting the Medical/Public Health Award to Byus were Ernest Levister, M.D., Clinical Professor of Medicine at UC Irvine, and A.J. Rogers, M.D., Associate Clinical Professor of Surgery in the UCR/UCLA Thomas Haider Program in Biomedical Sciences and President of the J.W. Vines Medical Society. The Vines Medical Society is an affiliate of the National Medical Association which works to increase the diversity of students entering the medical and health sciences professions.
Levister and Rogers praised Byus for his "passion for excellence" and for inspiring disadvantaged students in the fields of medicine and the health professions. They cited particularly his dedication to help disadvantaged students develop their skills to the fullest in order to provide culturally responsive health services and leadership in underserved communities.
Byus directs the UCR/UCLA biomedical sciences program, which provides admitted students their first two years of medical school training on the UCR campus, after which students transfer to the UCLA David Geffen School of Medicine for the final two years of clinical rotations to complete their M.D. degrees. The program is the foundation on which the UCR School of Medicine will be launched.
In 2003, with the involvement of community physicians and stakeholders, the Haider Program's mission was redesigned to emphasize serving the medical needs of underserved, rural and Inland Southern California populations. It was also restructured to eliminate the accelerated, seven-year format and opened the doors for admission to the medical program for 24 UCR graduates from any undergraduate major who had completed the prerequisite medical school requirements.
A variety of student success and enrichment opportunities are offered through the FastStart and Medical Scholars programs, designed to build a sense of community among UCR undergraduates interested in medicine and other health careers. FastStart, a five-week summer program for incoming freshmen, incorporates orientation in the gateway pre-med science courses; individualized academic, career and personal counseling; and team building and recreational activities. The Medical Scholars Program offers undergraduate opportunities to do research in UCR labs and internships with community clinics, as well as financial support for the Medical College Admission Test (MCAT), the standardized admissions test required by virtually all medical schools in the U.S.
"The University of California, Riverside is blessed with hundreds and hundreds of outstanding young students who possess all of the attributes anyone would like to see in their physician or medical professional," Byus said. "The students, many of whom come from disadvantaged backgrounds within our community, only need a little help, guidance, and support to see their career goals realized. They are the bright new future of health care in the Inland Empire and their success will be a legacy from which the community will be well-served for a long time."
Byus was appointed dean and program director in 2004. He also holds an academic appointment as professor of biomedical sciences, maintaining an active research laboratory concerned with the molecular mechanisms involved in the regulation of cell growth and proliferation, particularly as they relate to cancer. He is a member of the Scientific Review Panel of the California Air Resources Board, which reviews and evaluates the environmental risks of toxic air contaminants prior to the risk management by the board.
Byus earned his bachelor's degree in biological sciences from Johns Hopkins University in Baltimore, Maryland in 1968, and his Ph.D. in biochemistry from the University of New Hampshire in Durham in 1973.
RELATED LINKS
ADDITIONAL CONTACTS
The University of California, Riverside (www.ucr.edu) is a doctoral research university, a living laboratory for groundbreaking exploration of issues critical to Inland Southern California, the state and communities around the world. Reflecting California's diverse culture, UCR's enrollment has exceeded 21,000 students. The campus opened a medical school in 2013 and has reached the heart of the Coachella Valley by way of the UCR Palm Desert Center. The campus has an annual statewide economic impact of more than $1 billion.
A broadcast studio with fiber cable to the AT&T Hollywood hub is available for live or taped interviews. UCR also has ISDN for radio interviews. To learn more, call (951) UCR-NEWS.