UCR Poet Wins Top Prize
---
UCR Poet Wins Top Prize
Juan Felipe Herrera receives the National Book Critics Circle Award for his poetry collection, "Half of the World in Light."
(March 13, 2009)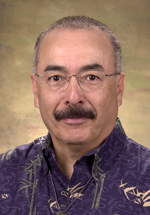 Enlarge
Juan Felipe Herrera
RIVERSIDE, Calif. – Juan Felipe Herrera, professor of creative writing at the University of California, Riverside, has won the National Book Critics Circle Award for his poetry collection titled "Half of the World in Light: New and Selected Poems."
The 2008 National Book Critics Circle Awards were announced in a ceremony in New York City on March 12. The National Book Critics Circle, founded in 1974, is a nonprofit organization consisting of more than 700 active book reviewers who are interested in honoring quality writing and communicating with one another about common concerns.
"For more than 40 years, Juan Felipe Herrera's poetry has chronicled the bittersweet lives, the ongoing travails, and the rich contributions of Mexican-Americans both in the U.S. and in Latin America," said Maurya Simon, acting chair of the UCR Department of Creative Writing. "His work often explores his personal experiences through the lens of his ethnic and artistic identity, and at other times it creates a collective vision of the Chicano experience."
Wining the National Book Critics Award is a great honor, said Charles Whitney, chair of the creative writing department. "The entire Department of Creative Writing is proud of his accomplishments." (Whitney is on sabbatical during the winter quarter.)
"Half of the World in Light," which includes poems from earlier collections and previously unpublished work, has received critical acclaim from reviewers around the country since its publication by University of Arizona Press in July 2008. It was one of the New York Times Book Review's "100 Notable Books of 2008."
In August 2008 New York Times Book Review critic Stephen Burt compared Herrera's work to that of Beat Generation poet Allen Ginsberg and noted, "Many poets since the 1960s have dreamed of a new hybrid art, part oral, part written, part English, part something else: an art grounded in ethnic identity, fueled by collective pride, yet irreducibly individual too. Many poets have tried to create such an art: Herrera is one of the first to succeed."
Herrera, who holds the Tomás Rivera Endowed Chair in the Department of Creative Writing, writes with ease within many literary traditions and beyond them, blurring or extending the boundaries of both written and oral modes of verse, or creating hybrid forms, and "enriching them with his deft intertwining of Spanish and English," Simon said.
The son of migrant farm workers, Herrera has written 24 books ranging from children's literature to poetry, produced plays and promoted the literature of other Chicano writers. He has more than 100 articles, poems, reviews and essays in print. Among his award-winning books are "187 Reasons Mexicanos Can't Cross the Border," "Downtown Boy," "Calling the Doves," "Crashboomlove" and Featherless/Desplumado."
Simon described Herrera as "a tireless literary activist – performing, leading workshops, and organizing literary events – on UCR's campus, regionally, and at community centers and universities throughout California and the nation."
Herrera also is a popular instructor who takes a multimedia approach to teaching his poetry courses, Simon said, often incorporating spoken word, hip hop theater, and performance poetry into his classes, "challenging students to apply a holistic approach to the art."
Herrera will be the keynote speaker at the inauguration of UCR Chancellor Timothy P. White at 10 a.m. on Tuesday, March 17, in the UCR Student Recreation Center. The ceremony is open to the public.
RELATED LINKS
ADDITIONAL CONTACTS
The University of California, Riverside (www.ucr.edu) is a doctoral research university, a living laboratory for groundbreaking exploration of issues critical to Inland Southern California, the state and communities around the world. Reflecting California's diverse culture, UCR's enrollment has exceeded 21,000 students. The campus opened a medical school in 2013 and has reached the heart of the Coachella Valley by way of the UCR Palm Desert Center. The campus has an annual statewide economic impact of more than $1 billion.
A broadcast studio with fiber cable to the AT&T Hollywood hub is available for live or taped interviews. UCR also has ISDN for radio interviews. To learn more, call (951) UCR-NEWS.