UC Riverside Provides Scholarships as part of "Extreme Makeover: Home Edition"
---
UC Riverside Provides Scholarships as part of "Extreme Makeover: Home Edition"
The episode on Sunday, March 29 on ABC, featured a family of six dedicated to wildlife rescue
(March 29, 2009)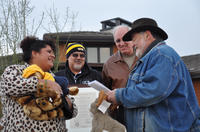 Enlarge
Chemaine Almquist, mother of four, greets Vice Chancellor Jim Sandoval and Vice Chancellor Dan Aldrich from UC Riverside. On the right is Victor Valley College President, Robert Silverman.
RIVERSIDE, Calif. (www.ucr.edu) — The Almquist family of Phelan, Calif. received more than a new house during the making of Extreme Makeover: Home Edition. The family's four children received a pathway to a college education.
In an episode aired Sunday night at 8 p.m. on the West Coast, UC Riverside is featured as one of many partners providing a new lifestyle for the Almquist family, which operates Forever Wild Exotic Animal Sanctuary in the high desert community of Phelan.
Before the makeover, the family lived in an aging and unheated double wide trailer that sat on land next to fenced enclosures filled with dozens of rescued animals, including nine tigers, three tortoises, three parrots, 10 alligators, four Mexican beaded lizards, two Siberian lynx and one Egyptian cobra.
The Almquist family, which includes parents Joel and Chemaine and children Patricia, Kiah, Arianna and Noah, went on a vacation to Costa Rica and returned after just seven days to a new 3,500-square-foot home, a new state-of-the-art wildlife sanctuary and visitor's center, and a guaranteed pathway to a college education through Victor Valley College, and then the University of California, Riverside.
"These are not tigers, they're bears," said Daniel Aldrich, vice chancellor for advancement at UC Riverside as he handed four small Highlander stuffed bears to Chermaine Almquist, representing a free college education for her four children.
Vice Chancellor for Student Affairs Jim Sandoval said the Almquist children are excellent candidates for higher education. "One of the purposes of colleges and universities is to inspire change. But as we have heard about your dedication to the animals, we have been inspired," Sandoval said.
Victor Valley College guaranteed the first two years of college, and UC Riverside guaranteed the second two years for the Almquist children, who are now ages 16, 9, 6 and 2. The offer from UC Riverside is the equivalent of about $40,000 in fees and living expenses.
Among the children, 16-year-old Patricia seemed to realize the impact of a path to college, with tears of relief as she heard the news.
"I was just so happy to see that she understood and appreciated the offer," Aldrich said. "A college education, especially the education we are offering here at UC Riverside, helps young people in California shape the world for the better. We are helping people live the promise of education. It was so much fun to be part of that surprise for the family."
After receiving the scholarships, Chermaine Almquist said, "I'm overwhelmed, but in a good way. We are so appreciative for everything you guys have done."
About ABC-TVs Extreme Makeover: Home edition
"Extreme Makeover: Home Edition," which has won back-to-back Emmy Awards as Best Reality Program (non-competitive) is entering its 6th season on ABC. The program is produced by Endemol USA, a division of Endemol Holding. Anthony Dominici is the executive producer; and David Goldberg is the president of Endemol USA.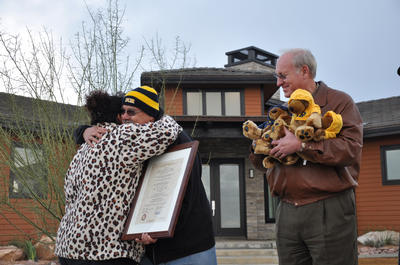 Enlarge
Vice Chancellor Jim Sandoval gets a hug from Chemaine Almquist, mother of four children, for the gift of a path to a college education.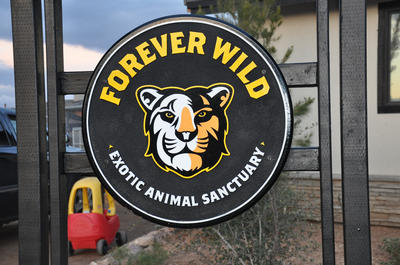 Enlarge
The sign that leads to the new visitor center for the Forever Wild Exotic Animal Sanctuary
RELATED LINKS
ADDITIONAL CONTACTS
The University of California, Riverside (www.ucr.edu) is a doctoral research university, a living laboratory for groundbreaking exploration of issues critical to Inland Southern California, the state and communities around the world. Reflecting California's diverse culture, UCR's enrollment has exceeded 21,000 students. The campus opened a medical school in 2013 and has reached the heart of the Coachella Valley by way of the UCR Palm Desert Center. The campus has an annual statewide economic impact of more than $1 billion.
A broadcast studio with fiber cable to the AT&T Hollywood hub is available for live or taped interviews. UCR also has ISDN for radio interviews. To learn more, call (951) UCR-NEWS.