Evolution's Effect on Health and Disease
---
Evolution's Effect on Health and Disease
Free public lecture at UC Riverside to discuss why doctors need Charles Darwin
(April 3, 2009)
NEWS MEDIA CONTACT
Name:

Iqbal Pittalwala


Tel:

(951) 827-6050


E-mail:

iqbal@ucr.edu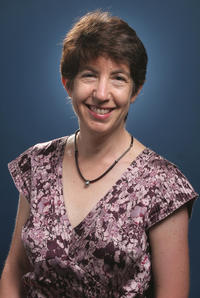 Enlarge
Marlene Zuk, a professor of biology, will give a lecture titled "Evolution and Medicine: Why Doctors Need Darwin" at 7 p.m., April 16, at UC Riverside.
RIVERSIDE, Calif. – How evolution affects health and disease and how it influences the way we treat illness is the focus of a public lecture at UC Riverside by evolutionary biologist
Marlene Zuk
.
Zuk, a professor of biology at UCR, will give her talk, titled "Evolution and Medicine: Why Doctors Need Darwin," at 7 p.m., Thursday, April 16, in the
University Theatre
on campus.
The hour-long talk and question-and-answer session is free and open to the public. Doors open at 6:45 p.m. Seating is open.
"Evolution explains everything about biology, including behavior," Zuk said. "In my talk, I will discuss how we can view parasites and pathogens as 'family' rather than the enemy, how too strict elimination of all microorganisms and other potential pathogens can cause more problems than it solves, and how evolution shapes our healthy responses to the environment."
Zuk emphasized that disease is not merely ubiquitous but normal, natural and even essential.
"Via evolution, illness has shaped all living things for millions of years, and life as we know it – we, as we know ourselves – would not exist without disease," she said. "In examples ranging from diabetes to intestinal worms to asthma, in cases from pigs as well as people, evolution shows us why it makes sense to see illness as an ongoing relationship between two living things."
Zuk's research centers on animal behavior, the evolution of mate choice, and secondary sexual characters, with an emphasis on how parasites and disease can shape host ecology, evolution, and behavior.
Currently, she is
working on crickets
introduced to Hawai`i. The crickets are subject to a parasitic fly that orients to the male's mating song. In some populations, the males now show a mutation that makes them unable to call.
"This is an instance of very quick evolutionary change, occurring in a very rapid 20 generations or less," Zuk said.
Zuk obtained her Ph.D. in zoology from the University of Michigan, and did postdoctoral work at the University of New Mexico. She joined UCR's Department of Biology in 1989.
She is the recipient of the Quest Award for contributions to the field of animal behavior. She is a fellow of the Animal Behavior Society and was a National Science Foundation Young Investigator.
Zuk is the author of two popular books, "Riddled with Life: Friendly Worms, Ladybug Sex, and the Parasites that Make Us Who We Are (Harcourt, 2007); and "Sexual Selections: What We Can and Can't Learn about Sex From Animals" (University of California Press, 2002).
She also writes for the general public on topics related to evolution. Her essays and articles have appeared in the
Los Angeles Times
,
The New York Times
, the
International Herald Tribune
,
Natural History
magazine, and
The Chronicle of Higher Education
.
Zuk's talk is being hosted by UCR's
College of Natural and Agricultural Sciences
and the Science Circle, a group of university and community members committed to advancing science at UCR and in Inland Southern California.
The talk is the second of
five lectures scheduled this year
. The lecture series, titled "
The Science of Evolution: Life, the Earth, and the Universe
," aims to boost the public's awareness and understanding of how science works and break down some of the misunderstandings about what scientists do.
More information about the lecture series can be obtained by visiting
www.cnas.ucr.edu
, calling (951) 827-6555 or emailing
Carol Lerner
.
Teachers interested in receiving professional development credit for attending the lecture series must make arrangements in advance with University Extension.
For information about UCR parking, please see "Related Links" below.
RELATED LINKS
ADDITIONAL CONTACTS
The University of California, Riverside (www.ucr.edu) is a doctoral research university, a living laboratory for groundbreaking exploration of issues critical to Inland Southern California, the state and communities around the world. Reflecting California's diverse culture, UCR's enrollment has exceeded 21,000 students. The campus opened a medical school in 2013 and has reached the heart of the Coachella Valley by way of the UCR Palm Desert Center. The campus has an annual statewide economic impact of more than $1 billion.
A broadcast studio with fiber cable to the AT&T Hollywood hub is available for live or taped interviews. UCR also has ISDN for radio interviews. To learn more, call (951) UCR-NEWS.