Rivera Conference
---
Conference Will Honor the Legacy of Tomás Rivera
The April 24 event will celebrate the contributions of the late UC Riverside chancellor and award-winning writer.
(April 14, 2009)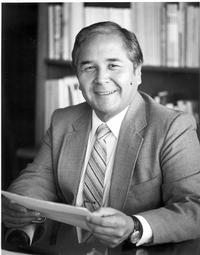 Enlarge
Tomás Rivera
RIVERSIDE, Calif. – Tomás Rivera was an award-winning author whose stories celebrated the lives of migrant workers, an educator who pressed for instruction informed by language and culture, and an administrator who provided opportunities to those who had historically been excluded from college classrooms and employment.
"It's been 25 years since his death and we're still celebrating him," said Carlos Cortés, professor of history emeritus at the University of California, Riverside.
The annual Tomás Rivera Conference on Friday, April 24, will honor the legacy of Rivera, who was UCR's chancellor from 1979 to 1984. The event will commemorate the 30th anniversary of his appointment as chancellor and the 25th anniversary of his death. The conference theme is "From the Fields to the Stars."
Screenwriter Ligiah Villalobos, who wrote the hit film "Under the Same Moon" ("Bajo la Misma Luna"), will introduce her film in the evening program and will conduct screenwriting workshops in the afternoon. Other conference highlights are an art installation of a life-size car made of burlap, "My '61 Ford," by Adán Avalos, an exhibition of previously unreleased photos of Rivera and other Hispanic writers by Michael Sedano, and the screening of Villalobos' "Under the Same Moon."
All events will be held on the UCR campus and are free and open to the public.
Registration is requested as seating is limited. For program information and registration go to
http://creativewriting.ucr.edu/TomasRiveraConference/index.html
.
Rivera was the first Hispanic and first minority chancellor in the UC system. He died in 1984 after a heart attack.
Friends recall him as a gentle man of great warmth, a giant in Chicano literature who overcame tremendous obstacles to excel as an author, professor and university administrator.
Rivera was an award-winning writer of poems, short stories and literary essays who was the first winner of the Quinto Sol Award in 1971 for "… y no se lo tragó la tierra" ("… and the Earth Did Not Swallow Him"). Quinto Sol was a publishing company that focused on Chicano literature.
He populated his work with characters drawn from the migrant workers and Hispanics he grew up with and worked alongside.
"Tomás was the storyteller of the people," said Eliud Martinez, UCR professor emeritus of creative writing who achieved tenure the year Rivera was named chancellor. "He linked Chicano literature with Mexican popular culture, and combined sophisticated literary techniques of the modern novel with traditional forms from popular Mexican culture and language."
Rivera never forgot his early years as a migrant farm worker, or anyone who helped him to achieve, Martinez and others said. He helped many others in turn, both as a writer and administrator, by supporting junior professors, and by reading and commenting on academic and creative manuscripts, Martinez said. He also was responsible for bringing the central offices of UC MEXUS to UC Riverside.
"He was extraordinarily approachable and available," said Arturo Madrid, the founding president of the Tomás Rivera Center at Claremont Graduate School and the Murchison Distinguished Professor of the Humanities at Trinity University in San Antonio, Texas. "He was encouraging. He didn't dismiss people on the basis of talent or lack of talent."
As UCR chancellor, Rivera brought a sense of humanity to the campus, Cortés recalled.
"What he wrote about was the way he acted as a human being and college administrator," Cortés said. "The individual was so important to him that he gave unselfishly at the individual level," urging 10-year-olds to go to college, encouraging UCR students to pursue their dreams, even playing Santa for children in the campus day-care center.
"The one driving thing in his life was opening the doors of education to families with no college education," he said. "He symbolically opened doors. His willingness to give of himself brought shame to those who would not."
Rivera promoted education for everyone, not just Chicanos, Martinez said. "He believed that for Chicanos an education was very important. He wanted to make higher education pertinent to students of Mexican ancestry."
He was at the forefront of a national bilingual education movement at a time when there were few Hispanic classroom teachers or college professors, Madrid said. Because of his stature as an author, Rivera also validated initiatives promoting the role of language and culture in education, and "connected with educators across the board, from kindergarten educators to professors."
"Rivera's creative work was ahead of its time, his vision of education and community was ahead of his time," said Juan Felipe Herrera, the Tomás Rivera Endowed Chair in Creative Writing and the conference organizer. "With this conference we hope to come closer."
Conference events start at 8 a.m. when Adán Avalos will begin the installation of his life-size burlap car in the lawn area outside the CHASS Interdisciplinary Building, where most conference activities will take place. Avalos recently was the resident artist at the Montalvo Arts Center in Saratoga, Calif.
At noon, the Flor y Canto (Flower and Song) Chicano Literature Festival archives will be inaugurated in Special Collections and Archives on the fourth floor of the Tomás Rivera Library. Rivera attended the first festival in November 1973. Michael Sedano, the donor and photographer, will be present.
Villalobos will conduct two screenwriting workshops from 1 to 4:15 p.m. in Humanities 1500. A 5 p.m. reception outside Interdisciplinary 1020 will include music by local guitarist Hector Ceballos. Activities will move to the Interdisciplinary Building screening room at 6:15 p.m. with Carlos Cortés performing an original dramatic solo with Ceballos in homage to Rivera, followed by a screening of "Under the Same Moon." A question-and-answer period with Villalobos will follow.
The conference is coordinated by the Tomás Rivera Endowment/Department of Creative Writing and co-sponsored by Chicano Student Programs, the Tomás Rivera Library and Special Collections, CHASS First, Department of Theatre, Palm Desert Graduate Center, Inlandia Institute of Riverside and the Riverside City College-Academic Support Program.
Contact: Juan Felipe Herrera, juan.herrera@ucr.edu or (951) 827-5027
RELATED LINKS
ADDITIONAL CONTACTS
The University of California, Riverside (www.ucr.edu) is a doctoral research university, a living laboratory for groundbreaking exploration of issues critical to Inland Southern California, the state and communities around the world. Reflecting California's diverse culture, UCR's enrollment has exceeded 21,000 students. The campus opened a medical school in 2013 and has reached the heart of the Coachella Valley by way of the UCR Palm Desert Center. The campus has an annual statewide economic impact of more than $1 billion.
A broadcast studio with fiber cable to the AT&T Hollywood hub is available for live or taped interviews. UCR also has ISDN for radio interviews. To learn more, call (951) UCR-NEWS.