Community Garden
---
UCR to Dedicate Community Garden on April 17
The university, students and Salvation Army join forces to benefit a local food bank and the community.
(April 15, 2009)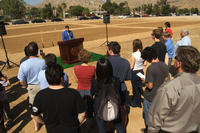 Enlarge
Chancellor Timothy White discusses the importance of the UCR community garden at the groundbreaking ceremony on April 17.
RIVERSIDE, Calif. – The promise of fresh produce for a local food bank and UC Riverside students and neighbors will be celebrated when the university dedicates a community garden on Friday, April 17.
The public is invited to attend the ceremony that will begin at 3:30 p.m. at the garden site, which is located between the Transportation and Parking Services Office on Linden Street and intramural soccer fields east of Pentland Way. Parking for the event is free in Lot 20, at the southeast corner of Linden Street and Pentland Way, but passes must be obtained at the kiosk on West Campus Drive, near the University Avenue entrance to campus.
Event speakers will include UCR Chancellor Timothy White, Riverside Ward 1 Councilmember Mike Gardner, Salvation Army Maj. Rick Peacock, and Fortino Morales, president of Sustainable UCR, a student organization.
White has urged creation of the garden as a way to help the community during hard times and strengthen connections with the university's neighbors.
"This garden reflects a partnership between the Salvation Army, UC Riverside and Sustainable UCR," said Dan Aldrich, interim vice chancellor for university advancement. "One of the toughest things for the Salvation Army to obtain for its food bank is fresh produce. UCR is pleased to be able to create an opportunity for people to grow their own produce and honor Chancellor White's desire to be a compassionate campus."
The 10,000-square-foot garden will be jointly managed by The Salvation Army and Sustainable UCR. The Salvation Army will assign 6-by-6-foot parcels to individuals, families, and seniors without access to land. Sustainable UCR will grow crops for those in need, along with individual and family gardeners who will have the option to donate their surplus crops to The Salvation Army's food bank.
The university will provide the land, which has been tilled and mulched, at no cost to gardeners. Volunteers from the Cooperative Extension Master Gardener Project will provide advice and counsel regarding best practices for organizing, planting and administering the garden in ways that are sustainable, organic and sensitive to issues of water use.
Gardeners may sign up for a 6-by-6-foot parcel through The Salvation Army by calling (951) 784-4490, ext. 106.
The garden dedication comes as UCR prepares to observe Earth Week April 20-24. Campus activities will range from water conservation, alternative transportation and recycling workshops to an electronic waste drive and the university's first Sustainability Summit.
The campus officially unveils its sustainability plan from 1 to 5 p.m. Monday, April 20 in room 355 of the Highlander Union Building. The week ends with a sustainability summit from 9 a.m. to 1 p.m. Friday, April 24 room 1020 of the CHASS Interdisciplinary Building North. All events are free and open to the public.
Dispose of your broken or unneeded electronics at the E-waste event from 8 a.m. to 2:30 p.m. April 22 in parking lot 30, located at Canyon Crest Drive and Martin Luther King Boulevard. Materials accepted will include computers, monitors, televisions, office and business equipment, printer cartridges, gaming systems, photo equipment and batteries.
Students from UCR's Department of Entomology will show off various insects at the Western Municipal Water District's second annual "Earth Night in the Garden," which will take place from 4 to 8 p.m. on April 22 at 450 Allessandro Blvd. in Riverside.
Bourns College of Engineering is expecting a capacity crowd for its annual Science and Engineering Day with the theme "Green Innovations for a Brighter Future." Sessions include "What is Your Footprint," "Make Your Own Pinwheel," and a visit from a mobile emissions vehicle.
Sustainability Workshops
April 20
1-5 p.m. Sustainability Plan Unveiled, Highlander Union Building 355.
April 21
9-11:30 a.m., Water Conservation Workshop; 1:30-4 p.m. Energy Climate and Protection Workshop, Highlander Union Building, room 302.
April 22
9-11:30 a.m., Built Environment Workshop; 1:30-4 p.m., Sites Workshop, both in the Highlander Union Building, room 302.
April 23
9-11:30 a.m., Alternative Transportation Workshop; 1:30-4 p.m., Academics and Research Workshop, both in the Highlander Union Building, room 355.
April 24
9-11:30 a.m., Food Recycling Workshop; noon-2 p.m., Procurement Workshop; and 2:30-5 p.m., Recycling and Waste Management Workshop, all in Science Library, room 240.
For the latest information about Earth Day-related events and campus sustainability efforts go to
http://sustainability.ucr.edu/
.
RELATED LINKS
ADDITIONAL CONTACTS
The University of California, Riverside (www.ucr.edu) is a doctoral research university, a living laboratory for groundbreaking exploration of issues critical to Inland Southern California, the state and communities around the world. Reflecting California's diverse culture, UCR's enrollment has exceeded 21,000 students. The campus opened a medical school in 2013 and has reached the heart of the Coachella Valley by way of the UCR Palm Desert Center. The campus has an annual statewide economic impact of more than $1 billion.
A broadcast studio with fiber cable to the AT&T Hollywood hub is available for live or taped interviews. UCR also has ISDN for radio interviews. To learn more, call (951) UCR-NEWS.