Agent Orange Conference
---
Impacts of Agent Orange to Be Explored
Lingering social, political and environmental effects of the defoliant's use during the Vietnam War will be addressed in a conference and art exhibit at UCR May 7-9.
(April 15, 2009)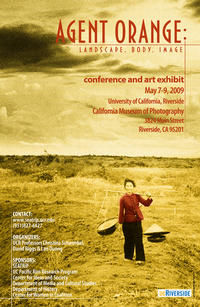 Enlarge
RIVERSIDE, Calif. – The lingering impacts of Agent Orange on those it touched during and after the Vietnam War will be addressed in a three-day conference and art exhibit at UCR/California Museum of Photography May 7-9.
"Agent Orange: Landscape, Body, Image" will present multiple perspectives on the social, political and environmental impacts of the defoliant in panel discussions, films, and exhibitions of photographs and art installations. All events will be held at University of California, Riverside/California Museum of Photography in downtown Riverside, 3824 Main St. The event is free and open to the public.
Dioxin, a carcinogen, is the primary toxic component of Agent Orange. Many American veterans, Vietnamese and others involved in the war believe the chemical is responsible for a variety of serious health issues and birth defects.
The conference will not address scientific research related to health issues that many people link to exposure to Agent Orange, said event organizers Christina Schwenkel, assistant professor of anthropology; David Biggs, assistant professor of history; and Lan Duong, assistant professor of media and cultural studies.
Rather, "The focus of the conference is to examine the diverse representations and knowledge produced about Agent Orange, as well as the shared experiences of different groups of people in dealing with dioxin," Schwenkel said. "The goal is to show how people on all sides were affected and the similarities of their suffering. This is a very painful topic for many people."
The emphasis on a cultural approach to the impacts of Agent Orange and to represent the voices of people who have not previously been heard is unusual, Biggs said. Previous conferences elsewhere have focused on research that seeks to identify direct links between exposure to the herbicide and health impacts.
Art and photography displays at the conference will feature Japanese and Vietnamese photographers Goro Nakamura and Doan Duc Minh, whose work examines the global impacts of Agent Orange, said Duong, who curated the exhibit along with Schwenkel. Of particular interest may be Binh Danh and Dinh Q. Le ,who are part of a generation of Vietnamese Americans who were born in Vietnam but left for the United States at a young age, Duong said.
"These two artists both deal with reconstructing memory and trauma through their work," Duong said. "However, their paths also diverge, especially because Dinh Q. Le works and lives in Vietnam, while Binh Dahn produces his art from the U.S. but is often preoccupied with Vietnam itself. We assemble their works together because of the artists' transnational status of being in many places, sometimes at the same time – geographically and in memory."
Danh's work is inspired by themes of mortality, memory and spirituality. Le's artwork includes installation, video, sculpture and urban intervention.
The program begins on Thursday, May 7, at 7 p.m. with the keynote address, "34-Year Investigation into Agent Orange," by Goro Nakamura, photojournalist and professor of regional studies at Gifu University in Japan.
Among the featured panelists are Phung Tuu Bôi, who has been working since the 1970s to remediate forest areas destroyed during the war, and Ton Nu Thi Ninh, president of Tri Viet University and a former member of the Viet Nam National Assembly and former ambassador to the United Nations.
Panel discussions are scheduled on Friday, May 8, from 9:30 a.m. to noon, and from 2 to 4:30 p.m.; and on Saturday, May 9, from 9:30 a.m. to noon.
The Friday program will include a 7 p.m. screening of "A Story from the Corner in the Park" by Hanoi filmmaker Tran Van Thuy.
The Agent Orange art and photography exhibit will be on display at UCR/CMP May 2 through Aug. 29. Admission is $3, but free for seniors, students with I.D. and children under 12.
The conference is sponsored by UCR SEATRIP, the UC Pacific Rim Research Program, and UCR's Center for Ideas and Society, Department of Media and Cultural Studies, Department of History and Center for Women in Coalition. It is dedicated to the memory of Emory Elliott, distinguished professor of English and founder of the Center for Ideas and Society, who died in March.
The SEATRIP (Southeast Asia: Text, Ritual and Performance) program is one of the few in the United States focusing on the study of the arts and cultural life in Southeast Asia and the diaspora.
Christina Schwenkel's research focuses on the intersections of transnationalism, visual culture and historical memory in Vietnam. Her forthcoming book, "The American War in Contemporary Vietnam," explores how the war is remembered and commemorated in Vietnam today.
David Biggs' research focuses on the environmental history of Vietnam, and social and economic dimensions of the war in Vietnam. His forthcoming book is titled "Quagmire: Nature and Nation-Building in the Mekong Delta."
Lan Duong's research interests include transnational feminism, postcolonial theory, youth culture and diaspora studies. She is working on a book, "Family Binds: Betrayal and Loyalty in Viet Nam and the Diaspora," which explores the films and literature of the Vietnamese and Vietnamese diaspora through the theme of treason and the practices of collaboration.
For information call (951) 827-6427 or go to
www.seatrip.ucr.edu
.
RELATED LINKS
ADDITIONAL CONTACTS
The University of California, Riverside (www.ucr.edu) is a doctoral research university, a living laboratory for groundbreaking exploration of issues critical to Inland Southern California, the state and communities around the world. Reflecting California's diverse culture, UCR's enrollment has exceeded 21,000 students. The campus opened a medical school in 2013 and has reached the heart of the Coachella Valley by way of the UCR Palm Desert Center. The campus has an annual statewide economic impact of more than $1 billion.
A broadcast studio with fiber cable to the AT&T Hollywood hub is available for live or taped interviews. UCR also has ISDN for radio interviews. To learn more, call (951) UCR-NEWS.