The Honey Bee Shortage
---
Talk at UC Riverside to Focus on What's Wrong and What's Right With Bees
Entomologist P. Kirk Visscher's talk on April 22 to discuss honey bee shortage
(April 20, 2009)
NEWS MEDIA CONTACT
Name:

Iqbal Pittalwala


Tel:

(951) 827-6050


E-mail:

iqbal@ucr.edu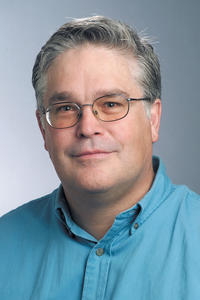 Enlarge
P. Kirk Visscher is an associate professor of entomology at UC Riverside.
RIVERSIDE, Calif. – Honey bees, one of only few insects that are directly beneficial to humans, play a critical role in modern agriculture as manageable pollinators of crops. But a combination of economic, land-use and bee-health issues recently combined to produce a dramatic decline in honey bee colony numbers, threatening the health and viability of the agricultural system.
P. Kirk Visscher
, an associate professor of entomology at UC Riverside, will discuss the honey bee colony collapse, the bee society and bees' relations with humans in an hour-long talk at 7:30 a.m., Wednesday, April 22, in Rooms D/E,
UCR Extension Center
, 1200 University Avenue, Riverside, Calif.
The talk, titled "What's Wrong and What's Right with Bees," is part of the
Citizens University Committee
(CUC) breakfast meeting. The cost for the event is $18 for members and $22 for non-members; the event includes a breakfast buffet.
"Among insects, honey bees occupy a unique position with respect to humans," Visscher said. "They have excited human wonder as long as there have been humans and bees living side by side—since before our written history. Their contribution to U.S. agricultural production alone is valued at more than $10 billion. In recent years, colony health problems have threatened this industry, and research is underway to clarify the causes."
Visscher explained that foreign competition has held honey prices to marginally-profitable or unprofitable levels at the same time as beekeepers have been less able to find good pasture for their bees where agricultural chemicals do not harm them.
"Added to this, there are a number of new pests and diseases affecting the bees," he said. "All these led to a drop in bee numbers. However, this last year saw considerable recovery, as more than enough bees were available to pollinate almonds in California in February, the single largest consumer of honey bee pollination services."
Researchers in several states are trying to determine which of the possible bee diseases may be responsible for increased losses, and to develop effective countermeasures such as breeding disease-resistant bees, beekeeping practices that promote better colony health, and new treatments to destroy pests or suppress disease.
When Visscher was a young boy, his parents moved west from Cleveland, Ohio. They included two hives of bees in the trunk of their car. Visscher "took" with the bees, helping with his father's hobby in Montana. Later, as an undergraduate at Harvard University, he began researching honey bee social behavior.
"Honey bees remain fascinating," he said. "Their communication is the quintessential example of symbolic communication outside of human language. The organization of work in their societies and decision-making mechanisms have been adapated for human-engineered systems that face similar problems of reliably coordinating the activity of many components or individuals with noisy information."
Visscher received his master's and doctoral degrees in entomology from Cornell University. After a postdoctoral appointment in neurobiology and behavior at Cornell, he joined UCR's
Department of Entomology
in 1990.
He has authored more than 50 peer-reviewed articles in scientific journals. He has served as president of the North American Section for the Study of Social Insects and Section Cb of the Entomological Society of America. He received a distinguished service award from the United States Department of Agriculture and is a fellow of the American Association for the Advancement of Science.
His research on the social behavior of bees spans from questions of how conflicts of genetic interest within the colony are resolved to how bees communicate and organize their foraging and decision making. He also is involved in research on bee breeding and colony health.
More information about the CUC event is available by contacting the UC Office of Governmental and Community Relations: (951) 827-5184 or
robin.clark@ucr.edu
.
Also presenting at the April 22 breakfast meeting is
Juan Felipe Herrera
, a professor of creative writing at UCR. Herrera will speak about the
22nd annual Tomás Rivera Conference
, which takes place Friday, April 24, on campus.
The CUC is UCR's oldest continuous support group. It formed in 1948 to lobby the California State Legislature to locate a campus of the University of California in Riverside at the site of the Citrus Experiment Station. In 1949, the legislature passed appropriations to build a Riverside campus and UCR opened its doors in February of 1954.
Today the CUC provides a means for the community to tap into the cultural, intellectual and social vitality of the UCR campus. The group hosts monthly breakfasts, which highlight the latest cutting-edge research initiatives the faculty is undertaking.
The University of California, Riverside (www.ucr.edu) is a doctoral research university, a living laboratory for groundbreaking exploration of issues critical to Inland Southern California, the state and communities around the world. Reflecting California's diverse culture, UCR's enrollment has exceeded 21,000 students. The campus opened a medical school in 2013 and has reached the heart of the Coachella Valley by way of the UCR Palm Desert Center. The campus has an annual statewide economic impact of more than $1 billion.
A broadcast studio with fiber cable to the AT&T Hollywood hub is available for live or taped interviews. UCR also has ISDN for radio interviews. To learn more, call (951) UCR-NEWS.